Farmhouse Chic Decorating Ideas for #LoveYourLifeFriday
Today I'm welcoming a new contributor, Nikki McCullough, to the Love Your Life Friday team! She'll be sharing all kinds of decorating ideas and tips with us. Today she's teaching us how to be farmhouse chic. Welcome Nikki!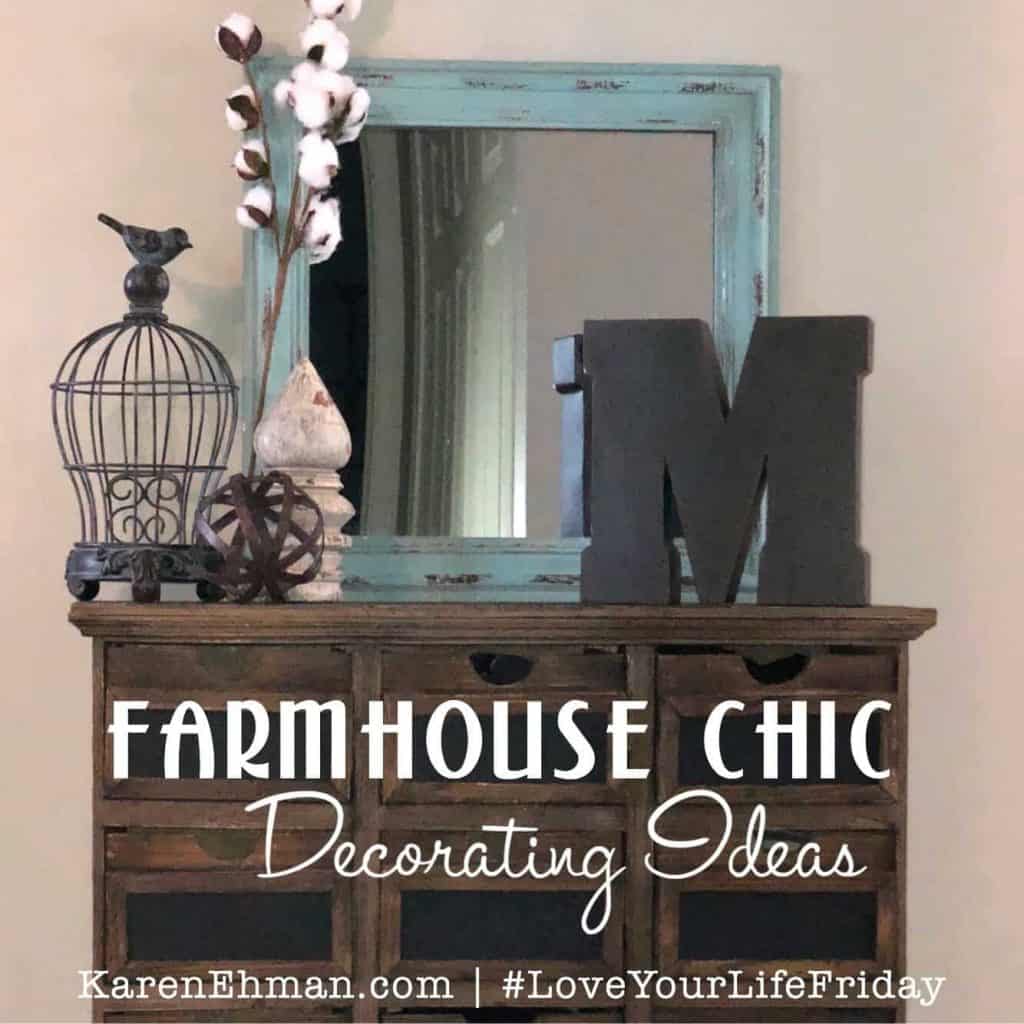 I love decorating. I love shopping for home décor. I love watching Fixer Upper. And I'm pretty sure if I lived in Waco, Jo Jo and I would be best friends.
Am I anywhere NEAR the decorating caliber of Joanna Gaines? Not even close. But I like to pretend I am. So humor me as I give you a peak into a few nooks and crannies of my own home. Today, we are just going to peak at my entry hallway to give you an idea of my decorating style and to share some farmhouse chic ideas with you.
Hallway decorating is one of my favorite things. This is the first thing people see when they walk into your home. And I love that you can show off your personality. But I also realize that not everyone LOVES to do this like I do. So here are four useful tips that can help you NOT feel overwhelmed while making your house your home!
Don't spend a ton of money! Everything shown here was purchased at Hobby Lobby (which seriously is one of my all-time favorite places to be EVER!)  And let me give you just a couple of tips, ladies – DON'T BUY IT UNLESS IT'S ON THE 50% OFF LIST!  If what you're looking for isn't on sale this week, it will for sure be on sale the following week. Don't have a Hobby Lobby? More than half of the farmhouse flare in my home was purchased from local flea markets. I love finding something eclectic that no one else has (and at flea market pricing)!
Think outside of the box. Don't assume because you purchased a wall mirror that you have to hang it! Leaning it up against the wall gives it a whole new look and allows you to group things around it to give it a homier, less structured feel.
Always group things in odd numbers. Never buy two items and try to figure where they should go. It will drive you insane!  And always stagger the heights of your knick knacks. This way everyone can see everything you're trying to showcase.
Once your done, feel free to add greenery (or in my case a little cotton) for some final flare. This just makes it more your own!
I also LOVE that you can change your décor for the seasons. I still use the table as the focal point in my hallway, but it's so fun finding new things to change it up! Here's what I did for Christmas.
I can't wait to share more decorating ideas and tips with you in the months to come! I'll be back on Love Your Life Friday this summer with tips on decorating your kitchen and dining areas!
Blessings!
Nikki
********************
Nikki McCullough is a wife to Adam and a mother of two boys, Casey (14) and Carter (11). A native to Northwest Ohio, she and her family recently uprooted and moved to Ann Arbor, MI to help plant a new church (Refuge Church) that launched in the Spring of 2017. After leaving a lifelong career 5 years ago, Nikki began working from home and homeschooling her two boys. When not carpooling the boys to martial arts classes, soccer games, and swim meets, she can be found learning more about Young Living Essential Oils and teaching others about the lifelong benefits associated with them.
********************