Snow Storm Soup (and lessons learned) for #LoveYourLifeFriday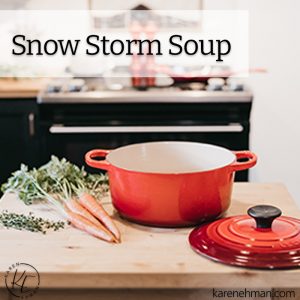 Today I'm welcoming a new contributor, Jacqueline Berg, to the Love Your Life Friday Team! Her mother Judy is a dear friend and we raised our kids together here in Michigan often attending homeschool sporting events together to cheer for our children when they were young. Now Jacqueline is a mom herself who resides in central Montana and owns a lovely floral design business.
And now, welcome Jacqueline!
The LONG winter…is almost over!
I am reading through the Little House books with my children, and the past several months we have been reading through the The Long Winter. And boy, has it been a long winter! Many times, I felt like Caroline was my kindred spirit from 100 years ago, and that she and I were doing this winter together!
We had snow storm after snow storm hit here in Montana, much like the perpetual blizzards of the The Long Winter. Living rural, with limited access to grocery stores, water (we have to haul ours in), and other resources, many times I had to put on my pioneer woman panties and tell myself, this too shall pass.
Here are a few things I learned:
You can do 2 loads of laundry from water runoff during a January thaw.
You can make really good potato soup (recipe below) in a rice cooker if the need arises. I had always thought the rice cookers were for people that didn't know how to cook rice. In actuality, I found you shouldn't cook rice any other way! And if your oven is out of commission, you can use it to quickly make potato soup, or even chicken with rice. (Though I'm quite sure the manufacturer would frown in disapproval).
Heating water on the wood stove is a bit tedious, but a nice long soak in a (Tupperware) tub in front of a cozy woodstove, is one of the most therapeutic things I have ever done.
The best way to not let winter get you down is to get OUT in it. I am so thankful for a friend that reminded me of the joys of ice skating. Breaking out the shovels and clearing our large pond for skating was one of the best times I and my children had this winter. In the brief days between storms, we were all out skating-and falling-together. We had more laughter in those short hours, than we'd have in a whole week.
And most of all, I learned that really, one can live without so many of the "necessary" amenities of the modern age, but one cannot live without hope. Hope for better days, when every day doesn't result in exhaustion and the complexities of solving another new problem. Hope for God's provision, and the joy of seeing Him beautifully fulfill a need.  And hope for Spring, when new life abounds, the snow is gone, and one's spirit is refreshed with the reminder that God makes all things new.
I do not want to endure through another long Montana winter like this one. I know many of you have had a long winter as well. It may have been an actual season of snow and cold, or it may have been a bitter and brutal time in your life. But like me, you realized just how tough you are, and how resourceful you can be when push comes to shove. Maybe you too, had God moments that would never have happened outside of your long winter.
As for me, I'm going to put my feet up by the wood stove, enjoy a bowl of potato soup, and listen to the drip drip of winter slowly melting away.
Here's my Snow Storm Soup recipe:
1 1/2 – 2 lbs red potatoes, quartered
1 med onion, diced
2 carrots and 2 celery stalks, chopped (you can also use a frozen veggie mix)
1 c sweet corn (frozen or fresh)
1 32 oz container Chicken broth, or homemade stock, plus additional for the rue.(I prefer Swanson's Organic, it has less sodium and great flavor)
Salt and pepper to preference
1 Bay leaf (optional)
3 T Butter
2 T flour
1/2 c chicken broth
1/2 -1 cup milk or half and half
Add potatoes and other veggies to the rice cooker. Pour in broth. Be sure you have plenty of liquid covering the veggies as the rice cooker steams heavily while cooking. Add more water or broth if necessary.
Add salt, pepper and optional bay leaf.
Turn switch to "cook" and check after 10min. If veggies are tender, switch to "warm," if not keep "cook" selected.
(Rice cookers work with a spring and thermometer which senses the temperature of the contents. The rice cooker can overcook your veggies as the moisture and weight is not the same as rice.)
While the soup is cooking, make your rue. Heat 2-3T of butter in a pan.* Add onion and cook till tender, about 10 min.
Add the 2 T of flour and cook an additional 1-2 min.
Reduce heat to med-low. Slowly add 1/2 cup of broth and whisk till it thickens.
Add an additional cup of broth or milk. Remove from heat and stir in shredded cheese.
Using a fork or hand held blender, mash veggies to preferred texture. I like to keep mine fairly chunky.
Add cheese mixture and your soup is done!
Serve with garlic toast, made in the toaster oven of course, and a salad if you like.
*I made this in the midst of a cold, Montana winter when my regular oven/stove top was not working. I used my toaster oven and a cast iron pan to make the rue, but it you do not have that option, add the onion with the other veggies. Mix a few tablespoons of milk or cold water with flour in a small bowl, and then add a bit of the hot broth from your soup to thicken. (You can also microwave it to thicken) Add cheese to the flour and broth mixture before adding to the soup or the cheese may separate.
A FEW NOTES: If you are dairy/gluten free, you can make with unsweetened almond milk, and a butter alternative such as Earth balance. Use your usual gluten alternative flour for the thickener. The flavor and texture of the soup may be altered a bit as result. Nutritional yeast can be substituted for the cheese and provides great flavor. Additional herbs, such as thyme, can be added to the rue. Garlic also provides great flavor.
DISCLAIMER: RICE COOKERS ARE ONLY MEANT TO COOK RICE. This is a "making do" recipe, and neither I, nor rice maker manufacturers recommend using your rice maker to make soup on a regular basis.
*****************************
Jacqueline Berg is the owner/designer of Jacqueline B. Designs out of Absarokee, MT. Originally from Michigan, Jacqueline acquired years of gardening and floral design expertise through her mother's floral business. Upon moving West, she developed her skills into a growing business in south central Montana. Jacqueline creates artistic wreaths and arrangements from the wild flowers and grasses growing in the foothills and of the Beartooth Mountains. Jacqueline B. Designs has been featured in Fine Gardening magazine, and is continually developing new designs. She is married to her mountain man Jay, and is a homeschool mom of 3 curious kiddos. Jacqueline lives in Absarokee, MT and is incredibly thankful that God brought them to this beautiful place!