5 Simple Ways to Use Lemons to Freshen Your Home for #LoveYourLifeFriday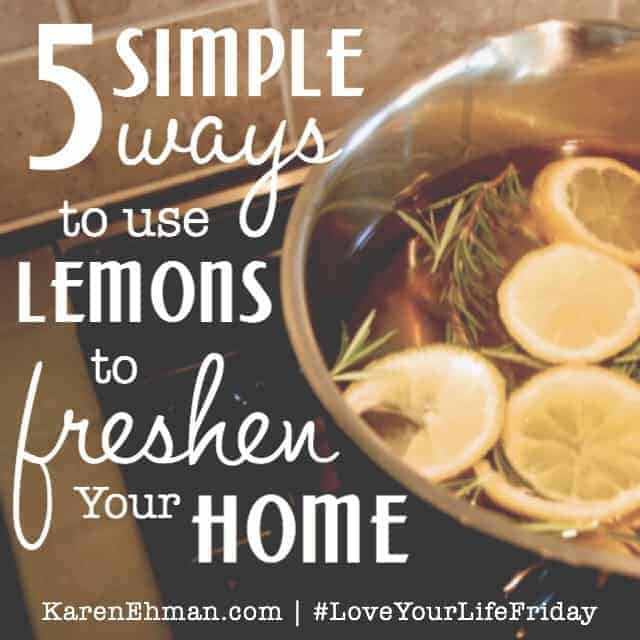 With warmer weather on its way, many of us homemakers may be thinking of spring cleaning.
But maybe this season is really FULL for you.
Maybe your to-do list runs long and thoughts of more cleaning exhaust your mind.
I can relate.
So today I offer 5 simple, ordinary ways to freshen your home using a common household item — LEMONS!
1. Natural Air Freshener
Start this really easy simmering pot in the morning and your home will smell delicious and fresh all day long!
I really like the scent of lemons, rosemary and vanilla together. Especially if anyone in your family struggles with synthetic scents, having a natural aroma is easier on the senses.
Find the recipe for this mixture here.
2. Clean Your Microwave with Lemon
One simple way I've cleaned our microwave is to heat up 1/2 cup of water with 3-4 tbsps of lemon juice before wiping it down.
I simply put the water and juice in a container, heat for 30-60 seconds (watch so it doesn't boil over) and then take it out.  Most grimy stuff will wipe right off!
3. Disinfect Your Sink
Lemons are super at killing bacteria.
I use them regularly for cleaning my garbage disposal by grinding up the peels. If you'd like step-by-step directions on how to deodorize and clean a stainless steel sink, check out my post with all the details.
Lemons, baking soda and vinegar offer a deep and quick clean to this part of your kitchen.

4. Deodorize Your Dishwasher
I often forget to do this, but it's a great tip. Simply place a lemon wedge in the top rack of your dishwasher during the next load!
5. Make a Citrus Cleaner
Cut up 1-2 lemons and place in about 2 quarts of vinegar. Allow this to sit for two weeks (up to a month). Then strain the liquid, place in a tightly covered glass jar and store.
To use this concentrate as a household cleaner: mix one part lemon vinegar with two parts plain water. Put in a spray bottle and use on kitchen counters, small appliances and even bathrooms!
Note — avoid using on special surfaces such as granite counters.
::
Whether you decide to clean deeply or clean simply, using lemons definitely freshens the home!

********************
Daniele
of 
Domestic Serenity
 is a homeschooling Mama of five kiddos and a voracious reader of books. Passionate about her faith, home and family, she blogs about the intentional lifestyle and writes for other online and print publications.
Daniele
thinks life is made more enjoyable with a cup of herbal tea in hand!
********************
SaveSave
SaveSave
SaveSave
SaveSave
SaveSave
SaveSave
SaveSave
SaveSave