Skinny Million Dollar Dip for #LoveYourLifeFriday

This Skinny Million Dollar Dip is a lighter spin on the famous Million Dollar Dip! This almond, bacon, and cheese dip recipe started out as a cheese spread and quickly become a crowd-pleasing million dollar dip that has lasted the test of time.
It's perfect for making in advance and only takes about 5 minutes to prepare, making it the perfect appetizer for any gathering!
Ingredients
| | |
| --- | --- |
| 1 (8 oz) pkg | Greek yogurt cream cheese, softened (or 1/3 less fat) |
| 1 cup | Plain Greek yogurt |
| 1 cup | 2% shredded cheddar cheese (or cheese of choice) |
| 4 | Green onions, chopped fine |
| 1/2 cup | Pre-cooked center cut bacon, chopped fine (or bacon bits) |
| 1/3 cup | Slivered almonds, chopped fine |
| 1 tsp | Garlic, minced (or 1/2 tsp garlic powder) |
Method
Estimated cook time: 5-10 Minutes
In a large bowl, add softened cream cheese, greek yogurt, cheddar cheese, green onions, bacon bits, slivered almonds, and garlic. Use a spatula to thoroughly mix all ingredients together. (Note: I used a hand mixer to bet the cream cheese and yogurt together first to get the dip more fluffy/creamy, and folded in the rest of the ingredients with a spatula.)
Top with additional cheese, green onions and bacon bits if desired!
Serve immediately or chilled with baked tortilla chips, crackers, vegetables, or other healthier snacks for dipping.
Serves 16 (1/4 cup per serving).
Enjoy!
********************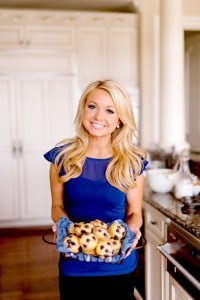 Katie Farrell is the founder of Dashing Dish, a healthy recipe website and ministry to women. Katie is a registered nurse from Michigan, where she lives in Brighton with her husband of five years. Dashing Dish is a combination of Katie's passions—helping women find their identity in God and ending misconceptions about healthy eating.
Katie wants to inspire women to find the balance between spiritual and physical health, all while enjoying the journey! Her newest book is Nourish: Discover God's Perfectly Balanced Plan for Your Body and Soul.
Looking for some more yummy recipes? Check out Katie's cookbooks: Dashing Dish: 100 Simple and Delicious Recipes for Clean Eating  and Devotions for a Healthier You .