What Matters Most Study Prize Package (and a free Greek recipe PDF!)
If you have tapped or clicked your way here from my Proverbs 31 Ministries devotion, Forget About It, welcome! I'd love to stay connected with you. If you haven't already subscribed to my email updates, click here to subscribe.
*******************************************************
Each year I was in elementary school. I loved going to class on my birthday. I thought it was so fun taking enough cupcakes to share with all my classmates that day.  (Of course, today's kids might be taking kale chips instead!)
In honor of the birthday of my first LifeWay Bible study, What Matters Most:A Study of Philippians I am handing out a few digital cupcakes to all of you today. I am also giving one person a grand prize package full of items to enable them to host a group of at least four friends for a Philippians study and some French press coffee!! (I'll take mine with a splash of cream, please.)
First, a bit about the study…
This world is full of trials, disappointments, temptations, fractured friendships, and financial hardships. However, the apostle Paul's letter to the Philippians claims that we can stop letting life knock the joy right out of us by discovering the secret to contentment—a life lived with Jesus as our first priority.
In What Matters Most, you'll get to know Jesus on a deeper level, turn your worries into prayers, and develop gospel-centered tools for navigating relational conflict. It is available to order at Proverbs 31 Ministries, LifeWay, and Amazon. (There is are teaching videos available and they are strongly recommended but the study is designed to be used alone as well. The videos are on DVD and also available as downloads.)
NOTE: The best price is at Proverbs 31 and LifeWay. If you purchase at Proverbs 31, I have another special bonus PDF of spiritual life management tool for you as a thank you for supporting our ministry.
And now……for the digital cupcakes!!
I'm handing out two free treats today.
First, if you are the sort who likes to decorate up your social media accounts, here is a shareable image with one of the teaching points from the study. It is one I remind myself of often. Take those worries and turn them into prayers!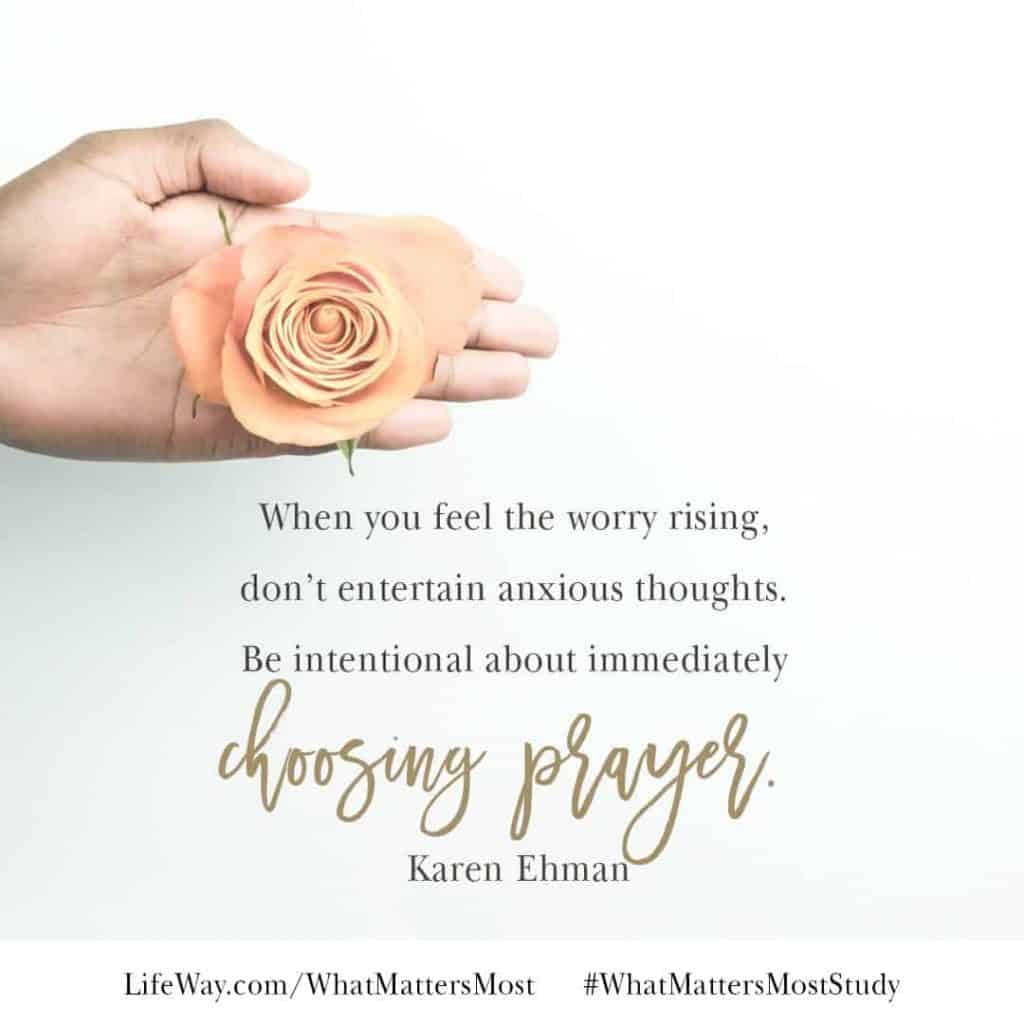 Next. I'm giving you all a free PDF of delicious recipes from the area of Macedonia (Greece) where the ancient city of Philippi was located. A few are from my niece Krystan whose family is from Greece. There is an appetizer, some main dishes, and a few sweets including Greek honey dumplings called Loukoumades. Just click HERE to download.
The Group Study Grand Prize
GIVEAWAY CLOSED – Congrats Laurie (may 3, 2018 at 1:59 pm) you won! Check your email for your notification!
To help one of you host a study for your friends, I'm offering a grand prize package that includes 5 copies of What Matters Most, one of the seven-session teaching DVDs, a bag of one of my favorite flavored coffees, and a French press coffee maker. (French press coffee is so smooth!)
To enter the giveaway, comment on this post below telling us what your favorite hot beverage is or how you'd use the grand prize package to form a study group to journey through the letter of Philippians. (If you are reading this in an email, click HERE to comment)   U.S. Addresses only please. Winner will be announced here Thursday, May 10, notified via email, and must reply back within 48 hours to claim your gift.
But wait….There's more! It's not too late to join us for an online study!
Looking for a group to study What Matters Most with? Sign up to join us at Women's Bible Cafe. The study kicked off with community introductions this week and reading Week One of the study which you can download for free here.
I'll be LIVE on their Facebook page tonight (5/3) at 8:00 PM ET. Hope to see you there!
Here's the link to the replay.
SaveSave
SaveSave