Clean Eating Taco Salad with a Baked Taco Bowl Shell for #LoveYourLifeFriday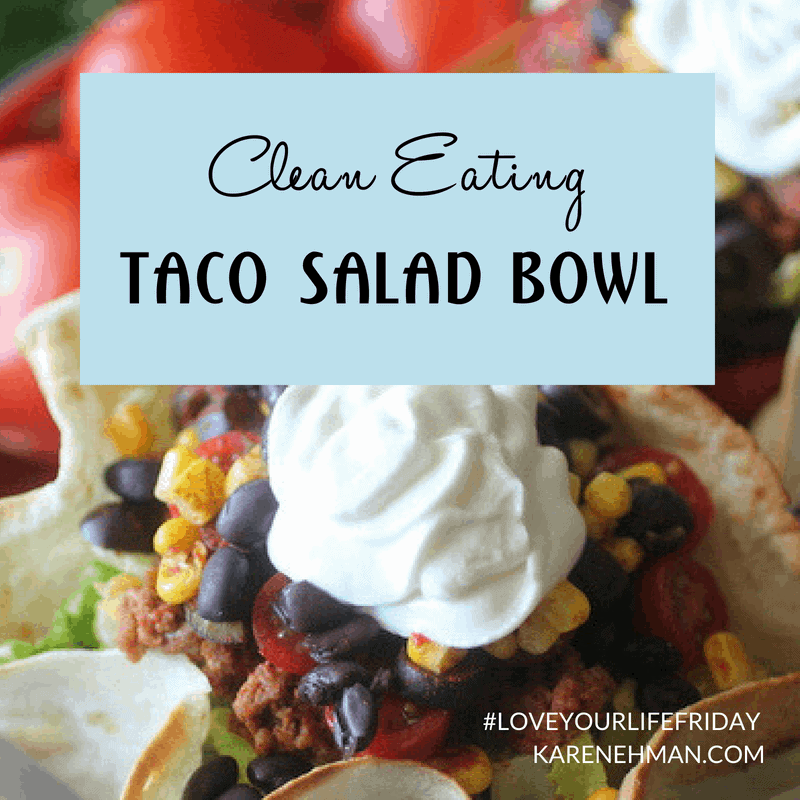 This Clean Eating Taco Salad with a Baked Taco Bowl Shell is the perfect go-to quick and easy lunch or dinner! With just a few simple ingredients and about 10 minutes, you can have a delicious salad with a beautiful presentation ready to serve!
Ingredients
4 

Whole grain tortillas (

or low carb, ezekiel wraps, or gluten free tortillas)


2 (8 oz) bags 

Shredded lettuce (or lettuce of choice)
Taco Meat
1 lb 

Lean ground turkey (

or lean ground beef)

1/2 tsp 

Salt

1/2 tsp 

Cumin

1/2 tsp 

Garlic powder

1/2 cup 

Taco Sauce
Toppings
1 cup 

Corn

1 cup 

Black beans (or pinto beans)

1 cup 

Salsa

1 cup 

Plain Greek yogurt (or low fat sour cream)

Optional: 

1 cup shredded cheese of choice
Method:
1.Preheat oven to 450 degrees. After removing the corn and beans from the cans, remove the paper from the can, and place it on a sheet pan. (You could use any empty can you have on hand, or an oven safe mug or dish that you can drape the wrap over). Drape the wrap/tortilla over the can, mug, or bowl, and place in the oven for 8-10 minutes, or until the tortilla is golden brown, and crispy. Repeat if necessary until all of the wraps/tortillas are done.
2. While the tortilla is baking, add the ground meat to a large skillet sprayed with cooking spray. Add spices and 1/4 cup taco sauce. Cook over medium high heat, breaking it up as it cooks until it is cooked through. Turn off heat when done cooking and add the remaining 1/4 cup taco sauce. Stir until well combined.
3. Measure out 1/4 of the lettuce into each of the taco shell "bowls", and prepare the rest of the ingredients to put in the salad. Add 1/4 of the meat to each of the shells followed by 1/4 cup of the rest of the ingredients on each salad. Enjoy!
********************
********************************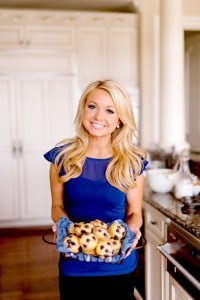 Katie Farrell is the founder of Dashing Dish, a healthy recipe website and ministry to women. Katie is a registered nurse from Michigan, where she lives in Brighton with her husband of five years. Dashing Dish is a combination of Katie's passions—helping women find their identity in God and ending misconceptions about healthy eating. >Looking for some more yummy recipes? Check out Katie's cookbooks: Dashing Dish: 100 Simple and Delicious Recipes for Clean Eating and Devotions for a Healthier You .
********************************
*affiliate links may be included. I only recommend products I know my readers will love.