Tomato and Basil Bruschetta (Summer Side Dish) for #LoveYourLifeFriday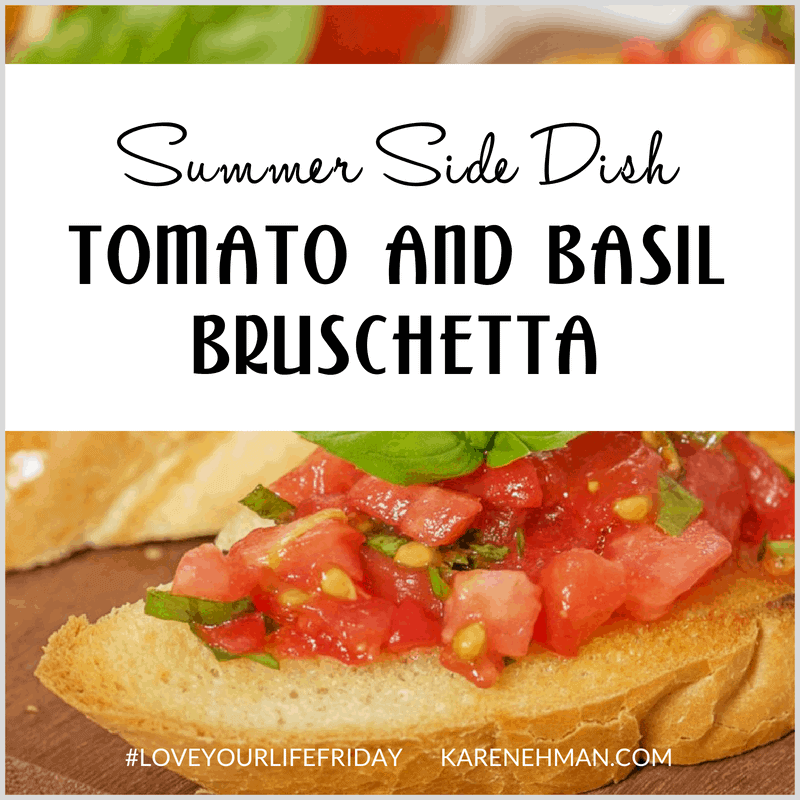 For most of us, summer closes its doors soon and fall will be ushered in shortly.
I am surrounded by fall decor when at the craft store. My local coffee shop already promoted dates when pumpkin-flavored drinks make an appearance!
Everything seems to speak of the next season.
But if you're similar to farmers and people in my area, preserving summer produce takes up focus. If not preserving, then it's eating and enjoying the harvest.
About this time of year our family eats plenty of bruschetta. Something about the tastiness of sun-ripened tomatoes mixed with garlicky, salty spices makes for an easy summer side dish.
If we get fancy, I'll add toasted French bread, perhaps corn on the cob, and call it a meal.  Today I thought to share this simple recipe with you! Most likely, the ingredients are already found on your shelves.
Tomato and Basil Bruschetta
Ingredients
¼ cup olive oil
3 Tbsp chopped basil
4 garlic cloves, minced
½ tsp salt
¼ tsp pepper
4 medium tomatoes, drained & chopped
2 Tbsp grated Parmesan cheese (omit if allergic or skipping dairy)
Instructions
Combine oil, basil, garlic, salt & pepper.
Add tomatoes & toss gently.
Sprinkle with cheese & refrigerate for an hour.
Bring to room temp if desired and eat with toasted French bread if desired. (We lightly pan fry our bread in olive oil, coconut oil or simply toast it in the oven).
Hope you enjoy!
********************
Daniele
of 
Domestic Serenity
 is a homeschooling Mama of five kiddos and a voracious reader of books. Passionate about her faith, home and family, she blogs about the intentional lifestyle and writes for other online and print publications.
Daniele
thinks life is made more enjoyable with a cup of herbal tea in hand!