Day 10 of 12 Days of Christmas Giveaways (with Ruth Schwenk)
Winners announced here! Congratulations!
It's Day 10 of 12 Days of Christmas Giveaways!
If you're just joining in, start at Day One here.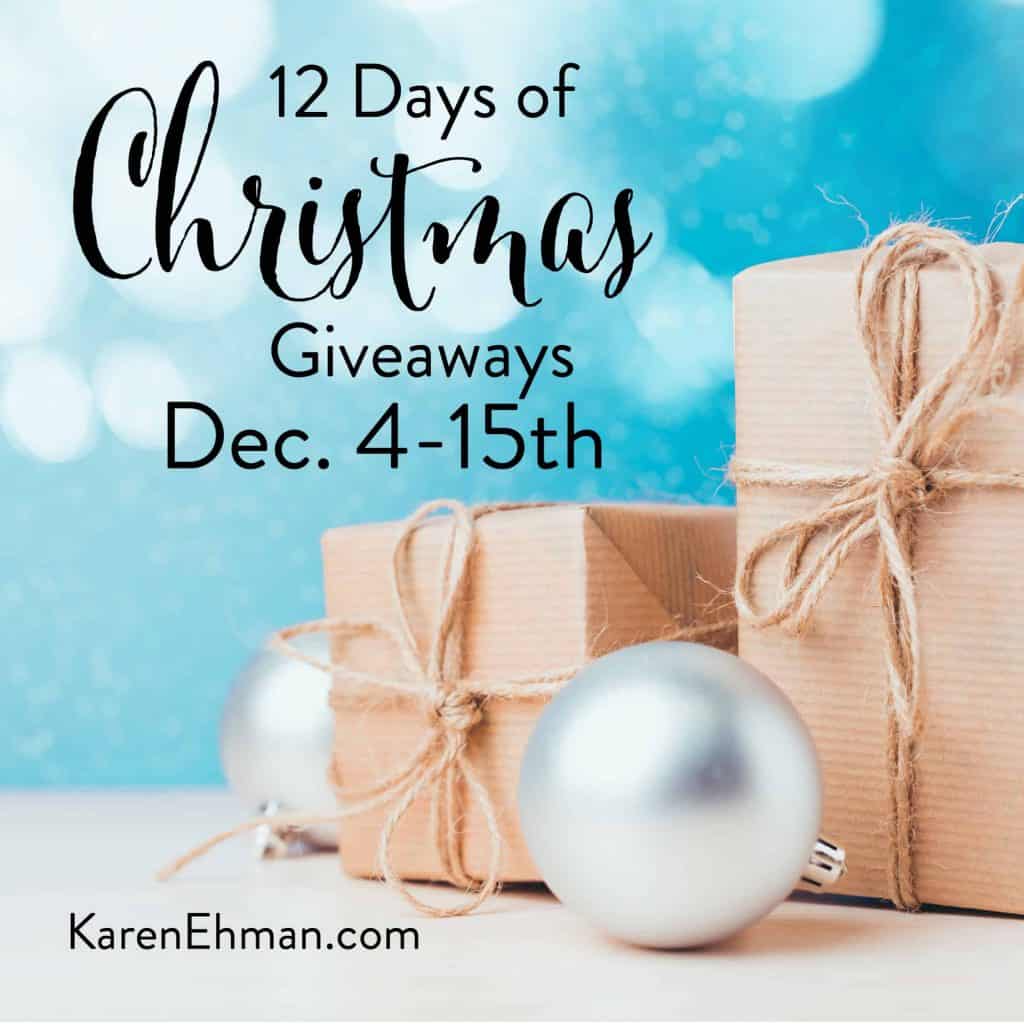 My guest today is my close friend and three-time coauthor Ruth Schwenk. Ruth has a passion for helping moms grow better through her popular website TheBetterMom. Today she is helping us in the area of gift-giving, sharing some great spiritual growth book and Bible ideas for the kids in our lives. Here's Ruth…
*********************
It's the most wonderful time of the year! I love this time of year because giving gifts is one of my very favorite things to do! But not just any gift. I love giving meaningful gifts. For my children, it has become a tradition over the years to give each child one gift, in particular, to spur them on and encourage them in their faith, which can be a Bible, journal, devotional etc. I also get one gift for the whole family, such as an advent book, game etc.
There is something so special when the loved ones in our lives can see the sentiment behind the gifts we give them. Those will be the gifts they remember.
Below are some of the most meaningful gifts you can give children this Christmas.
The Advent Storybook: 25 Bible Stories Showing Why Jesus Came by Laura Richie
Courageous Christians: Devotional Stories for Family Reading by Joyce Vollmer Brown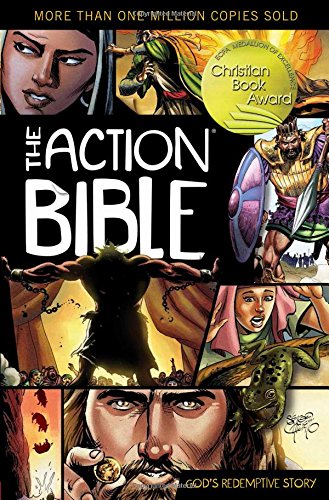 The Jesus Storybook Bible: Every Story Whispers His Name
NIV, Bible for Kids, Leathersoft, Pink, Red Letter Edition, Comfort Print: Thinline Edition
NIV, Bible for Kids, Large Print, Leathersoft, Blue, Red Letter Edition, Comfort Print: Thinline Edition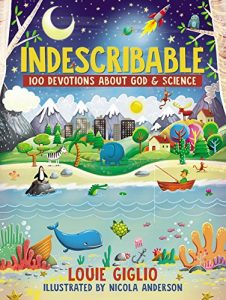 Indescribable: 100 Devotions for Kids About God and Science by Louie Giglio
The Dig for Kids (Proverbs) by Patrick Schwenk
Words to Dream On: Bedtime Bible Stories and Prayers by Diane Stortz
You're God's Girl! A Devotional for Tweens by Wynter Pitts
I hope this list was helpful to you. Remember the gifts that get remembered are the gifts that had meaning!
Now, is there a favorite spiritual growth book or Bible you like to give as a gift? Tell us your favorites so we all can get some new ideas.
Merry Christmas,
Ruth
Day 10 Giveaway
Ruth is giving away three copies of her brand new The Better Mom Devotional.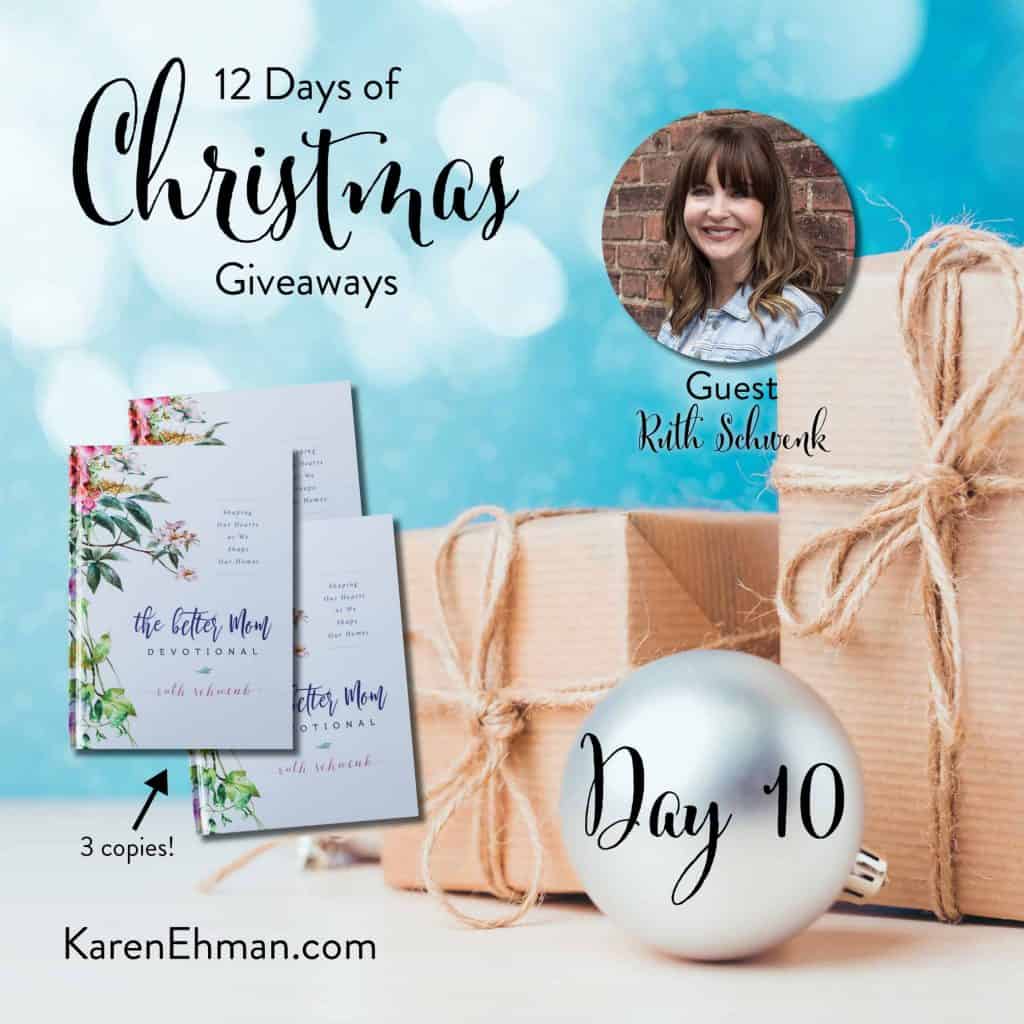 *********************
Ruth Schwenk is the founder of the popular blog, TheBetterMom.com, and along with her pastor/author husband, Patrick, FortheFamily.org. She is the trusted author of several books with Harper Collins Christian, including The Better Mom, The Better Mom Devotional, Pressing Pause, and For Better or For Kids. Ruth is a Michigan football super fan, a self-proclaimed "foodie," and lover of all things HGTV. But her greatest joy is her family. She lives with her husband, four children, two pesky hamsters and their loyal Labrador retriever in the beautiful college town of Ann Arbor, Michigan.
*********************
12 Days of Christmas Giveaways Rules
U.S. Addresses only please.

You can comment on all 12 days (once per person) up until midnight Pacific time, Sunday, December 16. Start with Day One here.

Share the giveaway with your friends and followers. You can use the share buttons below or repost and share on Instagram (my fave) and tag me @karenehman.

One daily winner will be chosen from each day's comments.

To enter to win the Grand Prize (below), comment on all 12 posts and share on social media. 

All winners (including Grand Prize) will be announced here on the blog on Tuesday, December 18, and contacted via email. Please allow 4-6 weeks to receive your prizes.

If you're not already subscribed, click HERE

and you'll receive an email notification each day of our series.
*********************
NOTE: affiliate links may be included. I only recommend products I know my readers will love!