Day 12 of 12 Days of Christmas Giveaways (with Karen Ehman)
Winners announced here! Congratulations!
It's Day 12 of the 12 Days of Christmas Giveaways!
If you're just joining in, start at Day One here.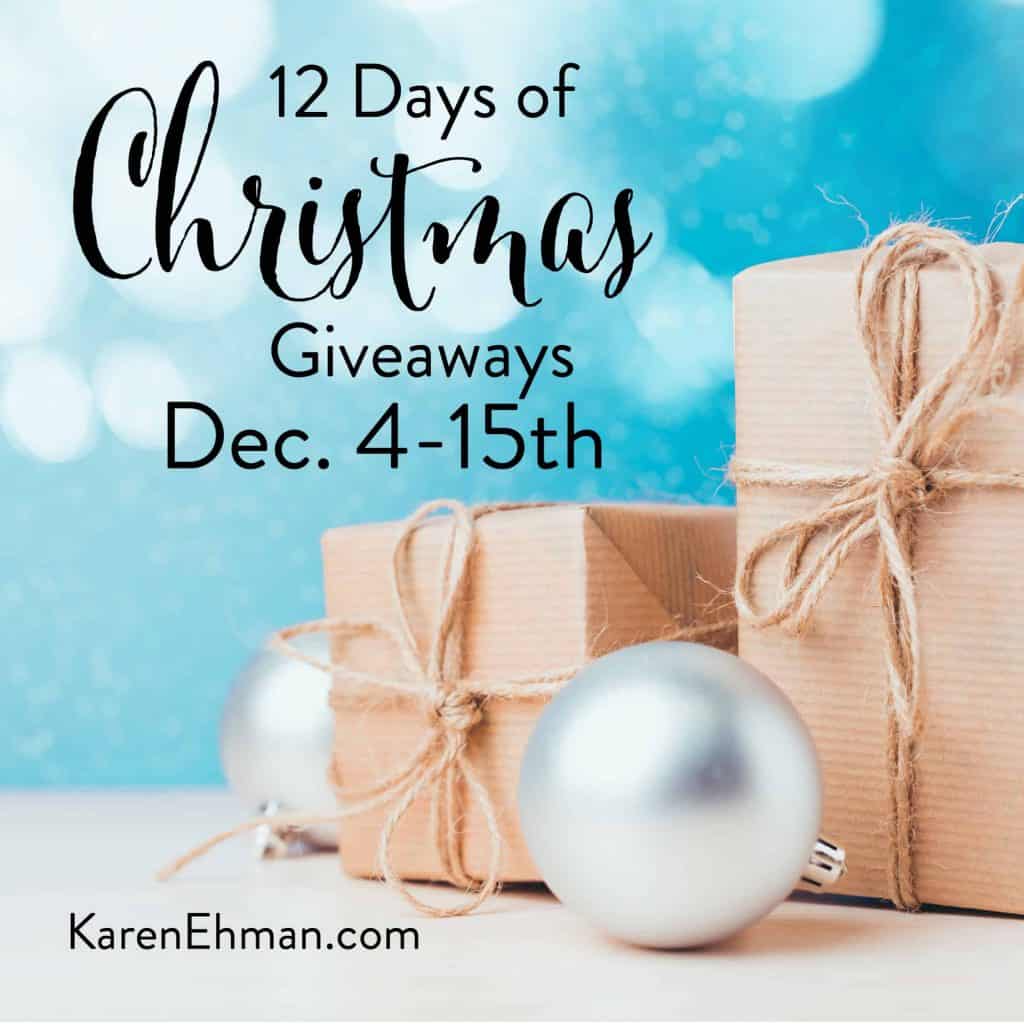 We are finally on our last day of giveaways. I have had a blast learning from our guests and seeing your comments. With so many on our gift-giving list and time running out, I thought I'd offer you my favorite Christmas gift idea for our final day: Book baskets!
Simply take a book and build a gift basket around it.
The first time I saw one was when my best friend from college, Kelly, gave a Laura Ingalls Wilder book basket to my daughter when she was about seven.
In it she placed an old copy of Little House in the Big Woods. Then, she included all of the items Laura got for
 Christmas in 1867.
~ A peppermint stick
~ A pair of red mittens
~ A cookie shaped like a heart and sprinkled with white sugar
~ A shiny new penny
~ Her own tin cup
~ A rag doll named Charlotte
It was an instant hit!
In the years since, I have given away lots of book baskets to kids. Some books have included Balto, Hansel & Gretel, Mr. Popper's Penguins, Peter Rabbit and Winnie the Pooh.
Also the Curious George books are easy to do this with. In one, he visits a candy factory. In another, he takes a trip to the zoo. In one he makes pancakes. These are easy to come up with items to carry out the theme. (fancy chocolates, candy molds & supplies; animal crackers, gummy bears and a stuffed animal; pancake mix, turner, maple syrup and chocolate chips.)
This year I came up with a new favorite to give to a little girl. A book basket with the new children's book from our day one guest, Candace Cameron Bure. It is called Candace Center Stage.
In this basket, I included some fun–and pink!–items to round out the theme of the book: A ballet slipper ornament, a stuffed pink bunny wearing a tutu, some Bath & BodyWorks pink chiffon lotion, a pink wash poof (or whatever they are called!), a sweet-smelling bath bomb, fuzzy socks, a Hello Kitty pink ring light to read by night (or use to take selfies on a cell phone) and some colored pencils and fun straws. What little aspiring ballerina wouldn't love this cute and fun basket?
You can even try your hand at baskets for adults.
Know a gardening enthusiast? Purchase a book on gardening and then round out the basket with some gardening tools, packets of seeds, a pair of gardening gloves and some carrot-cake muffins or home-canned jam.
How about a baseball fan? Include a biography of their favorite player and some peanuts in the shell, Cracker Jacks, Big League Chew gum and some baseball foil-wrapped chocolates.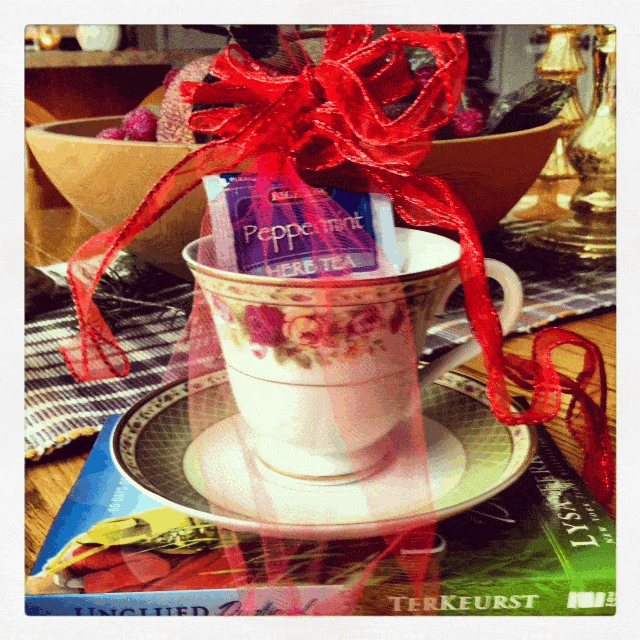 And, for a great gift for a special girlfriend, mom or sister, give a tea cup devotional. Simply choose a devotional book. (Try this one for a mom or this one for anyone!)  On top of that, place a new or antique tea cup and saucer. In it, tuck some tea bags. Tie it shut with clear wrap or tulle and tie shut with a bow. You may also stick a pen in the bow or add a tag with a favorite Bible verse written on it. Perfect to bless someone while encouraging their walk with the Lord.
With a simple book, you can build a great gift!
*********************
Day 12 Giveaway
And now, for my giveaway! One of you who leaves a comment here will win a copy of my new book (releasing in February) called Keep Showing Up:How to Stay Crazy in Love When Your Love Drives You Crazy and a $25 Amazon gift card. If you are married, you can read the book and purchase yourself something you'd like from Amazon. If you aren't married, maybe use the gift card to buy some items to make a book basket for your married friend centered around Keep Showing Up to give to her for Valentines Day.
==> P.S. If you'd like to be the first to know when the launch team application for my new book, Keep Showing Up, opens up next week, click here to join the interest list.<==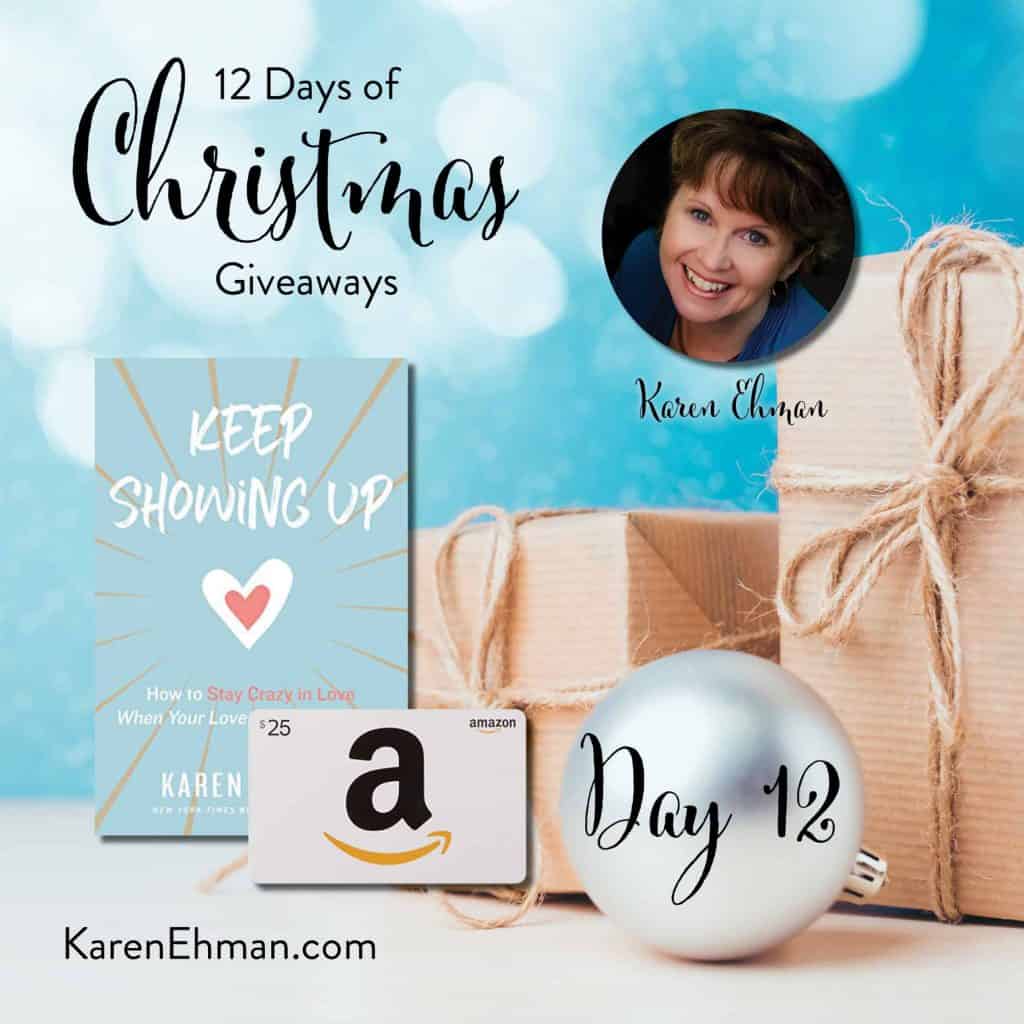 To enter to win this giveaway,  tell us in the comments what book do you think would make a great book basket and what items would you put in it?
*********************
12 Days of Christmas Giveaways Rules
U.S. Addresses only please.

You can comment on all 12 days (once per person) up until midnight Pacific time, tomorrow night (Sunday, December 16). Start with Day One here.

Share the giveaway with your friends and followers. You can use the share buttons below or repost and share on Instagram (my fave) and tag me @karenehman.

One daily winner will be chosen from each day's comments.

To enter to win the Grand Prize (below), comment on all 12 posts and share on social media. 

All winners (including Grand Prize) will be announced here on the blog on Tuesday, December 18, and contacted via email. Please allow 4-6 weeks to receive your prizes.

If you're not already subscribed, click HERE

and you'll receive an email notification each day of our series.
*********************
NOTE: affiliate links may be included. I only recommend products I know my readers will love!