Day 12 of 12 Days of Christmas Giveaways (Grand Prize with Granger Smith)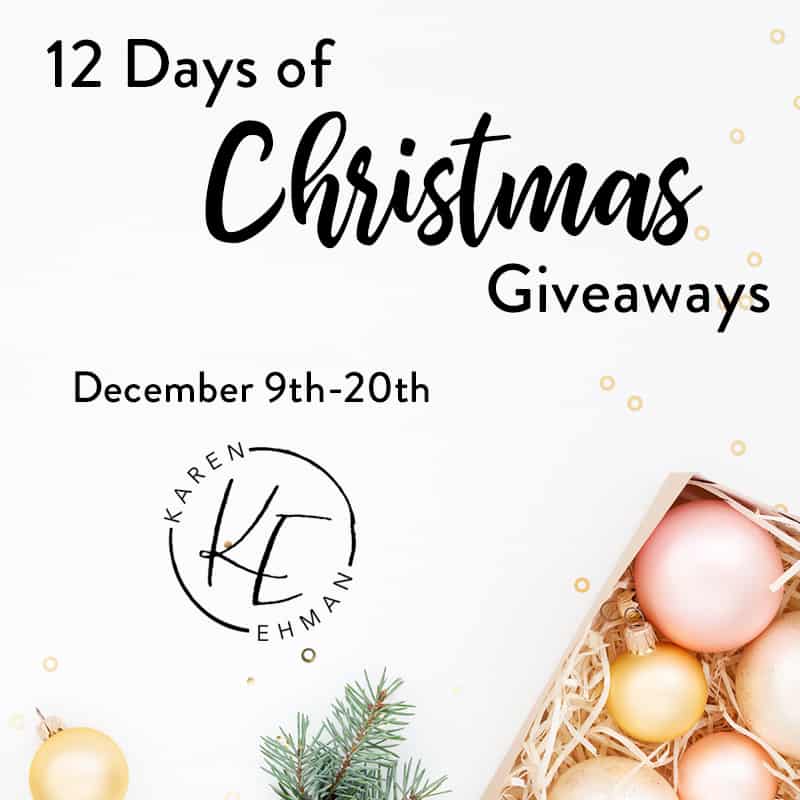 It is the final day of fun in our 12th annual 12 Days of Christmas Giveaways! If you're just joining in, be sure to start at Day 1 here.
Today, we are showcasing the Grand Prize of the series, given away by me. But first, here is one last favorite recipe of ours for the holidays, perfect for Christmas morning. Christmas Breakfast Strata!
With it's red and green colors from the peppers, serve it with yesterday's featured cinnamon rolls and some fruit and you'll have the makings of a yuletide brunch! And best of all, you can make this ahead and then just warm it in the oven or microwave Christmas morning. So easy!
Day 12: Christmas Breakfast Strata
1 lb. ground sausage (we use turkey sausage)
½ cup finely chopped green pepper
½ cup finely chopped red pepper
10 ounce can of tomatoes with green chilies, drained (We use Rotel brand)
9 large eggs, beaten
¾ cup flour
2 tsp. baking powder
½ tsp. salt
1 tsp. minced fresh garlic (or ½ tsp. dried)
2 cups thawed, frozen corn
12 ounces sour cream
12 ounces small curd cottage cheese
1 ½ cups grated sharp cheddar cheese
1 ½ cups Romano cheese
Preheat oven to 350 degrees. In a large skillet, brown sausage with peppers. Drain. Add tomatoes and set aside. Beat eggs in a large bowl and add flour, baking powder, salt, garlic, corn, sour cream and cottage cheese stirring well. Add cheeses. Stir in sausage and pepper mixture. Pour into a greased 9 x 13 inch pan and bake for 60-75 minutes until lightly golden and set up in the middle. Do not overbake. If it begins to brown too quickly, cover loosely with foil for the last 15-30 minutes of baking time. Enjoy!
Day 12 GRAND PRIZE Giveaway
Let's wrap up our 12 Days of Christmas Giveaways with my grand prize, worth over $150! It includes a $75 Amazon gift card, and two admission tickets (with meet-and-greet) to a concert with award-winning country music artist, Granger Smith.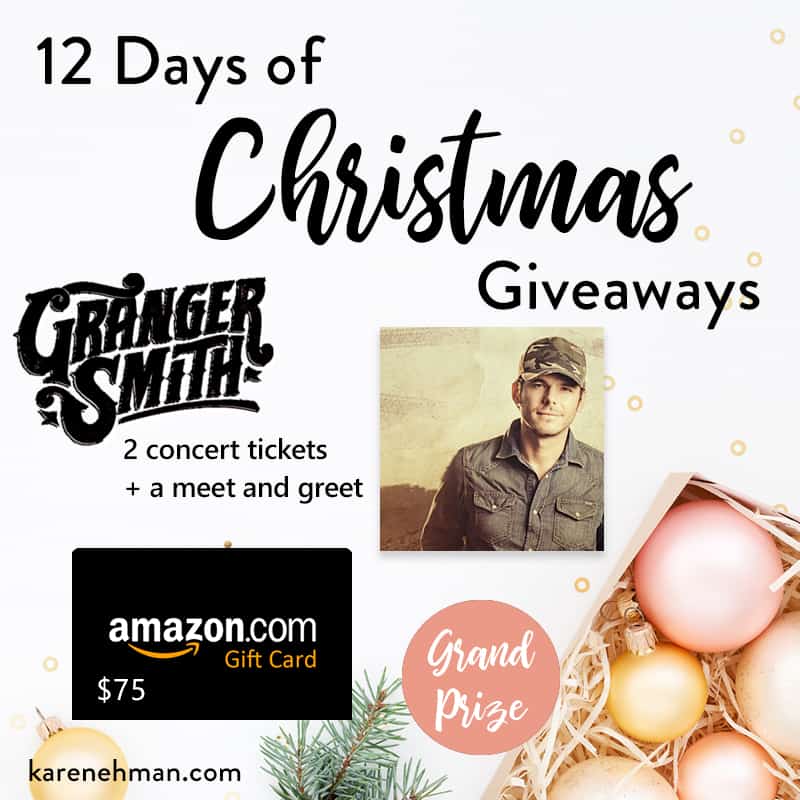 Giveaway rules are listed below. Enjoy!
*********************
Granger Smith is an award-winning country music singer and songwriter, husband to Amber Smith, and dad of three. Granger and Amber tragically lost their youngest son, River Kelly Smith, in June 2019. While this loss has devastated their family, they have vowed to bring light from the dark, by creating the River Kelly Fund, designed to spread joy and help those in need, in his honor. Granger also produced the They Were There documentary and soundtrack honoring the lives of five fallen soldiers and seeks to pay tribute to their heroic sacrifices and infinite legacies. Follow along with Granger and his family on their YouTube page, The Smiths.
*********************
12 Days of Christmas Giveaways Rules
U.S. Addresses only please.
You can comment on all 12 days (once per person) up until midnight Pacific time, Sunday, December 22. Each day will be linked below for easy reference.
One daily winner will be chosen from each day's comments.
To enter to win the Grand Prize, comment on, and share, all 12 posts. You can use the share buttons below or repost and share on Instagram (my fave!) and tag me @karenehman.
All winners (including Grand Prize) will be announced here on the blog on Monday, December 23, and contacted via email. Please allow 4-6 weeks to receive your prizes.
If you're not already subscribed, click HERE and you'll receive an email notification each day of our series, plus my Bless Don't Stress devotional.
GRAND PRIZE GIVEAWAY QUESTION:
To be entered to win today's giveaway—the grand prize of a $150 Amazon gift card—answer the following question in the comments section and be sure you have also answered on all the other eleven days linked below. The grand prize will only be given to someone who comments on and shares all 12 posts.
What is your favorite Christmas movie? Mine is either Elf or The Christmas Box, starring Richard Thomas, which sadly, can only be purchased used. What is your most-loved Christmas movie?

Affiliate links may be included. We only recommend products we know our readers will love!
Day 1 with Candace Cameron Bure
Day 7 with Phylicia Masonheimer
Day 9 with Ruth Schwenk

Day 10 with Amber Smith (Granger's wife)

Day 11 with Nicki Koziarz