Day 7 of 12 Days of Christmas Giveaways (with Phylicia Masonheimer)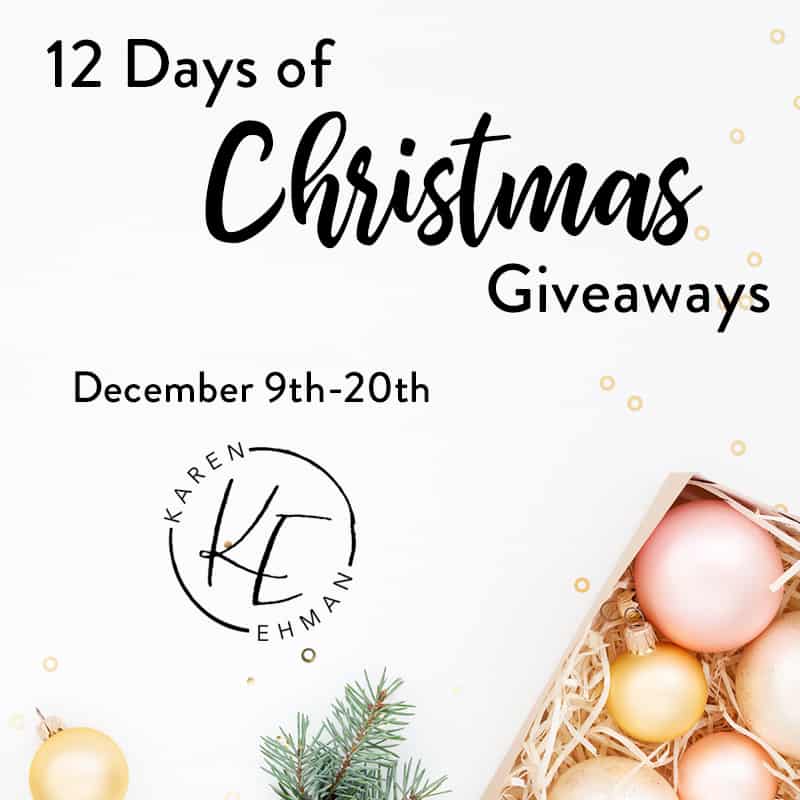 Welcome to our seventh day of fun in my 12th annual 12 Days of Christmas Giveaways! If you're just joining in, be sure to start at Day 1 here.
I'm so happy to introduce you to a newer friend of mine, Phylicia Masonheimer, who is an author and theology geek who just happens to live in my home state of Michigan. (Did ya know our state is America's high five?) I first found Phylicia on Instagram and I love following her. She is a wealth of information on all things theology, with some other fun home and family topics thrown in.
But before we get to the prize she is offering, here is today's tip for the season.
Day 7: Our favorite holiday books for kids
Each year, we keep all of our Christmas books in an antique desk drawer on our hearth that serves as a basket. Then, these books can be read to any kids who are over.
The Legend of the Candy Cane by Lori Walburg
My friend Lori wrote this whimsical story that has become a Christmas classic.
One dark November night a stranger rides into a small prairie town. Who is he? Why has he come? The townspeople wish he were a doctor, a dressmaker, or a trader. But the children have the greatest wish of all, a deep, quiet, secret wish.
Then a young girl named Lucy befriends the newcomer. When he reveals his identity and shares with her the legend of the candy cane, she discovers fulfillment of her wishes and the answer to her town's dreams. Now will she share what she has learned?
Vibrant illustrations by Richard Cowdrey bring to life a timeless tale by Lori Walburg, a story that will help families celebrate the mystery and miracle of Christmas?for many Christmases to come.
The Little Drummer Boy by Ezra Jack Keats
A sweet book based on the classic song. A procession travels to Bethlehem, bringing gifts for the Christ child. A little boy comes along but he is unable to afford a gift suitable for the king. What can he give the newborn baby? Vivid and gorgeous illustrations make this story come alive. Music for the song appears at the back of the book.

The Night Tree by Eve Bunting

Our kids loved this book and I have given it as a gift several times. It tells the tale of how, by moonlight in the quiet forest, a young boy and his family decorate their favorite tree with popcorn, apples, tangerines, and sunflower-seed balls as a gift for the animals of the woods. This book is beautifully illustrated and your kids will want to go out to the forest to find and decorate their own night tree.
The Crippled Lamb by Max Lucado

In this timeless bestseller, readers experience the tender love God has for those who feel alone and different. Joshua was a lamb with a crippled leg who felt left out because he couldn't run and play like the other lambs. But God had a very special plan for Joshua's life, as He does for all who feel alone. Readers can expect a gentle tug on their hearts as the little lamb's prayers are answered in an amazing way. Original oil-painting illustrations capture the beauty and warmth of this endearing story.
Merry Christmas, Curious George by Margaret and H.A. Rey

It's Christmastime! And that mischievous monkey Curious George has just the spirit for it. He can't wait to help his best friend, The Man with the Yellow Hat, pick out a Christmas tree. But as usual, George's antics get in the way. Hiding in a tree's branches, he finds himself delivered to the local children's hospital, where he cheers up the children and also gets to meet a jolly man in a bright red suit.

The Pine Tree Parable by Liz Curtis Higgs
Liz is a dear friend and a prolific author. I love her four seasonal parables for kids. This one is for winter. The Pine Tree Parable tells the heartwarming tale of a farmer and his family who nurture tiny seedlings into fragrant Christmas trees.
When the trees are tall enough to offer to their neighbors, the farmer's wife plans to keep the most beautiful pine tree for her family, until one snowy December night when a child teaches her the true meaning of Christmas.
Day 7 Giveaway
My guest today is Phylicia Masonheimer. She's giving away a copy of her Safe to Feel: A 30 Day Devotional for Women Who Struggle with Affection, along with a $15 Amazon gift card.
Giveaway rules are listed below. Enjoy!
Phylicia Masonheimer teaches Christian women how to know what they believe and live it boldly. She is a blogger, podcast host, and speaker. Her writing focuses on discerning truth in culture and letting that truth draw us nearer to God. Phylicia lives in northern Michigan with her husband and children. Connect with Phylicia at Phyliciamasonheimer.com.
*********************
12 Days of Christmas Giveaways Rules
U.S. Addresses only please.
You can comment on all 12 days (once per person) up until midnight Pacific time, Sunday, December 22. Each day will be linked below for easy reference.
One daily winner will be chosen from each day's comments.
To enter to win the Grand Prize (worth over $150 and includes a $75 Amazon gift card, and two admission tickets (with meet-and-greet) to a concert with award-winning country music artist, Granger Smith, comment on, and share all 12 posts. You can use the share buttons below or repost and share on Instagram (my fave!) and tag me @karenehman.
All winners (including Grand Prize) will be announced here on the blog on Monday, December 23, and contacted via email. Please allow 4-6 weeks to receive your prizes.
If you're not already subscribed, click HERE and you'll receive an email notification each day of our series, plus my Bless Don't Stress devotional.
DAY 7 GIVEAWAY QUESTION:
Do you have a favorite Christmas book. If not, how about the Christmas song you love the most?
Let us know in the comments and you'll be entered in today's giveaway. Remember, if you want to enter to win the grand prize, you must comment on and share all twelve days.

Affiliate links may be included. We only recommend products we know our readers will love!
Day 1 with Candace Cameron Bure