Day 8 of 12 Days of Christmas Giveaways (with Jada Edwards)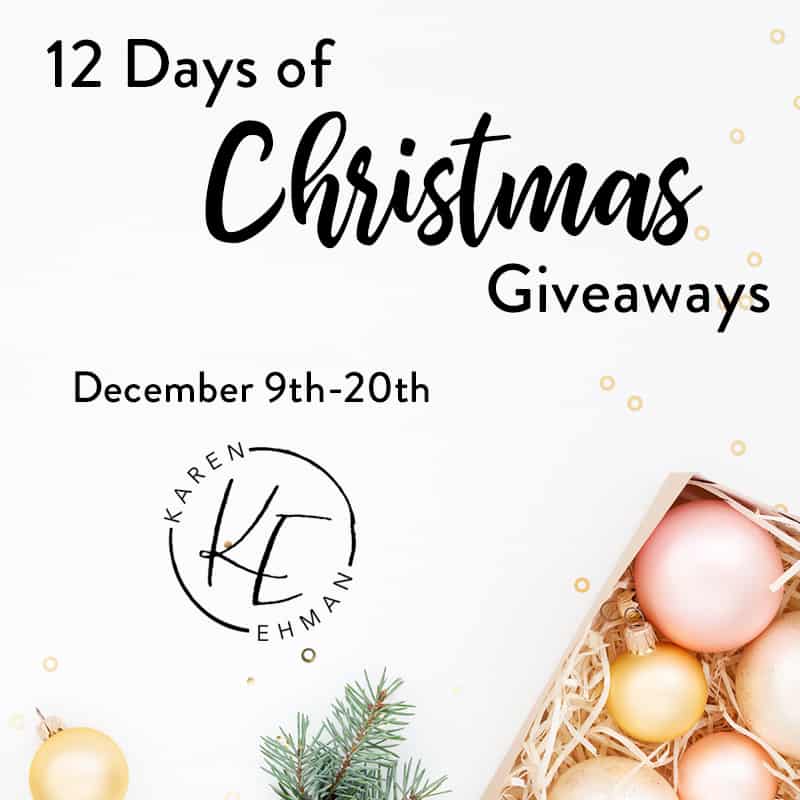 We have arrived at day eight of my 12th annual 12 Days of Christmas Giveaways! If you're just joining in, be sure to start at Day 1 here.
Our guest today is a new friend I just met when we both spoke at a recent LifeWay conference. Jada Edwards is a follower of Jesus, wife, and mother dedicated to sharing biblical principles in relevant ways. She is offering a great giveaway today. But first, here is a clever and easy homemade gift to give to a friend or a hostess at the holidays.
Day 8: Turkey Noodle Soup Mix in a Jar
Resurrect the often lost art of taking a thoughtful hostess gift when you are invited to a meal. Flowers are a stand-by. Or try your hand at assembling this simple hostess gift, perfect for the holidays as it uses leftover turkey:
Turkey Noodle Soup Mix in a Jar
Layer the following in a quart jar:
2 envelopes Knorr Vegetable Soup mix
1/3 cup dried split peas
Homestyle or Amish dry noodles (enough to reach almost to the top of the jar)
3 chicken bouillon cubes
Place lid and ring on the jar. Then, fold a new dish cloth into quarters. You might want to choose one in a Christmas plaid pattern. Place it on top of the jar and secure with a rubber band. Tie around some jute twine or raffia. Include a copy of the tag below. Download the tag and print off on cardstock. Then, punch a hole in the corner and secure to the jar with ribbon. So cute and practical!
Day 8 Giveaway
My guest today is Jada Edwards. She's giving away her Captive Mind: Evicting Old Thinking To Experience New Life book, along with her 8-Week companion Bible Study Audio.
Giveaway rules are listed below. Enjoy!
*********************
Jada Edwards is an experienced speaker, Bible teacher, and mentor. She has committed her life to equipping women of all ages, regardless of marital status, with practical, biblical truth to help them live more genuine lives. Jada currently serves as the Creative Services Director for One Community Church, where she seeks to serve the evolving communities of Collin County through creative expression and cultural relevance. She has served in various directional capacities within the youth and singles ministries at Oak Cliff Bible Fellowship, a church with over 1,000 youth and 3,000 singles. Jada holds a Master of Business Administration with an emphasis in Organizational strategy and has experience improving organizations though process improvement and technological initiatives. Jada and her husband, Conway, have a son named Joah and a daughter named Chloe. Connect with Jada here.
*********************
12 Days of Christmas Giveaways Rules
U.S. Addresses only please.
You can comment on all 12 days (once per person) up until midnight Pacific time, Sunday, December 22. Each day will be linked below for easy reference.
One daily winner will be chosen from each day's comments.
To enter to win the Grand Prize (worth over $150 and includes a $75 Amazon gift card, and two admission tickets (with meet-and-greet) to a concert with award-winning country music artist, Granger Smith, comment on, and share all 12 posts. You can use the share buttons below or repost and share on Instagram (my fave!) and tag me @karenehman.
All winners (including Grand Prize) will be announced here on the blog on Monday, December 23, and contacted via email. Please allow 4-6 weeks to receive your prizes.
If you're not already subscribed, click HERE and you'll receive an email notification each day of our series, plus my Bless Don't Stress devotional.
DAY 8 GIVEAWAY QUESTION: To be entered to win Jada's giveaway, answer the following question in the comments section.
What is your favorite way to enjoy leftover turkey? Turkey soup? Turkey and noodles? Barbecued turkey sandwich or chunks of turkey on top of a salad? (If you eat vegan, tell us your favorite vegan holiday dish!)
Chime in down in the comments and you'll be entered in today's giveaway. Remember, if you want to enter to win the grand prize, you must comment on and share all twelve days.

Affiliate links may be included. We only recommend products we know our readers will love!
Day 1 with Candace Cameron Bure