Day 9 of 12 Days of Christmas Giveaways (with Ruth Schwenk)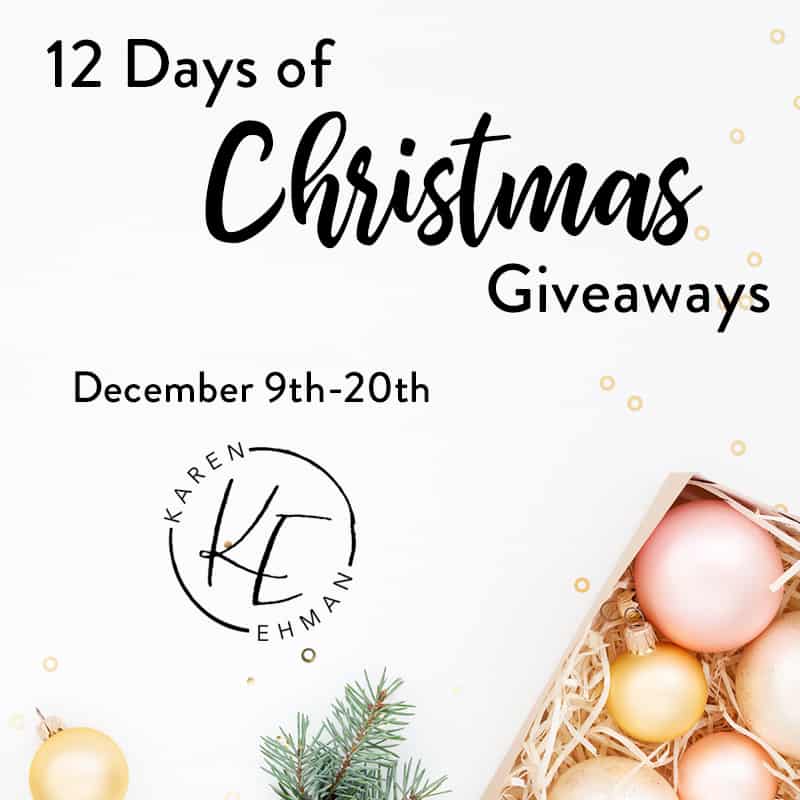 Time is flying by in our 12th annual 12 Days of Christmas Giveaways. It is now day nine! If you're just joining in, be sure to start at Day 1 here.
Our giveaway guest today is my close friend and coauthor Ruth Schwenk from thebettermom.com and forthefamily.org. She and her husband Pat, a pastor and author, have such a vibrant ministry to families. You will love the giveaway today based on some of their fabulous resources. But first, a tried and true recipe for gingerbread cookies your family can enjoy.
Day 9: Vintage Iced Gingerbread Cookies (circa 1940)
Super easy and super delicious! It just isn't Christmas without some sort of gingerbread. These will do the trick!
In a large saucepan boil:
1 stick butter
2/3 C white sugar
1 Tbsp. vinegar
1/2 C molasses
1 ¼ tsp. ground ginger
¾ tsp. cinnamon
? tsp. allspice
Remove from heat and add:
½ tsp. baking soda that has been dissolved in 2 tsp. hot water
Add:
1 egg
1 tsp baking powder
3 C all-purpose four
Cool and cover. Chill in fridge for three hours. Preheat oven to 350 degrees. Roll into 1 1/2 inch balls. Place on ungreased cookie sheet and bake 10-13 minutes or until lightly golden. Do not over-bake. Cool slightly. Then, drizzle icing over.
Icing:
1 C powdered sugar
1/2 t vanilla
Thin with a few tablespoons milk until it is a consistency that can be drizzled over the cookies. Drizzle and let cool completely.
Day 9 Giveaway
My guest today, Ruth Schwenk, is giving away a copy of her newest devotional, Faith Forward Family, along with a Faith Forward journal, and two Faith Forward stickers for your children. One winner will receive two bundles, one for you and one for a friend!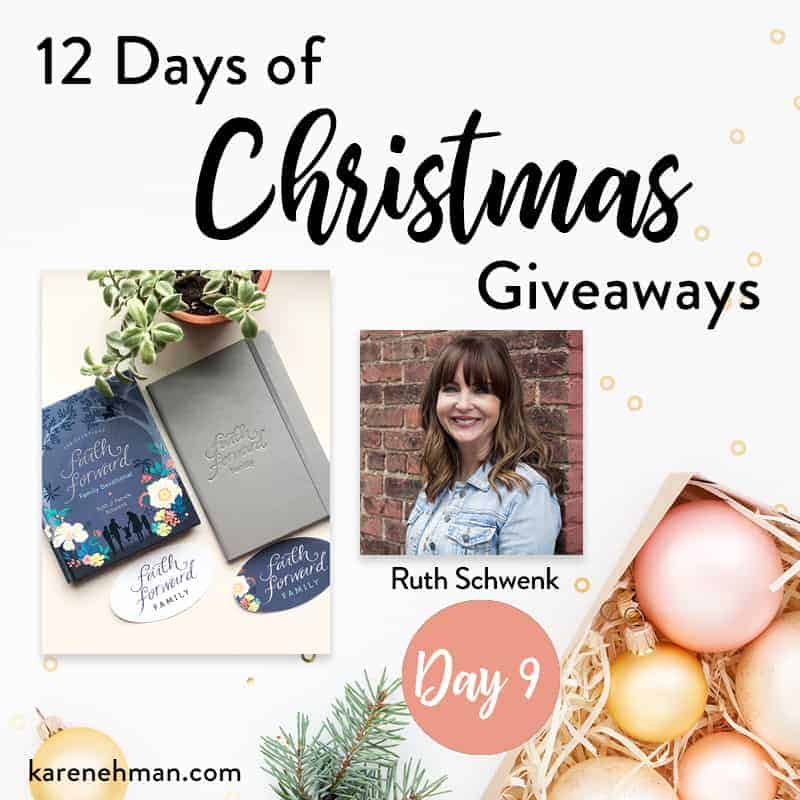 Giveaway rules are listed below. Enjoy!
*********************
Ruth Schwenk is the founder of the popular blog, TheBetterMom.com, and along with her pastor/author husband, Patrick, FortheFamily.org. She is the trusted author of several devotionals with Harper Collins Christian, including Faith Forward Family, The Better Mom Devotional, and Pressing Pause. Ruth is a Michigan football super fan, a self-proclaimed "foodie," and lover of all things HGTV. But her greatest joy is her family. She lives with her husband, four children, two pesky hamsters and their loyal Labrador retriever in the beautiful college town of Ann Arbor, Michigan.
*********************
12 Days of Christmas Giveaways Rules
U.S. Addresses only please.
You can comment on all 12 days (once per person) up until midnight Pacific time, Sunday, December 22. Each day will be linked below for easy reference.
One daily winner will be chosen from each day's comments.
To enter to win the Grand Prize (worth over $150 and includes a $75 Amazon gift card, and two admission tickets (with meet-and-greet) to a concert with award-winning country music artist, Granger Smith, comment on, and share all 12 posts. You can use the share buttons below or repost and share on Instagram (my fave!) and tag me @karenehman.
All winners (including Grand Prize) will be announced here on the blog on Monday, December 23, and contacted via email. Please allow 4-6 weeks to receive your prizes.
If you're not already subscribed, click HERE and you'll receive an email notification each day of our series, plus my Bless Don't Stress devotional.
DAY NINE GIVEAWAY QUESTION:
What is your favorite Christmas cookie?
Let us know in the comments and you'll be entered in today's giveaway. Remember, if you want to enter to win the grand prize, you must comment on and share all twelve days.

Affiliate links may be included. We only recommend products we know our readers will love!
Day 1 with Candace Cameron Bure
Day 7 with Phylicia Masonheimer