Day 1 of the 12 Days of Christmas Giveaways! (with Shannon Acheson)
*If you are reading this post in your email inbox, be sure to navigate to my blog order to leave your comment and be entered to win the giveaway. To do so, click here.
NOTE: The best way to make sure you don't miss any of the 12 days of giveaways is to subscribe to my blog so new posts are sent to your email inbox. When you do, you will automatically be sent a PDF resource I wrote called 5 Ways to Tether Your Heart to God's Word. Click here to subscribe.
Welcome to my 13th annual 12 Days of Christmas Giveaways!
Years ago, I had an idea that has since grown into a fun and fabulous annual tradition. For 12 days in December, I have a guest share about a Christmas topic such as their favorite Christmas memory, movie, food, or tradition. They also offer a giveaway of the day. To enter to win it, all you need to do is answer a "quick question" of the day in the comment section and you will be eligible. Easy!
IMPORTANT NOTE: Although all you need to do to enter is comment here, I will also be snooping around on social media, such as Facebook, Instagram, and Twitter, looking for people who are promoting the giveaway by sharing an image along with the hashtag #12daysofchristmasgiveaways When you do so, you will be entered a second time for the giveaway that day!
Additionally, there is a grand prize for one person who comments on all 12 days, so set a daily alarm on your phone from now until December 18th and join the fun!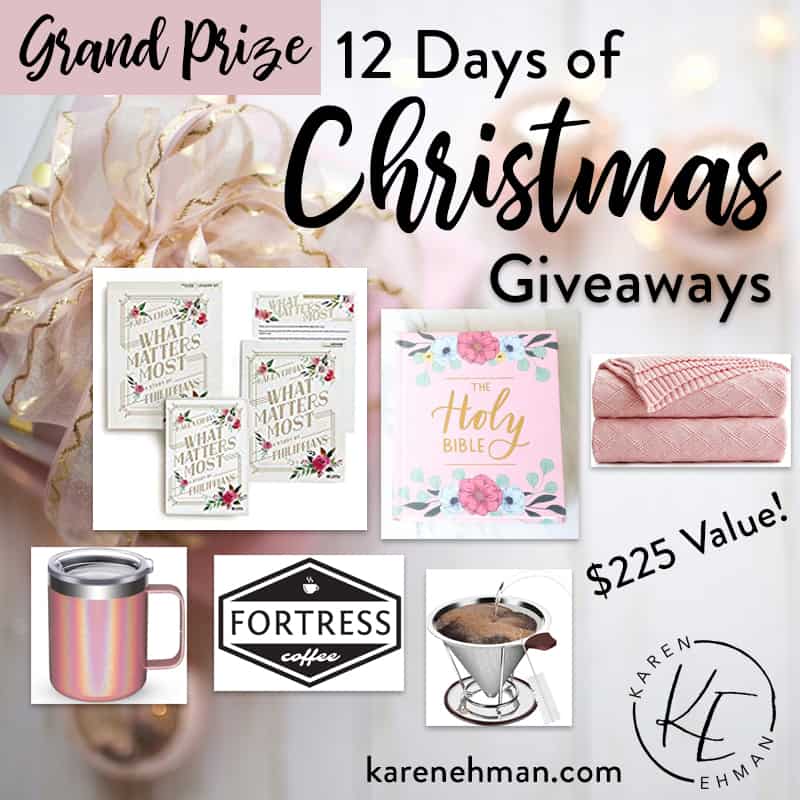 This year our Grand Prize is worth over $225!! It includes:
Ok…up first is a new friend of mine. Shannon Acheson is an author, home design and lifestyle expert, and creator of the popular website Homemade Lovely! Be sure to follow her on Instagram for some fabulous ideas.
And now, here's Shannon!
Day 1: Christmas Eve Tradition
Since my husband and I didn't actually grow up celebrating Christmas, we've had to create our own Christmas traditions. A couple of my favorites that we return to again and again are opening one gift each (always pajamas) and our stockings on Christmas Eve, and also making and eating cupcakes to celebrate baby Jesus birth (we do this a little less often now that the kids are older but it was definitely a highlight when they were young). We look forward to all these simple traditions every year.
Now, for my giveaway!
I mentioned opening pajamas and stockings on Christmas Eve. Is there something you usually do on Christmas Eve each year? Go to a candlelight service? Open new slippers? Watch a movie? Order pizza and drive around looking at Christmas lights? Tell us what it is in the comments and you'll be entered in today's giveaway. Remember, if you want to enter to win the grand prize, you must comment on and share all 12 days.
Day 1 Giveaway
Thanks Shannon! For first prize, Shannon is giving away a copy of her new hardcover book Home Made Lovely I have this book sitting on my coffee table right now and I love working my way through it. It will give you tons of ideas and loads of inspiration for making your home welcoming.
Everyone wants a home that is beautifully decorated and clutter-free, but most of us are unsure how to get there without breaking the bank. In Home Made Lovely, Shannon Acheson takes the overwhelm and guesswork out of styling and organizing a lovely home.
Home Made Lovely is a mind-set: Decorating should be about those who live there, rather than making your home into a magazine-worthy spread. This book will help you:
· decorate in a way that suits your family's real-life;
· declutter in seven simple steps;
· perform a house blessing to dedicate your home to God;
· be thankful for your current home and what you already have;
· brush up on hospitality with more than twenty actionable ideas that will make anyone feel welcome and loved in your home.
In Home Made Lovely, Shannon meets you right where you are on your home-decorating journey, helping you share the peace of Jesus with family members and guests.
*********************
Shannon Acheson is a mostly self-taught designer, decorator, writer, and stylist. Although she has completed her interior design training, she'd much rather teach you how to decorate your own home than do it for you. She is the editor and designer behind the design and lifestyle company and blog HomeMadeLovely.com. Her happy place is in the suburbs of Toronto, where she is a Homebody with a capital H, a Jesus girl, a happy wife to Dean, and a homeschooling mom of three teenagers. Learn more at www.homemadelovely.com.
*********************
Don't forget to answer today's quick question in the comments below!
NOTE: Affiliate links may be included. We only recommend products we know our readers will love!
12 DAYS OF CHRISTMAS GIVEAWAYS RULES
U.S. Addresses only please.
You can comment on all 12 days (once per person) up until midnight Pacific time, Sunday, December 20. Each day will be linked below for easy reference.
One daily winner will be chosen from each day's comments.
To enter to win the Grand Prize (worth over $225 and includes: A leader kit of my What Matters Most Lifeway study of Philippians, including the teaching DVD's and one Bible study guide; a Wheatfield Woman ESV journaling Bible from Wheat and Honey Co.; a pink cable knit throw (other color options available); a pour-over coffee dripper ; a half pound of Fortress coffee, a company started by two fellow alumni from Spring Arbor University; an insulated pink shimmer mug–or color of your choice), comment on and share all 12 posts. You can use the share buttons below or repost and share on Instagram (my fave!) and tag me @karenehman.
All winners (including Grand Prize) will be announced here on the blog on Monday, December 21, and contacted via email. Please allow 4-6 weeks to receive your prizes.
Day 8 with Chrystal Evans Hurst