Day 12 of 12 Days of Christmas! (with Karen Ehman)
It's Day 12 of 12 Days of Christmas Giveaways! If you're just joining in, be sure to start at Day 1 here.
Here we are at the last day of our 12 days of Christmas giveaways! ALL WINNERS ANNOUNCED ON MONDAY, DECEMBER 21st! Remember, you must be sure to comment on all 12 posts by midnight Sunday, December 20th, Pacific time if you want to enter to win the grand prize. Once again, here is that fabulous bundle: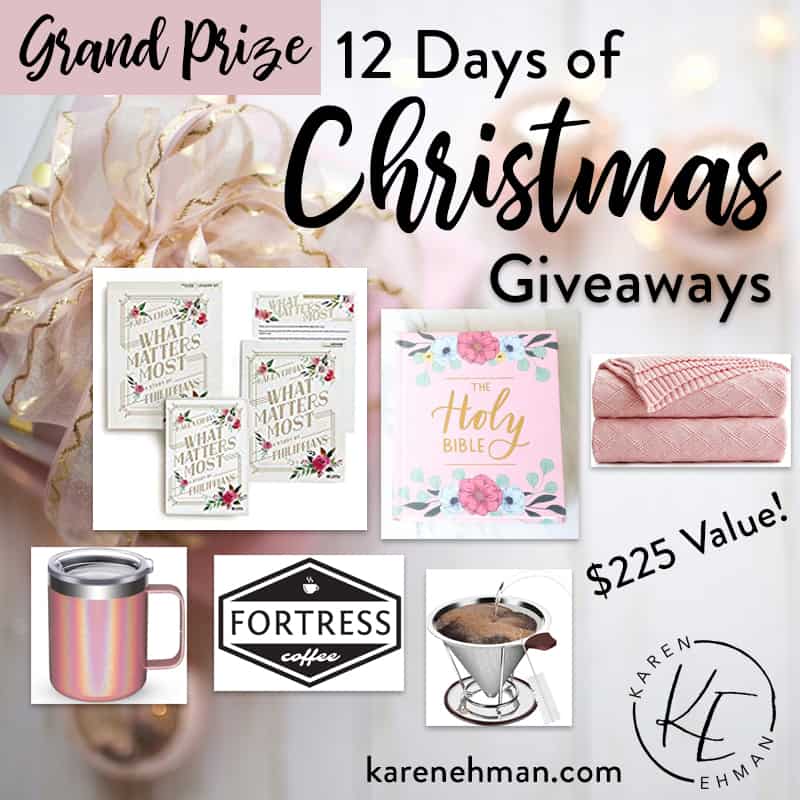 This year our Grand Prize is worth over $225!! It includes:
Day 12: Christmas Random Acts of Kindness
For our final day, let's talk about scattering a little yuletide kindness. Especially with the year we've had, the world could use a little Christmas cheer.
Years ago, when our children were very young, a sweet widow on our city block told me a statement I've never forgotten. She said that Christmas is an excuse to make someone else's life better. This might look like adopting a family who deals with food insecurity or helping your church provide gifts for the children of people who are incarcerated. However, there are many actions we can take on a smaller scale that will also help to spread some Christmas kindness. Here are some ideas our family has tried over the years:
Take hot cocoa or season lattes to the Salvation Army bellringers around town.
Tip the worker assigned to corral all the grocery carts in the parking lot a $10 or $20 bill. Thank them for their hard work and tell them to treat themselves to something when their shift ends.
Scrape off vehicle windshields in the grocery store parking lot on a snowy day.
Take your family to a local nursing home or assisted living facility and make snowmen outside the resident's windows. Before doing so, swing by your local Goodwill store to purchase scarves, hats, mittens, etc… for the snowmen. Also take along some sticks for their arms, large black buttons for their faces, and carrots for their noses.
Place a basket on your front porch full of granola bars, individual bags of salty treats, or even some Christmas candy for the package delivery person. Be sure to write a note telling them to help themselves and thanking them for their hard work at the holidays.
Hand a gift card to a local salon to your favorite barista when they make your peppermint mocha coffee or your gingerbread latte this week. Tell them to treat themselves to a service at the salon and thank them for making your coffee for them all year long.
All over your town there are opportunities for you to make someone else's life a little better this Christmas.
Now, for our last question of the day. Share one idea you have for spreading kindness this Christmas or let us know which of the above ideas you would like to try. I can't wait for your communities to light up with Christmas cheer!
Day 12 Giveaway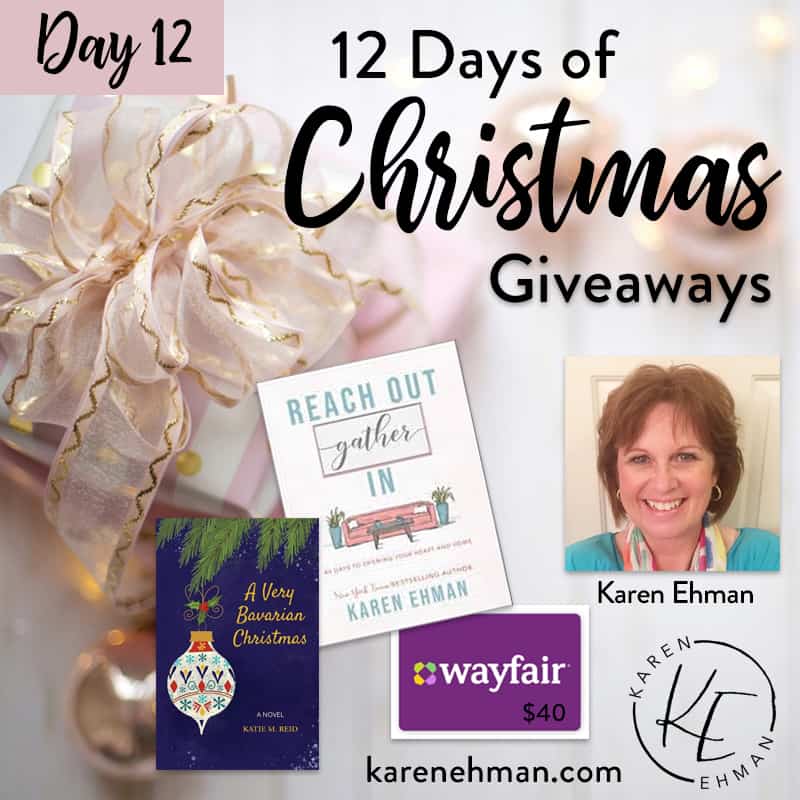 The Day 12 giveaway includes my new devotional Reach Out, Gather In: 40 Days to Opening Your Heart and Home a new Christmas fiction book by author Katie Reid called A Very Bavarian Christmas as well as a $40 gift card to Wayfair to buy something decorative for your home!
*********************

Karen Ehman is a New York Times bestselling author, a Proverbs 31 Ministries speaker, and a writer for Encouragement for Today, an online devotional that reaches over four million women daily. She has written 15 books and Bible studies including KEEP IT SHUT: What to Say, How to Say It, and When to Say Nothing at All and Keep Showing Up: How to Stay Crazy in Love When Your Love Drives You Crazy. Karen has been featured on media outlets including TODAY Parenting, Redbook.com, Foxnews.com, Crosswalk.com, Focus on the Family and HomeLife Magazine. Her passion is to help women live their priorities as they reflect the gospel to a watching world. Married to her college sweetheart, Todd, and the mother of three, she enjoys sending hand-written notecards, cheering for the Detroit Tigers, and feeding the many people who gather around her mid-century dining table for a taste of Mama Karen's cooking.
*********************
NOTE: Affiliate links may be included. We only recommend products we know our readers will love!
12 DAYS OF CHRISTMAS GIVEAWAYS RULES
U.S. Addresses only please.
You can comment on all 12 days (once per person) up until midnight Pacific time, Sunday, December 20. Each day will be linked below for easy reference.
One daily winner will be chosen from each day's comments.
To enter to win the Grand Prize (worth over $225 and includes: A leader kit of my What Matters Most Lifeway study of Philippians, including the teaching DVD's and one Bible study guide; a Wheatfield Woman ESV journaling Bible from Wheat and Honey Co.; a pink cable knit throw (other color options available); a pour-over coffee dripper ; a half pound of Fortress coffee, a company started by two fellow alumni from Spring Arbor University; an insulated pink shimmer mug–or color of your choice), comment on and share all 12 posts. You can use the share buttons below or repost and share on Instagram (my fave!) and tag me @karenehman.
All winners (including Grand Prize) will be announced here on the blog on Monday, December 21, and contacted via email. Please allow 4-6 weeks to receive your prizes.
Day 8 with Chrystal Evans Hurst