Day 6 of 12 Days of Christmas! (with Alexis Joseph)
*If you are reading this post in your email inbox, be sure to navigate to my blog order to leave your comment and be entered to win the giveaway. To do so, click here.
NOTE: The best way to make sure you don't miss any of the 12 days of giveaways is to subscribe to my blog so new posts are sent to your email inbox. When you do, you will automatically be sent a PDF resource I wrote called 5 Ways to Tether Your Heart to God's Word. Click here to subscribe.
It's Day 6 of 12 Days of Christmas Giveaways! If you're just joining in, be sure to start at Day 1 here.
IMPORTANT NOTE: Although all you need to do to enter is comment here, I will also be snooping around on social media, such as Facebook, Instagram, and Twitter, looking for people who are promoting the giveaway by sharing an image along with the hashtag #12daysofchristmasgiveaways When you do so, you will be entered a second time for the giveaway that day!
Additionally, there is a grand prize for one person who comments on all 12 days, so set a daily alarm on your phone phone for now until December 18th and join the fun!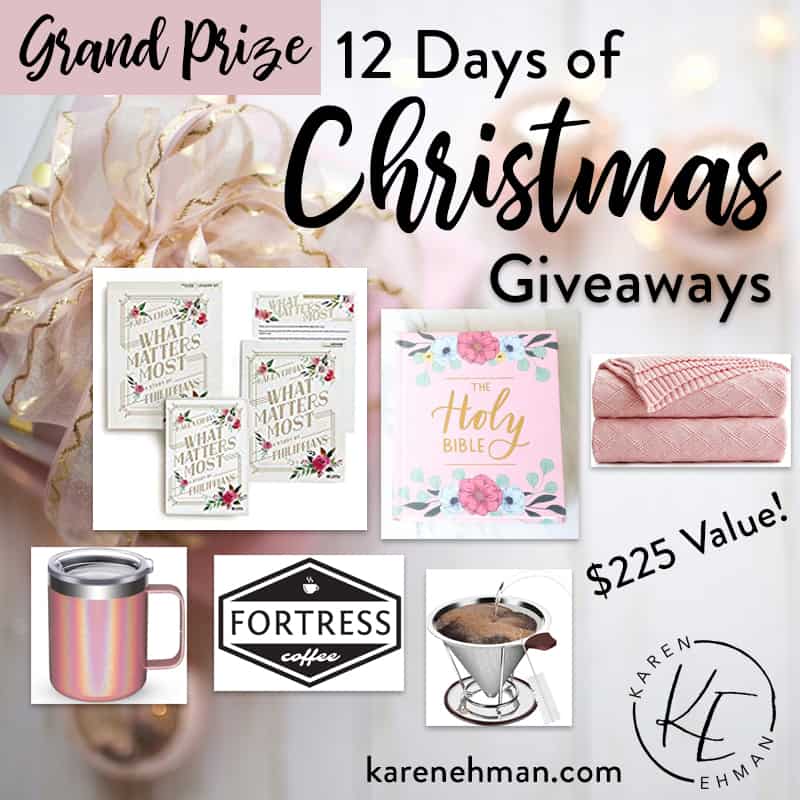 This year our Grand Prize is worth over $225!! It includes:
Day 6: Favorite Stocking Stuffers
In the past, my dear friend Courtney Joseph, from Women Living Well, had joined me for the 12 Days of Christmas Giveaways. This year, her teenaged daughter Alexis is our day 6 guest! Alexis loves to use her social media to express her love for faith, fashion, food, and fitness. Today, she's giving us some great stocking stuffer ideas for teens!
Help me welcome Alexis Joseph!
If you have a teen girl in your life, no doubt she loves getting fun and useful things in her stocking. If you are on the lookout for some adorable stocking stuffers for such a girl this year I have you covered! Here are 20 things I think she would love that can be easily found on Amazon or at your local department store. Happy stocking stuffing!

My Top Six Faves!
Each of these first six are sure to be a hit with any teen girl:
14 more ideas that can be found most anywhere:
Lanyard
Ring Holder
Eyelash Curler
Scrunchies
Portable Charger
Necklaces
Perfume
Bonus: Teens also love gift cards to places like Starbucks, Dunkin' Donuts, Chick-Fil-A, Alter'd State, and Target
Now, for today's quick question: What are one or two of your favorite stocking stuffer ideas to give or to get? I can't wait to read your ideas!

Day 6 Giveaway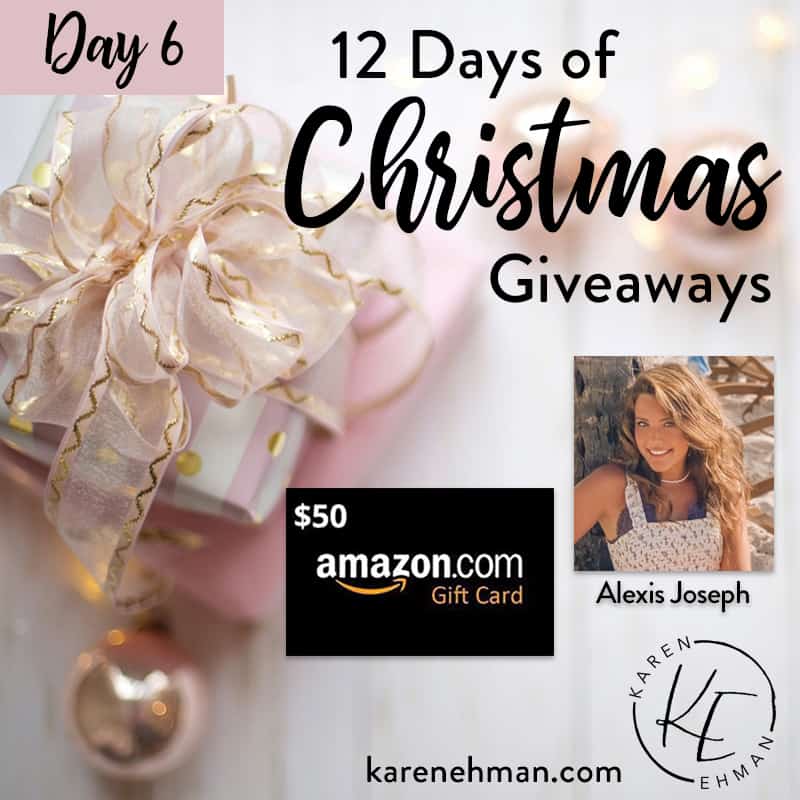 For day six, Alexis is giving away at $50 gift card to Amazon. Use it to buy something fun or useful for yourself in the new year.
Be sure to answer today's quick question in the comments below to be entered to win Alexis' prize!
*********************

Alexis Joseph is the 15-year old daughter of Courtney Joseph at WomenLivingWell.org. Alexis wants to help inspire the next generation to wholeheartedly follow after Jesus. She uses her social media to express her love for faith, fashion, food, and fitness. She wants to come alongside and help others pursue an active healthy lifestyle, along with sharing her best outfit finds, and some delicious recipes! Alexis will be starting her own blog soon but to be encouraged in your walk with God now, follow her over on Instagram at @AlexisJosephOfficial.
*********************
NOTE: Affiliate links may be included. We only recommend products we know our readers will love!
12 DAYS OF CHRISTMAS GIVEAWAYS RULES
U.S. Addresses only please.
You can comment on all 12 days (once per person) up until midnight Pacific time, Sunday, December 20. Each day will be linked below for easy reference.
One daily winner will be chosen from each day's comments.
To enter to win the Grand Prize (worth over $225 and includes: A leader kit of my What Matters Most Lifeway study of Philippians, including the teaching DVD's and one Bible study guide; a Wheatfield Woman ESV journaling Bible from Wheat and Honey Co.; a pink cable knit throw (other color options available); a pour-over coffee dripper ; a half pound of Fortress coffee, a company started by two fellow alumni from Spring Arbor University; an insulated pink shimmer mug–or color of your choice), comment on and share all 12 posts. You can use the share buttons below or repost and share on Instagram (my fave!) and tag me @karenehman.
All winners (including Grand Prize) will be announced here on the blog on Monday, December 21, and contacted via email. Please allow 4-6 weeks to receive your prizes.