Sweet & Simple Valentine Gift Ideas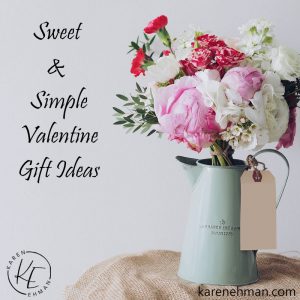 Need an idea for a Valentine gift for a friend or family member? Check out some of my favorite things, all available on Amazon Prime so you should be able to get them in two days.
Owl Tea Diffuser

These adorable owl tea diffusers are so retro and cute. Available in several colors. Grab one for a friend and keep one for yourself!
Mango Loose Leaf Tea
To go with the above tea diffusers, try this DELICIOUS mango loose leaf tea!
Milk Frother for Making Lattes
This inexpensive milk frother makes incredible lattes right at home!
A Mug for Your Bestie
Here is a super cute mug for your bestie to use when enjoying her coffee or tea.
Gratitude Journal
Help someone cultivate the habit of daily thankfulness, even in the simple things with this gratitude journal.
Adorable Craft Paper Notecards
These cute notecards come in a set of 36 with envelopes. they almost look homemade! (You may even want to get yourself a set!)
Anti-Gravity Pen
Of course, to use the whimsical notecards above, you need a really fabulous writing instrument. This is my favorite pen! It is weighted near the tip so it prevents cramps in your hand and writes so smoothly!
Daily To-Do Notepad
Help a friend get her time under control with this practical daily notepad. A full 8 1/2 x 11 inch size. Fits great with the storage clipboard below.
Clipboard with Storage
I have been using one of these clever clipboards with storage for almost 20 years. Keep any papers you need to deal with that day in the compartment and check it each night before going to bed. So handy!
Comfy Gripper Socks
Toes stay warm and toasty in these oh-so-soft socks, without sweating. Grippers on the bottom make them non-slip. Several colors available.