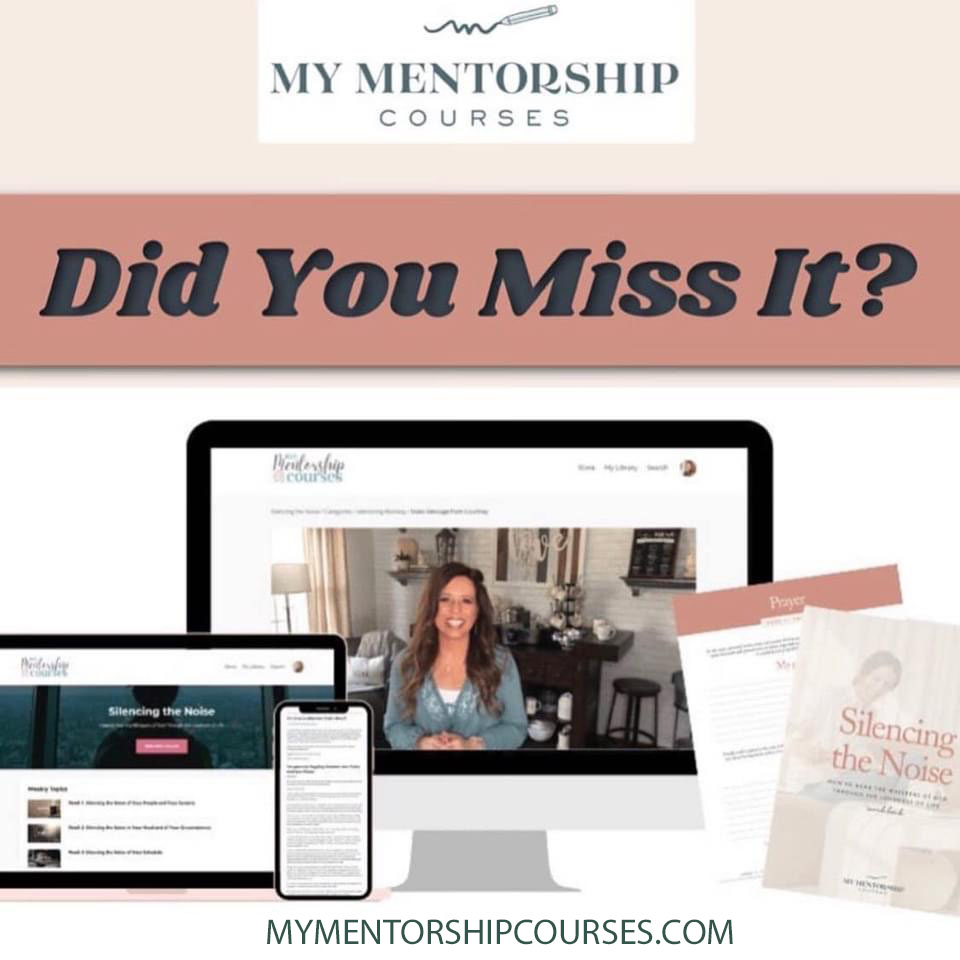 In case you missed the first announcement – we are in the midst of our Spring 50% Off Sale right NOW over at MyMentorshipCourses.com and we don't want you to miss out!
Right now, both courses are marked down from $29 to just $14.99!
Do you ever wonder, where is the peace and joy the Bible promises?
We were made to live in communion with God. The enemy wants to keep you from hearing God's voice but God wants to speak to YOU!!!
Silencing the Noise: How to Hear the Whispers of God through the Loudness of Life is a four-week journey toward quieting your soul and experiencing the peace of God's love and wisdom in your everyday life. Discover how to hear the whispers of God through the loudness of your daily routines and demands.
When you enroll today you get access to the entire course at once so you can take the course at your own pace.
DURING THIS FOUR WEEK COURSE — YOU WILL RECEIVE:
A personalized workbook for your study
Weekly teaching videos
Weekly Devotions
Weekly Prayer sheets
Weekly Q&A events previously held via Zoom
Lockscreens and social images to use and share on your social media
31 Scriptures to Bring Rest to Your Soul
***AND A SPECIAL BONUS***
A 14 page guided Personal Mini-Retreat
to enable you to get alone and grow your relationship with Jesus.
This is going to be SO HELPFUL as you go deeper in your walk with God.
Enroll now and receive access right away >>>> HERE <<<<
But WAIT there's more!
This Sale Also Includes Our NEWEST Course
How to Break Free from the Prison of People Pleasing
Do you find yourself regularly overwhelmed with other people's problems and feelings?
Do you sometimes agree with people verbally even though in reality you actually disagree?
Are you always the first to apologize?
Do you feel like you need everyone to like you?
Do you try to avoid conflict as much as possible?
Do you struggle to say no even though you are certain you should?
Me toooooo! But it's time to break free!
Free your soul
In this inspiring four-week journey led by four seasoned mentors, you will experience a deeper walk of faith—and freedom to break the chains of people-pleasing.
Find rest for your anxious, people-pleasing heart through this helpful and inspiring online course!