100 Days to Settle My Soul
You're invited to a summer community where we'll carve out a few moments each day to deepen our relationship with the Lord alongside 1000's of other women online.
Join my co-author Ruth Schwenk and me as we journey through my our devotional, Settle My Soul: 100 Quiet Moments to Meet with Jesus.
Here are a few answers to some questions about this summer community:
Is this just for wives or for mothers?
No. This devotional is for all women no matter their age or stage of life. You do not need to be a mom or married to join us!
How will this work? Do I need to sign up?
There's no need to sign up. 100 Days to Settle My Soul will happen both HERE on Facebook and HERE on Instagram beginning May 27, Memorial Day. We'll be posting the same content in both places. Pick the social platform that's most convenient for you!
Every morning we'll post a conversation starter based on each day's devotion. Our challenge is very flexible! Press pause when your schedule allows (day or night), read that day's devotional, then hop online to share what God is teaching you and to encourage and cheer on other women in our community. Or, if you just want to read the devotion and the thoughts on it from others without posting, that is totally fine too. Whatever works for you in your schedule.
Tip: Be sure to "like", "follow", and turn notifications "on" on Facebook and Instagram to see the daily posts in your newsfeed.
When does it start?
Our challenge runs for 100 Days beginning Memorial Day, May 27, through the day after Labor Day, September 3. You can jump in anytime! There will also be LIVE videos with Karen and Ruth throughout the summer with fun giveaways along the way to celebrate!
Can I invite my friends to join in?
Yes, we'd love that! Challenges are so much more fun with friends. You may even want to connect with a small group of friends to text each other what you are learning or grab coffee to discuss, if you live close to each other.
Do I need a copy of the Settle My Soul devotional to follow along?
It's not required to follow our public challenge, but it would be most helpful. Due to copyright law, we are unable to post each day's devotion online.
Where can I get a copy of Settle My Soul?
To help you get started, the first 10 days are available as a free download below. You may use it while you wait for your hard copy to arrive. The devotional is available in hardcopy and ebook everywhere books are sold, including:
Amazon, Proverbs 31 Ministries, Christianbook, Barnes and Noble,  WalMart, Target.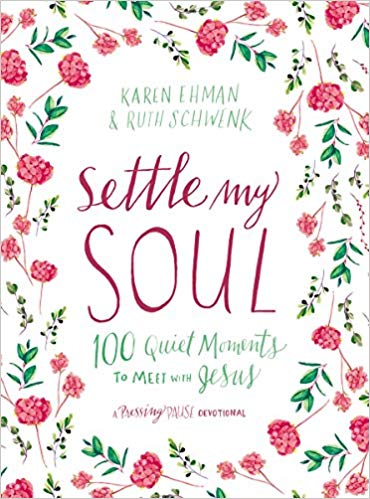 *Grab the free download of the first 10 days of Settle My Soul HERE to get started while you wait for your book to arrive.
We can't wait for you to join us this summer!
Reminder: 100 Days to Settle My Soul will happen both HERE on Facebook and HERE on Instagram starting May 27.