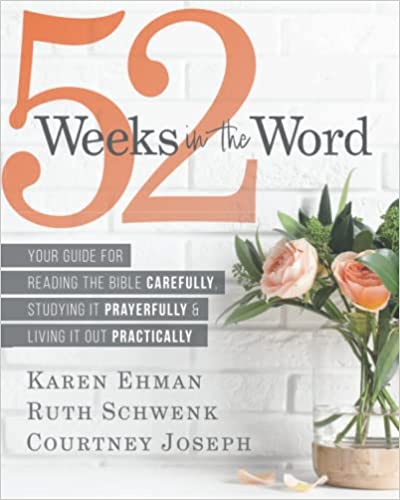 Do you long to have a vibrant time alone with God, connecting consistently with him throughout your week and growing deeper in your faith?
Then this new resource is for you!!

52 Weeks in the Word is packed with a year's worth of content and will equip you with all you need to read the Bible carefully, study it prayerfully, and then live it out practically. It is co-authored by myself along with Ruth Schwenk and Courtney Joseph. Each week's entry contains a four-page spread that includes the following:

Scripture to Study: This section includes the chapter of the week along with the main focus verse that will be explored in-depth.

Read it Carefully: This space includes ample room to write out the verse for yourself and then circle or highlight any keywords, jotting down initial thoughts about the scripture. It also gives you a few other corresponding scriptures on the same or a related topic.


Study it Prayerfully: This section contains content meant to help clarify the meaning of the scripture with commentary on the biblical context. There is also a call-out portion that highlights the Hebrew or Greek meaning of a word in the passage that helps to make the original intended meaning come alive. Finally, there is a "My Prayer to God" section where a prayer prompt is provided to enable you to craft a personal prayer on the topic of the passage being studied.

Live it Out Practically: This section repeats the highlighted verse of the week again and contains a few practical application questions. It is meant to help you implement the directives discovered in your study into your everyday life and relationships. There is also a "Where I Saw God Today" section to record how you saw God working in your life that week or to list something you are thankful for. Finally, there is a second blank bordered section entitled "Where I Need God Today," where you may jot down a prayer request or two.

This beautifully designed study guide will inspire you, equip you, and allow you to experience a deeper and more consistent walk with God for an entire year! Let me know in the comments if you will join us in spending 52 weeks in God's word!!
Purchase it only at Amazon!