Everyday Confetti
Got a calendar packed with reasons to celebrate but a brain that lacks ideas? Special people you want to love on but limited time to do it? Relax. We've got you covered.
In this go-to guide, Karen Ehman and Glynnis Whitwer give women the ideas and the motivation they need to make such occasions less daunting. You can get that Pinterest feel of perfection without all the hassle and time-consuming steps. They provide creative ideas and menu plans for:
Holidays
Birthdays
Special Events
Everyday Occasions
Readers will even find suggestions for reaching out to others throughout the year through celebrations that are simple, doable, and stress-free.
Amazon
Barnes & Noble
A Life That Says Welcome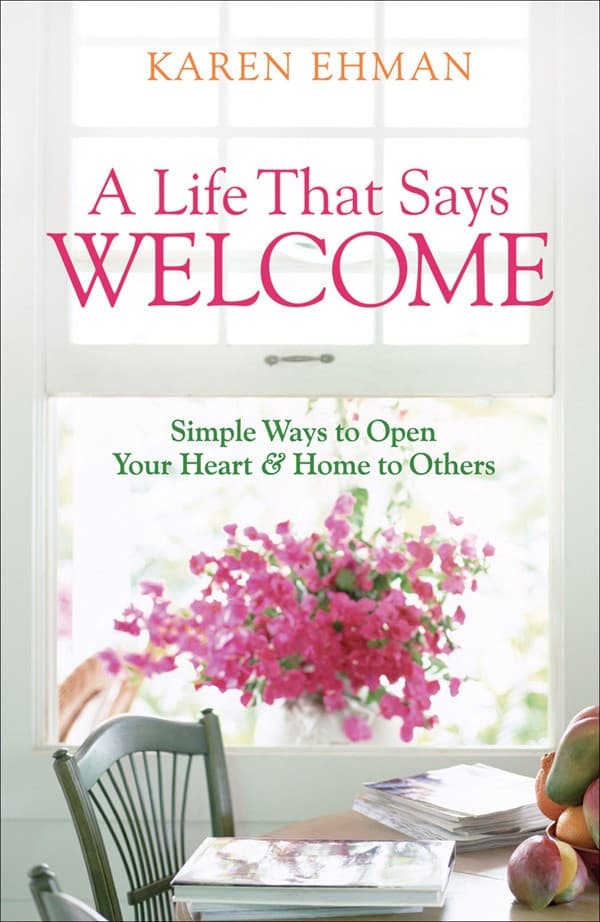 When it comes to hospitality, Karen Ehman says it doesn't matter what size your house is, how it's decorated, whether or not it's spotless, or what you cook or don't cook. The secret to making guests feel comfortable is more about the condition of your heart than the condition of your home.
A Life That Says Welcome helps you make others feel refreshed, rather than impressed, in your presence. It's packed with inspiring tips on how to:
decorate well on a budget
make the most of your space (no matter how small)
be prepared for unexpected company
create delicious, simple dishes your guests will enjoy
You'll be encouraged to not only open your home but to open your life as an avenue for God's love everywhere you go.
Amazon
Barnes & Noble
Focus on the Family
Encouragement for Today
Pull away from the things that pull you down and find lasting encouragement for today.
Encouragement for Today: Devotions for Everyday Life features 100 daily readings that meet you where you are. Written by the Proverbs 31 Ministries team, authors Lysa TerKeurst, Renee Swope, Karen Ehman, Glynnis Whitwer, Suzanne Eller (Suzie Eller), Wendy Blight, Micca Campbell, Amy Carroll, Lynn Cowell, Sharon Glasgow, Nicki Koziarz, Tracie Miles, Wendy Pope, and Melissa Taylor share from the realities of everyday life – the highs and lows, the coffee spills, humorous stories, and tender moments.
Find comfort in knowing you're not alone in day-to-day doubts or disappointments, and receive inspiration to live authentically and fully grounded in the Word of God. Daily readings include a Scripture verse, Devotion, and Remember, Reflect, and Respond sections.
Proverbs 31
Amazon
Barnes & Noble
Real-Life Devotional Bible
When each day is filled with obligations, unexpected moments, and relationships, it is essential to know you are not alone. Find a friend on the pages of the NIV Real-Life Devotional Bible for Women.
Filled with insightful daily devotions written by Lysa TerKeurst and the Proverbs 31 Ministries team, the devotions in this Bible will meet you where you are—on the good and on the hard days, in the carpool line, or at the doctor's office. God's truth will help you maintain a peace-filled balance in spite of life's hectic pace.
Features of the Bible:
The beauty and clarity of the New International Version (NIV) Bible
366 devotions that will inspire you to live authentically as a woman of God
Author biographies
A helpful subject index
Devotions by Lysa TerKeurst, Renee Swope, Glynnis Whitwer, Karen Ehman, Lynn Cowell, Micca Campbell, Suzanne Eller (Suzie Eller), Tracie Miles, Wendy Blight, Wendy Pope, Amy Carroll, Sharon Glasgow, Nicki Koziarz, Rachel Olsen, Melissa Taylor, Whitney Capps and Leah DiPascal.
Proverbs 31
Amazon
Barnes & Noble
CBD
Save
Save
(Visited 1,770 times, 1 visits today)