NOTE: I want to thank those of you who have been praying for our family, the sale of our home and for Kenzie, my sister-in-law and I who leave Wednesday for the Proverbs 31 She Speaks Conference. Your prayers have made a HUGE difference! Keep 'em coming and I'll update you all when we get back. And please pray for my hubby and boys who will be on their own while we are gone and trying to pack the house for a quick move.
 This week Todd and I will celebrate our 22nd anniversary. I remembered how excited I was to set up our frst little apartment and begin cooking for my man. Too bad I didn't know how to do anything other than boil water, make instant coffee and occasionally whip up some cookies from a roll of slice and bake refrigerator dough!!! That first month in June of 1986, I did learn to do something else. Make tea!!! Hot tea, herb tea, iced tea, any kind of tea. Yep, I hit a home run with that one. Easy and so many kinds!
Speaking of tea, I am thrilled this week to be posting an interview with Mari Helms, a new cyber friend who has an entire website ministry called Tea and Traditions that is devoted to….you guessed it, TEA! And not just to tea, but offering hospitality through the serving of tea. Read on for the interview with Mari and for directions for entering the drawing to win some of her wonderful product!
  Mari Helms is a wife, homeschooling mom of three and small business owner.  Prior to motherhood Mari worked in various administrative positions acquiring skills that are proving essential in running a small home business.  It is apparent how the Lord has clearly prepared her in advance for what He has called her to do.  She passionately pursues her relationship with the Lord because without Him she knows none of this would be possible.
Tea & Traditions is an online tea retailer, but also an important ministry.  The Lord continues to open doors, using tea, for ministry to all kinds of people in all kinds of circumstances.  Hospitality is our primary focus seeking to educate, equip and encourage our customers to open their homes to whomever God brings their way. 
Tea & Traditions will be giving away three gifts:
Prize 1
2 oz. bag of PRECIOUS JEWELS, a rooibos (or red tea),  with pineapple bits, papaya bits, mango bits, black currants, strawberry bits, sunflower blossoms with black currant raspberry taste.  It is also our tribute to wives and mothers based on Proverbs 31:10.  Also included: disposable tea sacs and a perfect measure, to measure that perfect cup of tea every time.
Prize 2
2 oz. bag of WHITLOCK AFTERNOON, a black tea with sweet, aromatic peaches, cinnamon, cloves, cardamom and ginger, a tribute to the homes on Whitlock Avenue in Marietta, Georgia that have hosted many an afternoon tea over the year.   Also included: disposable tea sacs and a perfect measure, to measure that perfect cup of tea every time.
Prize 3
2 oz. bag of JANE AUSTEN, a blend of three China black teas authentic to the early 1800s when Jane Austen lived and wrote her novels.  Also included: disposable tea sacs and a perfect measure, to measure that perfect cup of tea every time.
Be sure to check the end of this post to see how you can enter the drawing to win one of these great give-aways!!! Now for the interview…..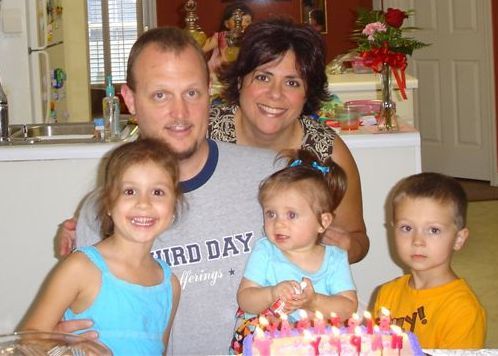 Mari, tell us a little bit about you and your family.
I am first wife to Todd for eight years and then mother to Isabella, Annais and Kaira, for six, three and one year respectively.  I homeschool and run Tea & Traditions a web-based tea retailer.  I love to write, do anything creative, fellowship with just about anyone and watch my family grow in the Lord. 
How did you come to own Tea and Traditions?
Tea & Traditions was a tea shop in Marietta until December 2007.  In November the previous owner announced the store was closing and I was devastated.  A few days later the Lord began to speak to me and give me what appeared to be a business plan for an internet based tea store.  I spoke to the owner the next day and here I am, now in business for four months.  And because of things the Lord led me to do a couple of years ago I was positioned to make this transition fairly smoothly complete with access to wonderful free resources at the local college including an attorney and business coach.   
What products do you offer through your website?
We sell fine loose tea, infuser mugs and tea accessories.  To our local customers I can offer baskets and will soon be hosting in-home parties to include tea education, hostess benefits and encouragement to those wanting a unique way to open their homes. 
What do you find to be the greatest challenge in owning a home based business?
Right now the biggest challenge is establishing a quitting time.  Since the business is still new there is a lot to be done.  Hopefully as I get into a routine and get things set up I will set working hours and non-working hours and stick to them.
And, what is the greatest blessing of working from home?
Being able to stay home with my children.  It isn't always easy, but I always know how fortunate I am.  Since I have my own business at home they are very much a part of it.
How do you feel that tea, traditions and hospitality can be related?
Tea is a great way to extend hospitality not only beautifully, but easily and affordably.  I can host 20 women on a moment's notice by putting a white table cloth on the table, bringing out the teacups and brewing a pot of tea.  It makes everyone feel special and relaxed.  Tea seems to have an amazing way of opening up intimate and unexpected conversation.
What is your goal when it comes to encouraging hospitality through your ministry?
My goal is our Mission Statement:
• To educate our customers on the fine art of tea – from selection to serving ?• To equip our customers to easily and affordably extend hospitality ?• To encourage our customers to open their homes to their communities
Any other words of advice for the readers?
Do not let loose tea intimidate you.  Once you realize how easy it is you will be hooked.  The bible says if He has called you, He has equipped you and we know He has called us (all of us) to hospitality.  You will be blessed by the sweet, surprised look on your guest's faces when they taste that first sip of fine tea and think to themselves, "She made this just for me." 
 Now for the give-away. Simply leave a comment any day this week about tea. Why you like it, what your favorite flavor of tea is, a special memory or funny story that has to do with tea, even why you've never tried making tea! Anything goes. Winners will be chosen by Mari and announced next Monday.
Sweet Tea-brewing Blessings,
Karen