Paralyzed Procrastinators (and a Giveaway!)
If you've not done so yet, send me a Facebook friend request or follow me on Twitter (info on right sidebar) :-)
Hey local gals: I wanted to give a shout out to my new friends I met at my event at the DeWitt School PTA last night. What a fabulous bunch of folks! Also, for any of you Mid-Michigan gals who are interested in some support in the battle of the bulge, I'll be leading a Made to Crave group that will meet at my church (link on the left sidebar) for seven weeks beginning Monday night, February 28th. This study is designed to go along with whatever healthy eating plan you choose and will enable you to find the 'want to' in losing weight. For more info and to see the clever book trailer, click here. If you want info about our local group, email me at [email protected].
__________________________________________________
Procrastination:
The act of delaying;
Repeated inactivity resulting in something being put off until a later time;
To fail to accomplish something, especially out of habitual carelessness or laziness;
To postpone needlessly.
Do you procrastinate?
Have projects you've been wanting to get around to tackling but just can't seem to find the energy to do?
Are there cluttered closets, unwritten thank you notes from Christmas, disorganized storage rooms, filthy shower stalls or a fridge that hasn't been cleaned for so long now you need a hazardous materials suit and a chisel to get at it?
Why do we procrastinate?
Laziness?
Sometimes.
Boredom (we'd rather play than work)?
Yep.
The task seems too overwhelming?
Uh-huh.
Or how about this one…..we are paralyzed by perfection. I mean we don't want to do the thing unless we can do the thing perfectly.
So there sits the thing…..undone.
How about we pinky promise that this weekend we will carve out a slice of time to get off of our duffs and bravely venture into the frustrating world of our persistent procrastination.
Here are a few tips that have helped me.
~ Break it down into bite-size chunks. When the chore seems insurmountable, take it one step at a time. Maybe you won't be able to totally re-organize your entire pantry, clean out the fridge and freezer, sort through and re-align all of your dishes and cooking utensils and spit shine the floors, countertops and appliances this weekend, but I'll bet you could at least tackle the kitchen junk drawer. Or pick one of the aforementioned projects to accomplish.
Baby steps now…
~ Next set a timer and tell yourself you'll stop when it rings. Yep, experts assert that if you set a timer for just 20-30 minutes and dive into you task, after a few minutes the momentum you feel by seeing progress can be all the push you need to find the desire to finish the thing entirely.
~ Find a friend. You surely must know a fellow procrastinator. Buddy up. Go to her house for an hour or two to help her tackle a nasty or frustrating chore. Then, swing by a coffee shop, re-fuel and head to your place to work on your project for a while.
~ Reward yourself. Promise yourself that after the task is complete, you'll treat yourself to something fun. Rent a movie, curl up with a magazine and cup of something steamy, or buy yourself that cute pair of earrings you wanted the other day.
~ Be patient. Your home didn't get cluttered in a day and it won't de-clutter itself overnight. But with a little planning, some "gumption and elbow grease" as my momma used to say, and a few weekends, you can finally begin to kiss procrastination goodbye!
Now for the giveaway: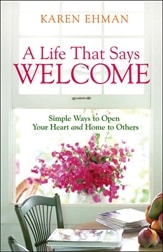 Since I firmly believe that women often aren't willing to have others over for some good 'ole fashioned hospitality due to their procrastination projects staring them in the face and making them feel defeated, I want to give away the following to three of you who leave a comment this weekend (yes, I'm feeling generous!)
~A personalized, signed copy of my book A Life That Says Welcome; Simple Ways to Open Your Heart & Home to Others. This book is not only on hospitality, it also has chapters on dejunking, cleaning, decorating and tons of easy, crowd-pleasing recipes. Oh, and it also tells the tale of my marrying into a gourmet family full of interior decorators, Bed & Breakfast owners and fancy cooks…..when I barely knew how to boil water!
~ And a $10 Target gift card so you can purchase either supplies for your project or a little reward for yourself.
So, here is the dealio…..leave a comment telling us the procrastination project you most want to tackle. Three of you will be chosen at random by my random integer selector (my boys give me a random number! I have no clue how to use random integer selectors so I improvise!).
Comment away….. I'm off….um….er….well…to write those Christmas thank you notes. Slightly embarrassing coming from someone who speaks and writes on organization, but hey…I'm just keepin' it real people.
Happy Weekend!