Love, Pie & Jesus with Guest Angela Perritt
This week in our reading of A Life That Says Welcome (chapters 4-7) we come to the topic of food in chapter 7, Sure, Stay for Supper! In it I tell of my first "company disaster". Those early days were such a time of trial and error (heavy on the error!).
Looking back, I am thankful I didn't give up. Romans 12:13 says, "Share with God's people who are in need. Practice hospitality." (NIV 1984)
Sometimes, we just need to keep practicing!
Today we have a guest dropping by to help us with a little idea boost for having company over for dessert. She's gonna help us practice by providing a no fail recipe and a glimpse into her sweet heart.
Meet my new cyber friend, the Jesus-loving Angela Perritt.
Angela is the wife to her high school sweetheart and mom to her 3 adorable little girls. Some of Angela's favorite things in life are dancing with her daughters, laughing with her husband and loving her Lord with the amazing life He has given her.
You can find Angela at GoodMorningGirls.org where she encourages women to be in God's Word on a daily basis through tech accountability groups. Angela's goal in life is to inspire her children and others to love God greatly with their lives one day at a time.
Now, a great company's coming dish from her home & heart:
 Many times when we think of hospitality we think of the food or the way the house is decorated…..but let me suggest that the MOST important aspect of hospitality is not either of those.
In my opinion, the most important aspect of hospitality is how you make your guests feel the moment you open your home to them. That special moment sets the tone for the whole event.
Open your home like you open your heart. Full of love, a warm smile and an "I'm glad you're here" embrace!
Now I'll have to admit, I'm a hugger! I love to love on people! I was once told by some dear friends, who were from another country and whose custom it was NOT to hug the moment you meet them, to please try to restrain myself from hugging their mother the moment I met her.  Ha!
You'll be proud to know that I restrained myself……until after the initial meeting at least!
I love to love on people and I love to welcome people into my home but like most women…..I have an "Achilles heal" in my desire to be hospitable…..my cooking!
I'm just not confident in that area… or at least I wasn't for many years. I have burnt and thrown away my fair share of meals over the years but I've learned the more I try the better I'm getting.
So for those of you who love to open your homes, love to love on your guests the minute they walk across the threshold, but you hold back because you feel you can't cook, well I have a very special family recipe I'd like to share with you today!
This recipe is super easy and extremely delicious…….it's perfect for girls like us!
 Peanut Butter Pie
1- cup Peanut Butter
1- 8 oz Cream Cheese
1- Can Sweeten Condensed Milk
2- Pints Cool Whip
1- Graham Cracker crust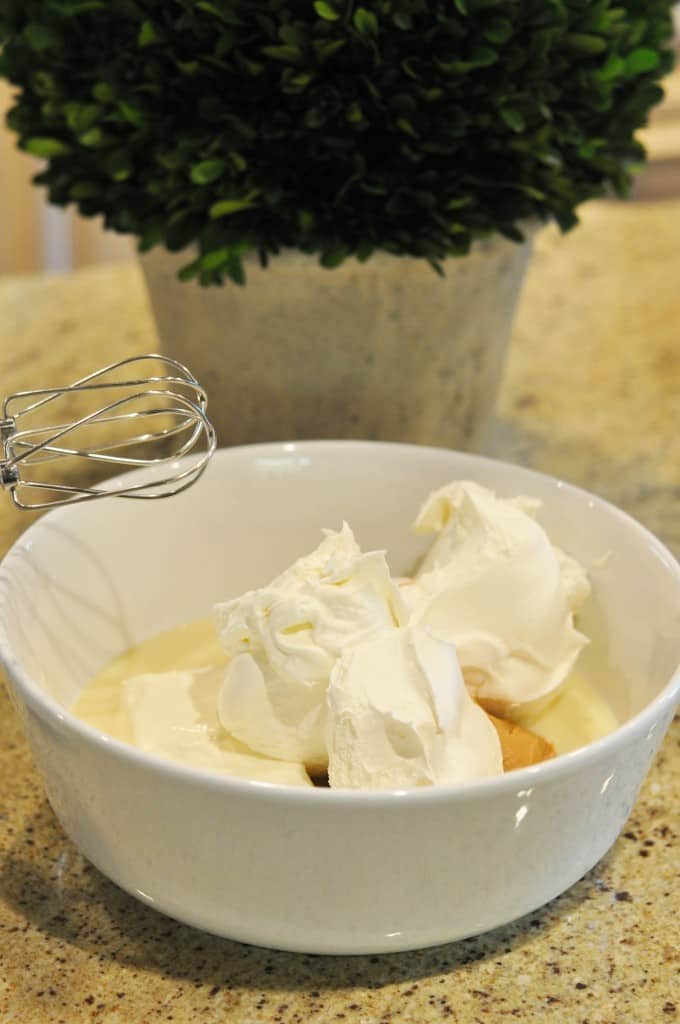 Mix all together (except 1 pint of Cool Whip….use that pint to cover the top of the pie)
Refrigerate for a few hours
Spread with remaining Cool Whip and garnish as desired.
Voilà! You have a super easy and yummy dessert that people will beg you to make again and again!
Wow! Doesn't that look fabulous! Got three peanut-butter lovers in our home so we will be trying Angela's pie recipe soon.
Now, let's hear from you. What is a favorite pie you like to make (or buy!) at your home? Make plans to serve one soon to guests!
Or, do you too have a "company disaster" story to tell like the one I told in chapter 7? Please do. We can laugh with (not at) you!
One gal will be chosen at random to win a $15 gift card to Target to buy a new-fangled pie pan or casserole dish to use for company :-)
REMEMBER:  For this coming Friday's idea swap and share, be thinking of your best decorating idea, tip, object, theme, centerpiece or DIY project. Bloggers, get a post ready. Others, you can leave yours in the comment section with a description or a link to what it is you like so we all can see. :-)
Finally, we are also interacting over at Karen Ehman's Book Studies on Facebook. Click here to "like" the page & join us.