12th Day of Christmas with Lisa Jacobson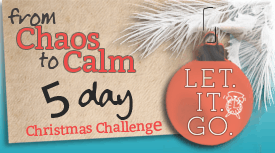 From unrealistic expectations to traditions to your screaming schedule as well as those annual holiday encounters with the in-laws and outlaws, this free 5 Day challenge will allow your holidays to go from chaos to calm. Click HERE for the free 5 Day Challenge and they will automatically come to your inbox. Merry Christmas!
*****************************************************************************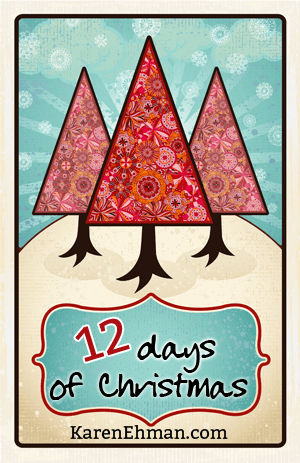 IMPORTANT NOTE: Remember you may comment to win on all of the 12 Days of Christmas posts until Sunday night, December 15th at midnight EST so be sure to read through those you missed and catch up!
It is our final day of Christmas and you are in for a treat! My friend Lisa Jacobson from Club 31 Women.
Lisa is the happily-ever-after wife of Matt Jacobson and together they enjoy raising and home-educating their 8 children. She's also rather fond of dark chocolate, French press coffee, and deep friendships (though not necessarily in that order).
She encourages women to embrace the rich life of loving relationships and the high calling of being a wife and mother. You can find her sharing her passion for husband, home, and family over at Club31Women.com and on Facebook.
And now, meet Lisa!
What's the Best Way to Celebrate Christmas?
What's your favorite part about Christmas?
A good question. So I don't know why we didn't think to ask the children this before.
Our family had been on a long journey, trying to find the "right" way to celebrate Christmas. (It's okay, you can laugh – we think it's funny too.)
It began years earlier when we were convicted on not bringing "commercialism" into our Christmas. Our first solution was to swing so far in the other direction that we did almost nothing. We just sat at home and stared at each other. But somehow that didn't feel right either.
So back to the drawing board. What traditions do we keep and which ones do we ditch?
Gifts…or not? A tree…or not? Stockings…or not? Cards, cookies, crafts….?
We wanted to know what would add meaning to our Christmas celebration and what would merely detract. So after wrestling with it for a while, we asked the children what stood out to them? And their answers somewhat surprised us.
Waking up to the smell of cinnamon rolls baking in the oven.
Playing games with Grandpa and Grandma on Christmas Day.
And the excitement of finding baby Jesus in the manger on Christmas morning.
Simple things, really.
I can't say how that last tradition began. But every year we set up our humble Nativity Scene with everyone attending – including the poor shepherd who has lost both his feet and the angel who is missing a hand. Yes, everyone's there…except for the baby Jesus. He remains hidden because, as we all know, He doesn't arrive until Christmas morning.
But the children anticipate that on that day when they come downstairs and find baby Jesus in the manger – that's the signal it's time to celebrate. That Christmas is finally here!
And isn't that just how it should be? Not only for the children, but for me and for you. Because that's the most exciting and joyous part of Christmas. Realizing that the Christ-Child has come. That He is right where He is supposed to be. In the right place at the right time. Bringing joy to the world.
I think the children got it "right" with this one, don't you?
Joy to the World, the Lord has Come!
I hope this Christmas is full of love and joy in your home too.
In His grace,
Lisa
TODAY's GIVEAWAY:
Today's give-away is an Anderson Family Farm gift basket filled with a variety of  goat milk products. Opening this gift basket, you will uncover a bottle of their limited, seasonal lotion, Christmas Blend. This lotion carries a fine gold mica that shimmers on your skin; it smells of Frankincense and Myrrh essential oils. These were the gifts of the magi to the infant Jesus all those thousands of years ago. Gold, Frankincense and Myrrh. Gifts for a King. Gifts given in that dirty stable where God gave the greatest Gift of all. The King who left the glory of heaven to be clothed in flesh.
Complementing the lotion is a generous assortment of molded goat milk soaps. As you dig deeper into the gift basket, you'll also unwrap their beeswax lip balm, discover their travel size goat milk lotion, and find a lotion bar, which soothes skin chapped by winter. Finally, pull out the bath salts, which contain 18 ounces of French sea salts and Epsom salts for smooth silky baths and skin.
You can see more from Anderson Family Farm here: http://www.andersonfamilyfarm199.com/store/
TO BE ENTERED simply leave us a comment about your Christmas shopping. Are you done? Half-way finished? Haven't even started yet?
I am 3/4 done and was planning to finish tomorrow but it is calling for a snow advisory in Michigan tomorrow so I might need to wait a day or two.
And you?