Announcing the 12 Days of Christmas!!!!
Got Christmas?
Then you've also got gifts to buy and wrap, halls to deck, goodies to make and parties to host. Don't forget the cleaning and shuffling of kids. Oh, and the teacher gifts. And cards to address and mail.
And it all must be done whilst donning a seasonal smile and making fond memories with your adoring family.
Its enough to make you simply give up and flop on the couch drowning your sorrow in a peppermint mocha.
Relax. We've got you covered.
Announcing From Chaos to Calm: The LET. IT. GO. Christmas Challenge!
Sign up and for the next five days you will automatically receive a short biblical and practical devotion to help make your holidays less about stressing and more about blessing!
From unrealistic expectations to traditions to your screaming schedule as well as those annual holiday encounters with the in-laws and outlaws, this tool will allow your holidays to go from chaos to calm.
Click HERE for the free 5 Day Challenge.
~~~~~~~~~~~~~~~~~~~~~~~~~~~~~~~~~~~~~~~~~~~~~~~~~~~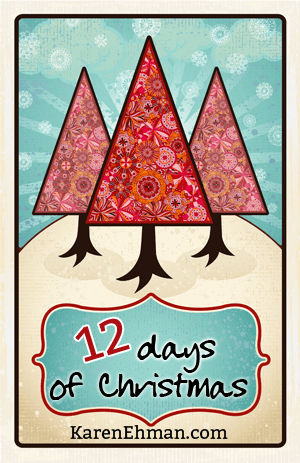 Announcing the 12 Days of Christmas starting tomorrow, December 2!!! Guest posts, decorating and celebrating ideas, recipes and tons of PRIZES!!!!!
This series kicks off for our sixth year is a row with none other than the fantabulous Liz Curtis Higgs!
Mark your calendar, program your phone, scribble out a sticky note—whatever it takes— and JOIN US!!!
~~~~~~~~~~~~~~~~~~~~~~~~~~~~~~~~~~~~~~~~~~~~~~~~~~~~~~~~~~~~~~
NOTE: We've got a few winners to announce. If you see your name below, send your home address and what it is you won to my intern at [email protected]
Winner of the retro pie kitchen giveaway:
Sandra G.
Winning a copy of Ashley Bazar's book Asylum:
Barbara Cole
Michelle h.
Tabbetha T
Cammi
Stephanie N
And of Sharon Sloan's SerenDIPity prize:
Janet Worthy