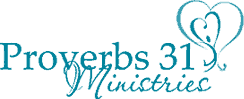 I have the privilege every day of partnering with our team at Proverbs 31 Ministries to serve our God who is changing women's lives all around the globe.
We would love to have you join us in reaching women like Stacy. Stacy is a powerful story of an ordinary woman changed by an extraordinary God whom she encountered through Proverbs 31. Her story has had a rippling affect, touching the lives of other women in her life.
Would you take just a minute to watch her story and possible join us in reaching others like her? We'd be so honored to have you be a part of our team.
Click here to catch Stacy's story.