On the 8th Day of CHRISTmas…Give Away with Charlene Kidd
Welcome to day eight of the 12 Days of CHRISTmas giveaway!!! There are holiday ideas, easy recipes and both practical and pampering prizes to win. Best of all, each day you will meet one of my fellow "sistas" from the Proverbs 31 Ministries speaking team. Get to know them and their wonderful resources including books and teaching cd's. Why, you might even just discover the speaker you have been looking for to appear at your next event.
So get in the holiday spirit. Tune in each day. Hop on and leave a comment. The more you leave, the better your chances of winning. The 12 daily winners will be announced on the 13th day of December so comment on all 12 posts if you can! 
Now, before we start, I will announce the winner of this past weekend's Cool Christmas Give Away I hosted in conjunction with my friend Lysa TerKeurst
The winner of a signed copy of my book A Life That Says Welcome; Simple Ways to Open Your Heart and Home to Others and a box of cozy Candy Cane Lane Christmas tea is………..Kim Chewning!!! Congrats Kim! Contact me at [email protected] to give me your home address and I'll ship your gift out right away!!!!
Now….back to our regularly scheduled contest…….
DAY EIGHT:
Today you will meet yet another one of my Proverbs 31 speaking sisters. Charlene Kidd is a dynamic speaker who is passionate about family and marriage. Her smile is enthusiastic and her enthusiasm is contagious. You will enjoy meeting her as much as I did three years ago at my first She Speaks conference. So gals…..here's Charlene! 
Hello everyone!!! I have been married to my sweetheart and best friend for 18 years. We have 4 great (most of the time) children; Katie 14; Ryan 13; David 7; Sarah 5. I love to drink coffee, especially when I am traveling. As a matter of fact I have christened every vehicle we own or have owned. My husband does not like me to bring it near his truck!! Our entire family plays golf and snow skis.
Every Sunday after church we go to Zaxby's for chicken fingers. The food is good and we can feed a family of 6 for under $20.00. 
I am most passionate about encouraging other couples to have an outstanding marriage.  I love speaking and teaching with my husband at couples events.  I have been privileged enough to be a contributing author to the Proverbs 31 daily devotions as well as "Gods Purpose for Every Woman".  Oh, and I simply LOVE coffee!! Now for our interview: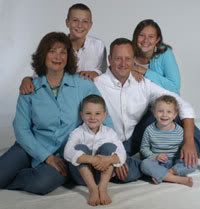 Charlene's family
·      Charlene, you are a busy mom of four, any tips for getting all of the tasks of Christmas done without doing yourself in?
I allow myself extreme flexibility.  I have finally learned that all good plans may have to be altered.  Each year I evaluate what my time constraints are and decide how much I can realistically do. 
I take the time to pray each morning; for direction and sanity!!
I exercise at least three times each week during the season to keep my bones and joints as limber as possible to be able to keep up with my tasks.
We include the kids in our budgeting talk for gifts; that way they can take some ownership in it.
·      You and you husband speak on marriage. How can we use the Christmas season to strengthen our marriage?
It is no secret that love and joy are in the air around Christmas.  Take advantage of those feelings to enhance your relationship.  If there are events that you both need to attend together endeavor to make them special date nights.
Pray together as a couple; it will help you both focus and receive direction for the busy season.
Ask your spouse what they really want as a gift, listen for their heart desire and then honor the request to the best of your budget ability.
Speaking of budget; set one and then stay within its boundaries.  It will greatly reduce stress!!  If there seems to be a need to go over discuss it with your spouse first.
·      What memories do you have of your first few Christmases as a married couple?
Our first several Christmases were spent with much travel.  We would alternate between Allan's family and mine.  We told our families that we would travel until we had children, and then they were all welcome to come to us.  We would be waking up on Christmas morning at our home.  Now both sides of the family join us on Christmas day at our house.
·      What is your favorite family holiday tradition now and why?
The first weekend of December one of the North Carolina ski resorts rolls their lift ticket price back to $5.00.  We all go up and ski for the day and then we go to a "choose and cut" Christmas tree lot to pick out our tree and bring it home.  This is how we start our Christmas season each year. 
The other really important tradition we have is baking a heart shaped birthday cake for Jesus, sing happy birthday and have it on Christmas Eve.
Thanks Charlene for your time and your advice today!!!
Now for our idea and give away: Charlene is known for her love of coffee, so for her give away, she will give one of you ladies a $15.00 Starbucks card and a copy of the Proverbs 31 Devotional book "Gods Purpose for Every Woman".
So, for our question today, leave a comment letting us know your favorite hot winter drink. I'll start us off…
When ordering out, I go for a decaf, skinny, mocha latte with a pump of mint and light on the whip. At home, I enjoy one of the many hot drinks we showcased in our book Homespun Gifts from the Heart. Here is one of those hot drink gift mixes, perfect for giving as a gift this Christmas. Simply package it in a small canning jar with a circle of holiday or plaid fabric secured on top with a cheery ribbon. Or, use a small cellophane bag from a florist or craft supply store fastened shut with a foil holiday sticker. Easy and cute!!! This recipe can be easily doubled or tripled. Store at room temperature.
Mocha Cappuccino
1/2 cup powdered creamer
2/3 cup sugar
1/2 cup instant coffee (regular or decaf)
1/4 cup cocoa powder
Place all in the blender and process until it is a fine powder. Place in chosen container and attach a simple, handwritten tag that reads: "Mix three heaping tablespoons to a cup of boiling water. Enjoy!"
*NOTE: You can also make a variety of flavors by adding 3 or 4 hard flavored candies to the blender. Mints for mocha mint, orange hard candies for orange mocha or even cinnamon hard candies for cinnamon mocha.  
Okay, your turn. What is your favorite hot drink to order or to make at home? You may win a $15.00 Starbucks gift card and our Proverbs 31 devotional book God's Purpose for Every Woman just for telling us!
Sweet Hot and Creamy Blessings.
Karen