Soup's On & Company's Coming (Giveaway & Online Study Announcement!)
Does the phrase "Company's coming!" send you running for cover?
I can sooooo relate!
I married into a family full of interior decorators, caterers and Bed and Breakfast owners, while I myself could hardly boil water!
So, I set out to become skilled at "entertaining" to impress my new relatives. However, God quickly taught me the difference between entertaining and offering hospitality, a lesson I learned the hard way.
Entertaining places the emphasis on you and impressing others.
Hospitality places the emphasis on others and refreshing, not impressing, them.
In the month of March, I will be leading an online study of the book I wrote on this topic A Life That Says Welcome: Simple Ways to Open Your Heart & Home to Others
This book and study will help you to:
Recognize the reason for offering hospitality
Identify the top five excuses for not opening your home and apply simple solutions to combat them
Arm yourself with cooking-for-a-crowd menu ideas, make-ahead freezer meals and kid-friendly favorites
Acquire weekly speed cleaning strategies, a proven system for de-junking your house and simple, doable decorating tips
Obtain creative concepts for living a life of welcome wherever you are
Watch for more details to come. And, if you want to join us and don't have the book yet, go get a copy. (The last online study I did, all of the major retailers were back-ordered for weeks when it got close to the start date so you might want to be ahead of the game.)
The sign-up is simple. Just subscribe to my blog before March 19th when the study kicks off by clicking on the envelope icon in the top of the sidebar. Any new posts I write will be delivered automatically to your email's inbox!
Now, for a little preview (and a little giveaway) here is a sneak peek at one of the recipes in the book perfect for a winter welcome for guests: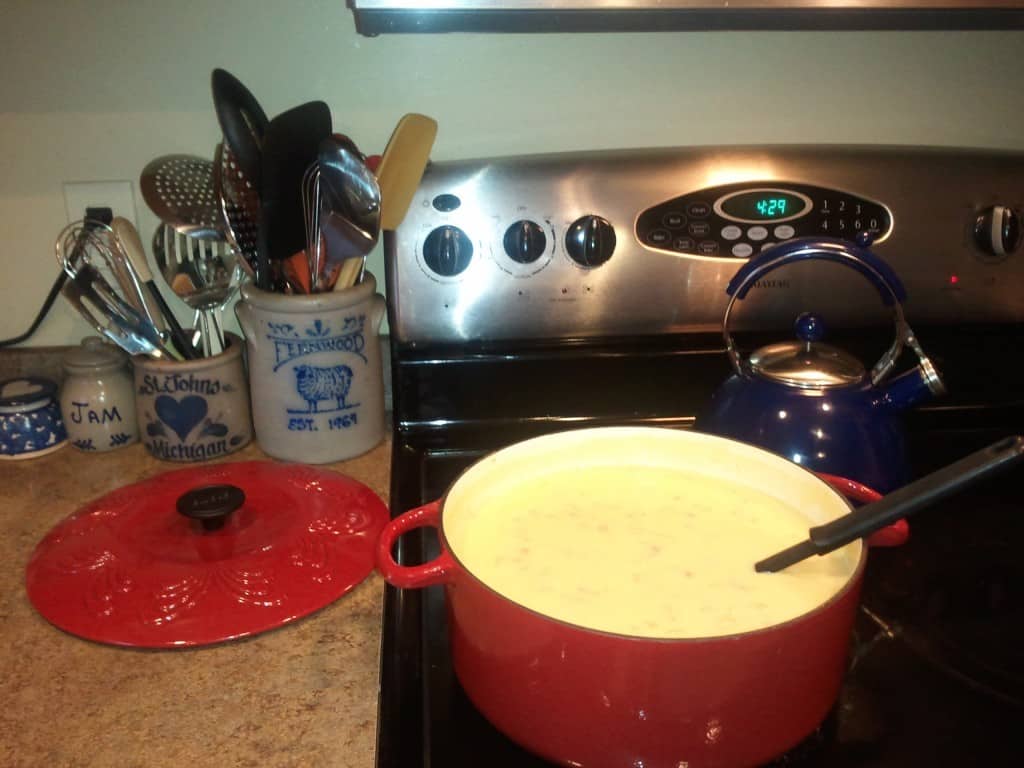 Chicken Wild Rice Soup
1/2 cup butter (1 stick)
1 medium onion, finely chopped
1 cup chopped, peeled carrots
1/2 cup chopped celery
3/4  cup flour
6 cups chicken stock (or 6 cups water with bouillon cubes to taste)
6-ounce package long grain and wild rice
2 cups chopped, cooked chicken breast
3 tablespoons cooking sherry (optional)
In a large soup kettle, melt butter and sauté onions, carrots, and celery until tender. Stir in flour. Gradually add stock until mixture comes to a boil, stirring constantly. Reduce heat to medium low. Prepare rice as directed on box, omitting oil and salt. Add rice and chicken to stock and simmer 10 minutes. Add sherry. Serves 10.
NOW FOR THE GIVEAWAY:
I'll give two copies of A Life That Says Welcome (one for you & one for a friend) so you can join us for the on-line study in March. I'll also throw in a $5 Starbucks gift card so you and your friend can discuss the book over coffee.
Just leave us a comment telling us your very favorite soup to eat. And, if you leave the recipe, your name will be entered twice. Winner announced Monday (when I'll also have another very fun announcement too!)