Fashion & Compassion Bracelet Giveaway
Welcome to those of you who read my Proverbs 31 devotion called Home Shaping. {If you haven't read it yet, click here to catch up with the rest of us}
As mentioned in the devotion, I am giving away a bracelet from Fashion and Compassion.
We at Proverbs 31 Ministries are partnering with Fashion & Compassion to support at-risk women and youth, while offering a unique handmade product.
Semi-precious gemstone beads have been hand-strung using dark brown leather cords, while a stunning hammered brass button featuring the words "Psalm 62:7″ completes the bracelet. The button is handmade and is the centerpiece of this trendy, wrap-style bracelet. The bracelet includes two adjustable closures measuring 14″ and 15" in length.
Fashion & Compassion is a non-profit organization dedicated to helping women overcome poverty and injustice through Christ-centered economic empowerment. This bracelet was made by exploited and at-risk women and youth in Charlotte, NC and Mexico. A portion of the proceeds benefit programs fighting sex-trafficking and serving at-risk youth in Charlotte, NC.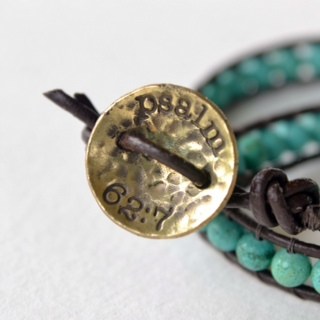 A tag with the product story, autographed by the artisan, is attached to the bracelet. Please join us in prayer for these artisans in their struggle to find salvation, refuge and freedom in our Mighty God.
If you'd like to purchase this bracelet, click here for ordering instructions. And if you would like to enter to win a free one I am giving away, leave a comment here telling us your favorite piece of jewelry you own and why. Winner announced Wednesday.
On God rests my salvation and my glory; my mighty rock, my refuge is in God. Psalm 62:7