30 Minute Sriracha Baked Chicken Breasts for #LoveYourLifeFriday
Hi friends, Katie from Dashing Dish here. Say goodbye to bland and dry baked chicken! These 30 Minute Sriracha Baked Chicken Breasts are bursting with flavor and turn out perfectly juicy every time! Serve over a bed of lettuce, or your favorite quinoa or rice!
Ingredients
1.25 lb Boneless skinless chicken breasts
1/4 cup Sriracha
1/4 cup Honey
2 tsp Soy sauce
1 tbs Garlic, minced
1 tsp Dried basil
Method:
The estimated total time to make this recipe is 30-35 Minutes.
1. Preheat oven to 425 degrees. Line a rimmed baking pan with aluminum foil/parchment paper for easy clean up and spray with cooking spray. Place chicken breasts on pan and season with a pinch of salt and pepper.
2. Combine all ingredients for the sauce in a small bowl, whisking to combine. Pour about half the mixture onto the chicken breasts. Place into oven and bake for 15 minutes.
3. Remove pan from the oven, pour remaining sauce on top, and place back into oven and bake for another 10-15 minutes or until chicken reaches 165 degrees and is no longer pink in the center of the thickest piece. Serve over a bed of quinoa or rice, or along side of your favorite vegetables! Enjoy!
Serves: 4
Enjoy! xo Katie Farrell
*************************
*************************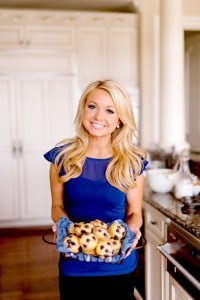 Katie Farrell is the author of Dashing Dish, a healthy recipe website and ministry to women. Katie is a registered nurse from Michigan, where she lives in Brighton with her husband of five years. Dashing Dish is a combination of Katie's passions—helping women find their identity in God and ending misconceptions about healthy eating.
Katie wants to inspire women to find the balance between spiritual and physical health, all while enjoying the journey!
Looking for some more yummy recipes? Check out The Ultimate Homemaking Bundle here.