How God Brought Her Back to the Bible
Is your spiritual life stagnant? Are you hit or miss when you read the Bible?
Today I am asking Amy Boyd to share a wonderful story about her journey back to her first love==> God's word! Amy's story and years of praying is such an inspiration and I smile when I think how God used me as a teeny part of it a few years back.
Now meet my friend Amy.
Amy is a Southern girl who lives in the grip of God's grace. Her heart is to stitch together her past with His forgiveness to show the beautiful life He designed. The scrapes of her personal journey as wife, mother, writer, speaker and Bible teacher is one that illustrates the faithfulness of God in the midst of challenges. She shares those patchwork pieces on her blog, Living in Harmony in hopes to encourage others not to let their past keep them from being the woman God created them to be.
She is also a regular contributor at Deeper Waters and can be found browsing Facebook, partying on Twitter, texting her two kids, or laughing with her husband.
You can also find follow Amy at these other social sites==> Amypboydspeaks.com, facebook.com/apboyd1, twitter.com/amypboyd
Learning to Return To Our First Love
My friend, Tricia and I had just started on the 8 hour trip home from She Speaks 2010. There was small talk but really more silence than the two of us had ever experienced together. We were trying to decipher all the information we consumed. It wasn't until we pulled onto I-85 South that our conversation really got started. God begun teaching us through Lysa TerKeurst's opening session. Then continued to weave Himself from the breakout sessions to the general sessions.
We began reviewing the last message we heard. Karen was sharing her message 'First Love' from Revelation 2:1-5. She told a story of how the hymnist Robert Robinson once ran from Christ. She explored the realization even in our 'good girl' lives many of us at one time also turned from our First Love. Karen challenged us to return by learning to feast on God's Word and fast from things that take our focus from Him.
(Amy, Karen and Tricia – from left to right)
I tried to keep my focus on the road as Tricia pulled her Bible from her bag. We begin identifying passages we knew in our heart instead of just the 'sort of' verses. Karen described 'sort of' verses as the ones we can paraphrase but can't quote. Most verses we knew were only the 'sort of'.  This awareness lead us to examine other areas of our walk with Christ. For years we lead our ministry through the ordinary avenues of DVD series and fill in the blank studies. Believing God used those to prepare us, now He was calling us to more.
Realizing we were ready to step out on faith we weren't sure our group was. The past studies we followed were safe. They were comfortable. So what was the next step? In Wendy Pope's breakout session, 'Teaching by the Book', she mentioned the One-Year Chronological Bible just in passing. God used it to call us to make a commitment. We spent the rest of 2010 preparing and praying He would begin to prepare hearts.
God has been faithful for 4 years. During 2011 and 2012 we walked through the Chronological Bible reading plan. God drew women who never attended bible study to begin joining us. He moved in the hearts of others who attended for years to share more. With each weeks passing we learned more about the character of God. As 2012 was ending again God called us to more … to go deeper.
In January 2013 we began to study verse by verse instead of by a reading plan. We stayed with the Chronological version but not just the reading schedule. As of today, we are just approaching the middle of Job. We have continued to see the numbers grow along with our faith. Like a woman going through possible job loss yet she trusted God to provide because she knew the Old Testament story of the widow's oil. Another member faced cancer knowing God would care for her because she saw His love throughout history. I could tell you story after story how we grew closer to each other, closer to God and deeper in our faith.
Because one ordinary woman shared what God has done in her life, two more ordinary women can now share the change God has made in their lives. This allows more women to experience what an extraordinary God we serve.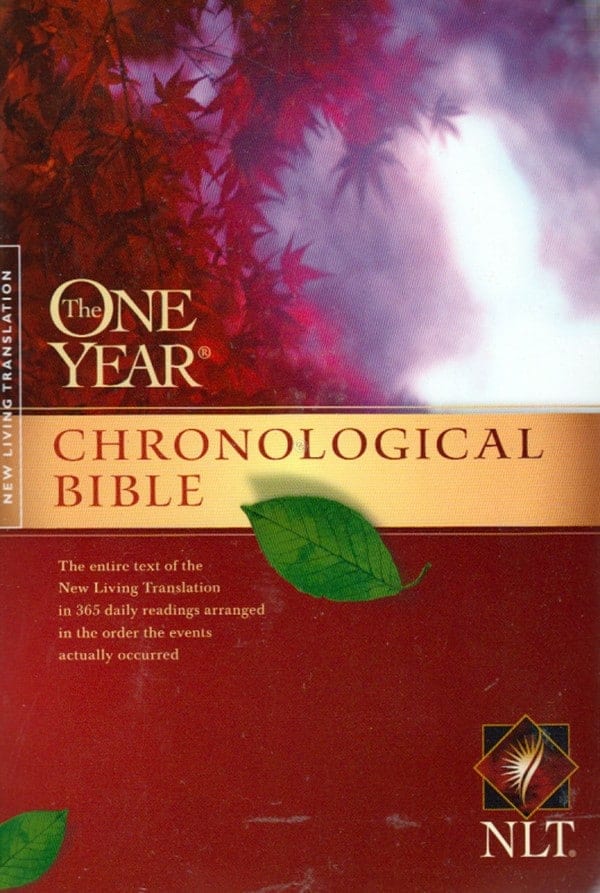 How is your Bible reading?
Leave a comment about this topic.
One person will be chosen to receive a copy of the chronological one year Bible Amy wrote about.
The easy to understand translation and daily guide make it super user-friendly!