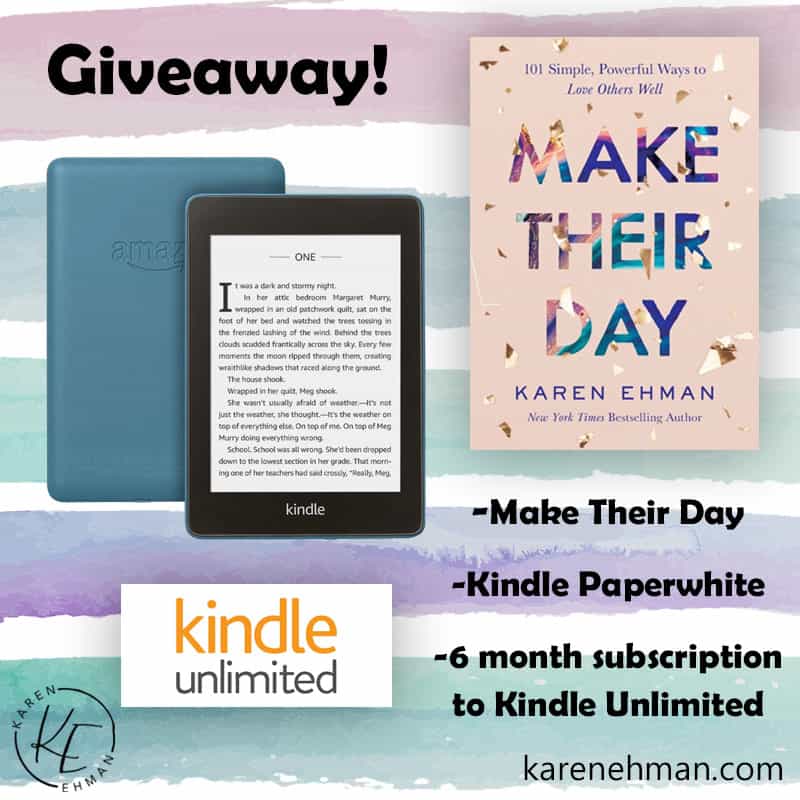 *WINNER ANNOUNCED!!!
Congrats to Emily (Comment left on February 9, 2021 at 12:23 pm) You are the winner! Please send your mailing address, along with what it is that you won, to: [email protected] using the email you used when you left the comments and your prize will be mailed to you.
*GIVEAWAY NOW CLOSED!*
This week, I am celebrating the birth of book baby number 16, Make Their Day: 101 Simple, Powerful Ways to Love Others Well. To do so, I am giving away a fabulous prize package that includes a signed copy of the book, (worth a quarter more at your garage sale that way!) a Kindle Paperwhite, and a six-month subscription to Kindle Unlimited. But, before I tell you how to enter, here's a bit about the book:
Ever think, "I wish I could do something for them"? Well, discover 101 "somethings" in my practical new book Make Their Day: 101 Simple, Powerful Ways to Love Others Well. This book will equip you to:
Encourage and celebrate family, friends, neighbors, and even strangers in unique yet doable ways.
Craft an arsenal of ideas for noticing others and making them feel loved.
Make creative memories on holidays, holy days, or on just an ordinary day.
Place people as a priority in your life, displaying the gospel as you do.
This book will help you develop habits of kindness, reconnect with friends and family, and make encouraging people a priority. Let's outshine the negativity and hatred in our world, and reach out to others with love, just as God intended.
NOTE: When you order a copy Make Their Day: 101 Simple, Powerful Ways to Love Others Well before February 14, you'll can receive a FREE downloadable PDF of recipes for Valentine's Day gifts such as homemade peanut butter cups, cinnamon-spiced nuts and dark chocolate-cherry fudge, along with ready-made Scripture tags for photo-copying, and creative packaging and presentation ideas. Simply order from any retailer and then CLICK HERE to enter your info and claim your free PDF.
*********************************************
Now, how to enter!
Simply leave a comment here telling us someone in your life whom you'd love to do something for in order to make their day and you will be entered to win. BONUS ENTRY: Post about the book on any of your social media accounts and you'll be entered a second time. (My team will be scouring the hashtag #maketheirday to look for entries!)
Now, go out there and make someone's day!
(U.S. Addresses only, please. Winners will be announced here and notified via email on Monday, February 15th. If we do not hear back within three business days, an alternate winner will be picked.)