DIY Jewelry Stand with Chessa Moore for #LoveYourLifeFriday
Today, Chessa Moore is showing us how she creates this fun and easy jewelry stand from simple terra cotta pots!
*******************************************************************************
Before I show you exactly how I put this whole thing together, look at some of the other great uses: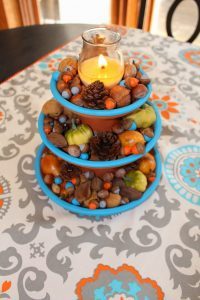 I painted some of the acorns to match my fall decor.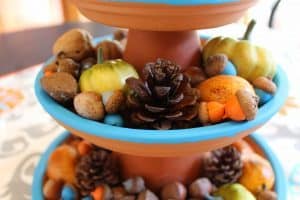 Or how about some rocks and coffee beans. Oh the aroma!
So now I'll show you how I did it! I bought three terra cotta plates and three coordinating pots at Lowes.
I used some glaze I had mixed up a million years ago, called Tobacco Stain. I rubbed it all over the pots and plates.
Chessa Moore is the wife of Ben and the mother to teens and near-teens: Sidney, Tyler and Katelyn. She's the kind of girl who can't sit still and always has to be creating something. If she sees something she likes, she sets out to determine a way to create it herself! Occasionally, this means she gets her handy-husband and creative-kiddo's involved in the project(voluntarily or otherwise)!
You can find her documenting these adventures on her blog, Antsi-Pants. Chessa loves to spend her summers in Michigan, on the beaches of Lake Michigan, enjoying the mild winters in North Carolina, and checking out God's creative handiwork, every place in between.