How to Frame a Bathroom Mirror for #LoveYourLifeFriday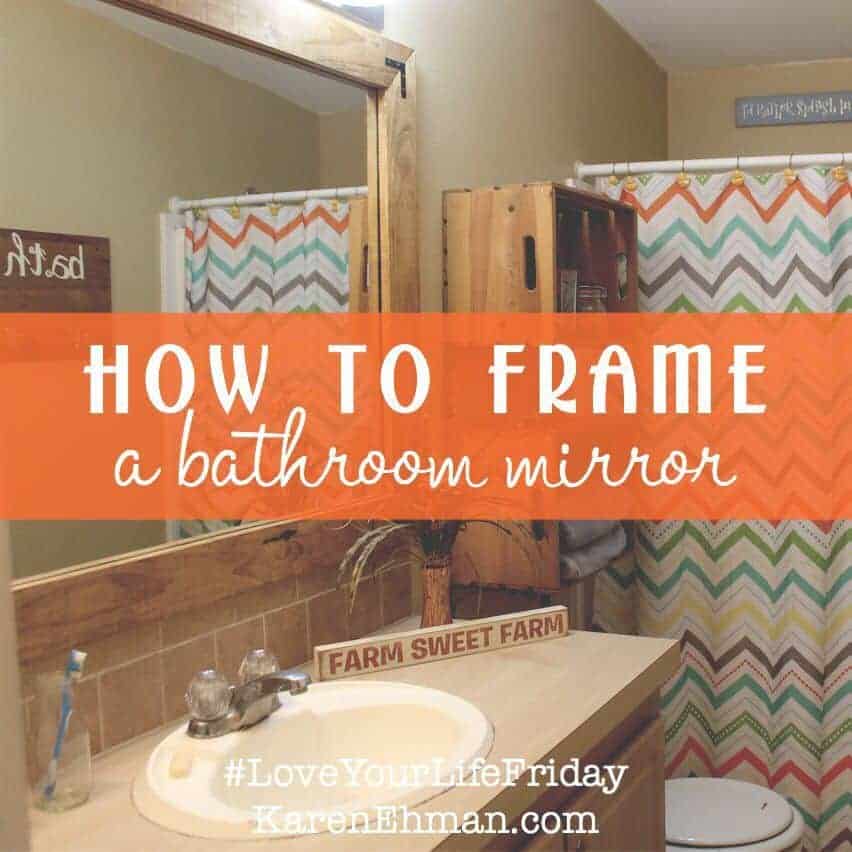 Hi friends, Amanda Wells here. If you like sprucing up your home for next-to-nothing, this tutorial is for you. With a family of eight, our disposable income is pretty much nonexistent so home improvements are done on the cheap, if you know what I mean.
The guest/kids' bathroom had this huge mirror I was anxious to replace, but have you seen the price of mirrors lately? No go. So I figured out a way to fix-er-up with a simple wooden frame.
All you need is a few boards, stain, a saw, and some hardware and you've got a whole new rustic look in the bathroom.
See what I mean? It's just blah. Hold on and get ready for a makeover!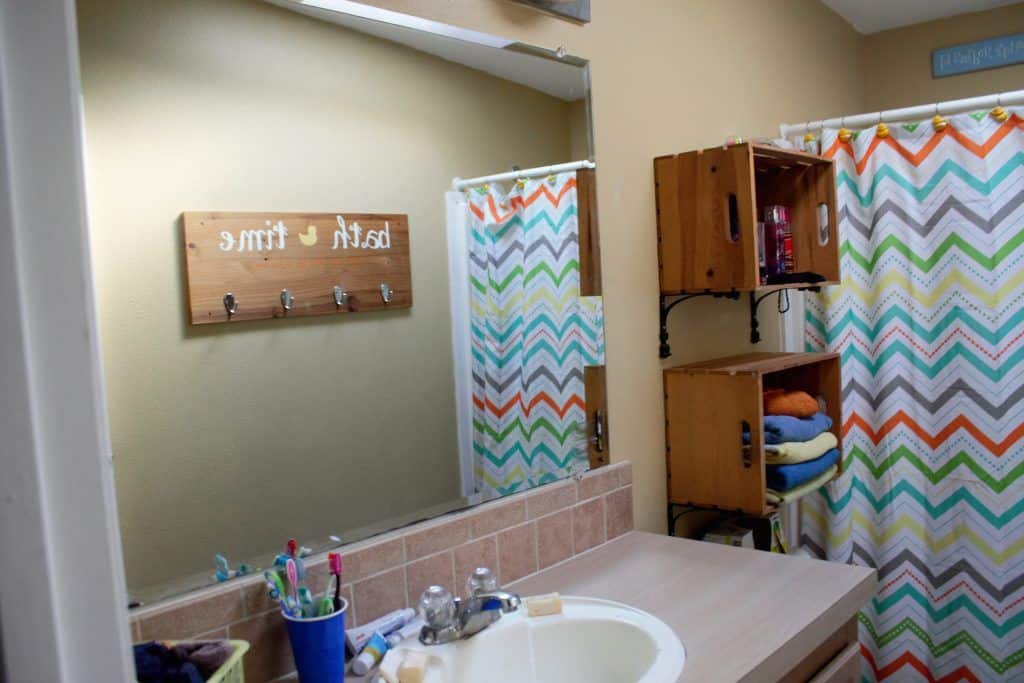 1. You'll want to replace those plastic clips with a thin washer. Simply unscrew one clip at a time and immediately replace with the washer. I folded a piece of painters tape in half and wrapped it around the mirror to protect it from chipping once we laid the frame over the top. Don't fasten the screw too tightly or it will bust the mirror. (Not speaking from experience or anything…)
2. Measure the mirror and cut the boards accordingly. I used 1″x 4″ but you can use whatever size suits your fancy. I also wanted it cut at a 45-degree angle for that picture-frame look but you could cut it flush and it would look fine. (For me, this was a job for Hubs, but if you're handy with a saw, you knock yourself out, sister!)
3. Sand your boards until smooth and stain them. I had a few helpers floating around and they were begging to stain, so I let them. An old rag works just fine to dip it and rub across the sanded boards. Don't forget the sides!
4. We secured the four boards with L-shaped angle brackets and screws. You could also use wood glue to secure the boards together. I had black hammered spray paint from a previous project I sprayed the hardware with before we used it. Once it's framed out, simply hang it with removable command hooks or screw it straight into your studs to the wall. We went with the screws because we have six kiddos that use this bathroom and it seemed the safest option.
That's all there is to it! A completely different look for less!
I'd love to hear about your spring DIY projects.  What are you working on right now? Simply share with us in the comment section below!
*************************
*************************
Amanda Wells is the proud wife of a smokin' hot third-generation farmer, and they have taken Psalm 127:5 literally, raising their quiverful of six kids on the farm. She loves baking, reading, writing, and arithmetic (kidding!). Amanda writes about faith, homeschooling on the farm, and family life at farmwyfe.com.