4 Ways to Connect with Middle Schoolers for #LoveYourLifeFriday

Today we are gaining some wisdom from Love Your Life Friday contributor Emma Heikkinen about connecting with middle-schoolers. Here is her helpful advice:
I couldn't contain myself when I found out Incredibles 2 was FINALLY going to be coming out. I saw it opening week, and I was not disappointed.
One of my favorite moments (I promise this isn't a spoiler; it's in the trailer!) is when Violet runs upstairs and slams her door. In classic little brother fashion, Dash responds with, "Is she having adolescence?" I haven't laughed so hard at a single line in a pretty long time. As the movie goes on, we see Violet's frustrations come out more and see that she isn't upset for no reason. But, so often in our real lives, we don't take Violet's age group and their emotions seriously. Middle schoolers like Vi are so full of adolescence, but how do we handle that?
For the past few years, I've been volunteering with middle schoolers at my church and it's given me a great opportunity to learn so much about this wonderful, quirky group of adolescents that's so often pushed aside. Now, I'm not a parent and I'm definitely not trying to be an authority on how to be one. However, I've learned a lot and I've seen how common attitudes toward middle schoolers can be really damaging to them. So, here are some ways we should be viewing this age of young people and what's important to remember about our relationships with them.
1.) Middle schoolers are people, too.
So often, middle schoolers are treated like little kids or like some sort of species we can't quite understand. They want to be known and loved, just like any of us do. The way we speak about them and to them affects the way they view themselves. They want to be taken seriously. I can't number the amount of times one of my girls has sighed (or even yelled) because their parents or teachers or anyone else around them kept calling them "kid" or treating them like they didn't understand what was going on. Middle schoolers are more similar to high school or college students than we tend to think, and should be taken as seriously as we take those other groups.
2.) But, they still have questions. Like, a lot of them!
I think any of us would be lying if we said we've got this whole "life" thing fully figured out. We're all pretty clueless some of the time, and middle schoolers are especially confused. They're in such a tumultuous time of life when everything they thought they knew is suddenly different. They have questions about themselves and the relationships they have with other people. They're experiencing all kinds of new things and want to explore, but don't even know where to start. Middle schoolers are so smart. They function similarly to older groups and have the capability to think critically and apply things to their lives. We don't often take the time to listen to them, though. I've been caught off-guard so many times with questions from middle school girls. The theological truths that they struggle with and are curious about are way beyond what most people would expect.
3.) And, they're looking for an environment to ask their questions.
Asking questions is scary! Middle schoolers want to be in a place where they won't be belittled for not knowing things. They often feel alone in their questioning and don't always feel comfortable enough to ask their friends. They don't want to be seen as the one person who doesn't know an answer (this goes along with wanting to be seen as a valid, responsible person). At Chaos (our middle school ministry) we try to cultivate an environment where middle schoolers can be their goofy, curious, spastic selves. That way, they're in a place where they feel comfortable completely being who they are. When I have my girls over to my apartment, or we go out for ice cream, I try to make it a point to bring up "uncomfortable" topics, ranging from feelings about boys to fights with families, dealing with cramps and other not-fun health things. That way, they know they have a safeplace to talk about anything they want to.
4.) We need to meet them where they're at, not expect them to jump to us.
Just like with anyone else, we can't expect middle schoolers to "get on our level" before we reach them. When Jesus came and did his ministry, he met people where they were at. He had dinner in the tax collector's home; he sat and talked with the woman by the well; he spoke to the little children who came to see him. Jesus is the perfect example of how to love people, and if we want to love like him, we need to meet the middle schoolers where they're at.
If kids only communicate using texting or some social media platform, we need to plunge into it too, whether we understand the purpose or not. We need to address topics, even if they're uncomfortable. The world is pushing so much false information at them. If other people are talking about it, we should too. Hiding middle schoolers from things we don't think they're "mature enough" for yet doesn't do any good. We need to physically enter the places where they are — school sporting events, choir concerts, dance recitals, the local coffee shops. By stepping into their world, we can intentionally show them how much we care — and they'll notice.
Call me crazy, but one of my favorite nights of this entire year so far was when my little apartment was crammed full of 8th grade girls. It was chaotic, loud, and so full of messes, but boy, was it beautiful. In an environment where they were allowed to entirely be themselves, the girls blossomed. The night was full of giggles and whispers of who liked who, what the newest dance craze was, and their nerves about starting high school next year. I still don't think my apartment has been cleansed of all of the glitter that exploded that night, but I wouldn't change it for the world.
At the end of the day, middle schoolers are people and deserve our specific, intentional attention. Too often, they're pushed aside and seen as not important by society. They're too old to be kids, but too young to taken seriously. Let's challenge that; let's change the way we view middle schoolers and show them how valuable and precious they are in our eyes and in God's.
Giveaway

Giveaway Now Closed – congrats Kelly!
TO go along with Emma's helpful post, we're offering a giveaway! Enter to win a copy of Brave Beauty: Finding the Fearless You by my Proverbs 31 ministry partner Lynn Cowell. Written especially for girls between the ages 8 – 12, Brave Beauty is not just a book — it's a companion guide on a girl's journey to learning to become courageous, confident and fearless.
 
To enter the giveaway, comment below, and tell us about a middle schooler–or group of them–that you work with or love. (NOTE: Winner will be announced here on Friday, July 13. U.S. Addresses only please.)
LIVE Brave Beauty Study
Brave Beauty's author, Lynn Cowell, is also hosting a FREE 4-week online study starting Monday, July 9, called LIVE Brave Beauty. This study is for young girls and those who want to help them become brave, be it mom, mentor, or any one who wants to see young girls reach their potential in Christ. Learn more and sign up to join Lynn here.
Don't forget to leave a comment to enter the giveaway!
************************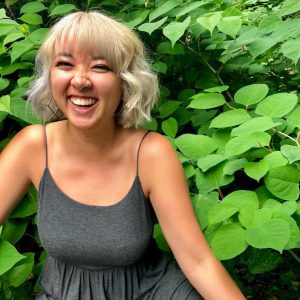 Emma Heikkinen is a professional writing student at Michigan State University. Her studies have an emphasis in editing and publishing, along with a focus in art. She works as a elementary curriculum writer for Riverview Church in the Greater Lansing Area, writing the content for the hundreds of children who attend Riverview every weekend. Her work also includes graphic design, video filming and production, and teaching services for RivKids. Emma spends most of her time volunteering with middle school students, hanging out at her favorite local coffee shop, and doodling on every surface available. Check Emma out on Instagram to see more of her daily life!