Order Hoodwinked & get TONS of freebies!

Ruth Schwenk and I have had enough of these misconceptions. Myths such as: "The way I mother is the right (and only) way," "Motherhood is natural, easy, and instinctive," or "My child's bad choice means I'm a bad mom." These myths leave moms hoodwinked and sometimes even heartbroken.
In their straightforward yet encouraging "we've been there" style, we will enable mothers to:
Identify the ten myths of motherhood our current culture perpetuates
Replace the lies with the truth of what God says in the Bible about mothering
Acquire practical tools to help them form new and improved thought patterns and healthy behaviors
Forge healthy, supportive relationships with other moms of all ages and stages
Confidently embrace the calling of motherhood as they care for their families in their own unique way
Are you a mom? Do you need a little help and encouragement? Well, have we got a deal for you! Simply order my new book Hoodwinked: Ten Myths Moms Believe and Why We All Need to Knock It Off from Proverbs 31 and you will receive a tons of freebies. Let me explain.
First, if you pre-order the book anywhere and send a copy of the receipt to [email protected] from now until Midnight, Pacific Time, on Monday, November 2, 2015, you get these freebies:
Two free chapters to Hoodwinked:

"The Mythical Mosiac of Motherhood"
"Everything Depends on You"

The e-book, A Guide to Praying from Your Children
Five downloadable Hoodwinked screensavers for your phone
Link to Hoodwinked Curriculum Session 1
Life Intentional Daily Planner
Five Family Favorite Retro Recipes
BUT WAIT! THERE'S MORE!!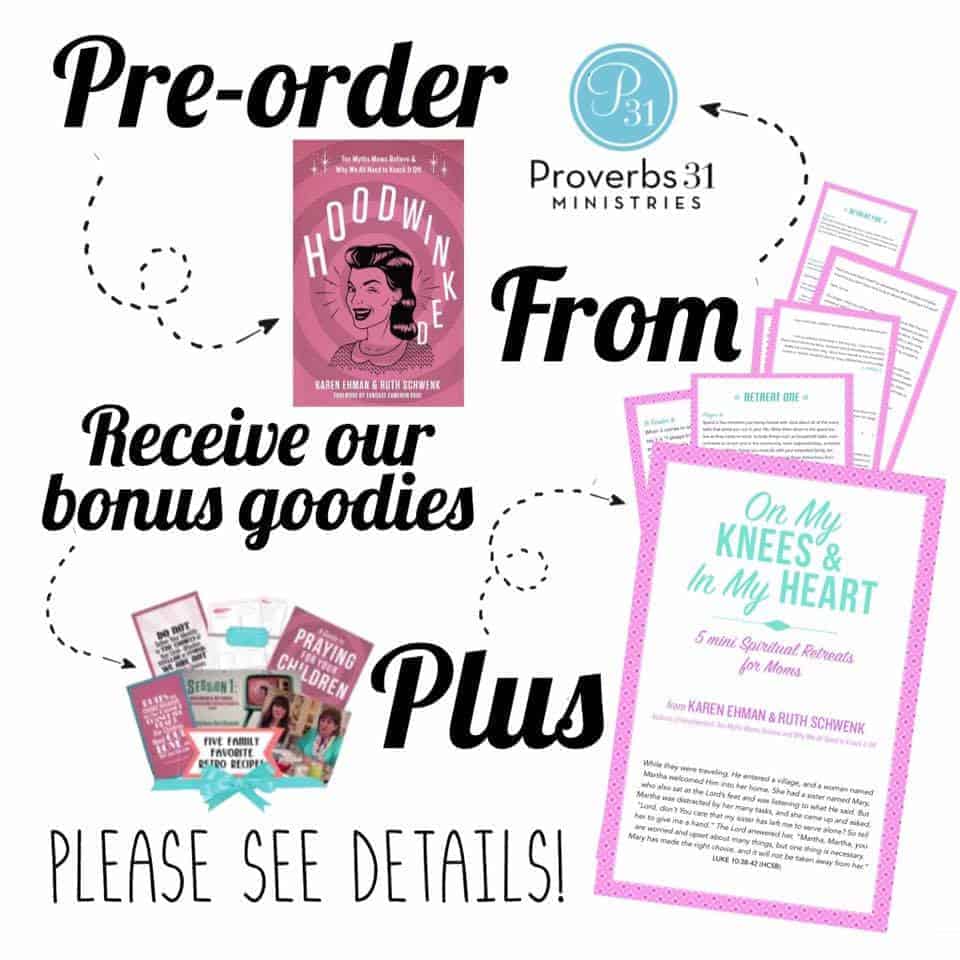 If you order it from Proverbs 31 Ministries, you also get another bonus freebie: a PDF journal entitled On My Knees & In My Heart: 5 Mini-Retreats for Moms. This resource provides moms with five different, guided session to get alone with God in order to rest, reflect, renew, and get back at the difficult yet oh-so-holy job of motherhood. Features include prayers, scripture study, reflection questions, journaling sections, and practical, doable ideas for deepening a mom's relationship with her heavenly Father. This downloadable PDF  will enable you to go from crazy to calm, helping you to better love and care for your family. 
IMPORTANT NOTE: You will need to email your receipt two places if you want all the freebies–to the email address above and also to the one on the Proverbs 31 page. If you want to get it from Proverbs so you get all the freebies, click here.
If you'd like to get it from another retailer and get all the freebies except the PDF journal-mini-retreats, here are the links:
I hope these free resources will encourage you in your mothering and strengthen your relationship with God.