No-Sew Window Valance for Love Your Life Friday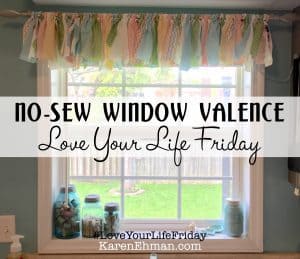 Do you have a room that needs a quick update or a window that you've been putting off finding a curtain valance for? My kitchen window treatment was in need of an update. The valance on it was too long for the window and because it was dark brown it blocked quite a bit of light coming in.
Before:
I decided to put some of my fabric stash to good use and make a window treatment that fit better with the style in my kitchen. My window is about 36″ wide, so you will need to adjust the amounts needed by the width of your window, but this should give you some idea. You can get small pieces of fabric called a Fat Quarter that is 18″ x 21″ at most fabric or hobby stores. I used 7 fat quarters for this project. Choose several coordinating colors or go bright & bold and really mix it up!
Cut your fat quarters into 2″ strips. If you cut along the 18″ side you will end up with 9 pieces that are 2″ x 21″ out of each fat quarter.

Before you start tying the strips onto the curtain rod you will want to put the curtain rod back up on the brackets to measure the correct width. I wrapped a piece of clear packing tape over the center section where it expands so that once I started tying fabric on it didn't move around.

You can throw caution to the wind and make this a totally random pattern or divide out all of your fabric strips equally and go in order. Once you figure that out you're ready to start!
Take your first strip of fabric, fold it in half and slide the folded end under the curtain rod. Then take the two loose ends and flip the over the top of the curtain rod and through the fold. Pull to tighten and you have your first strip done!

Keep adding strips and sliding them together on your curtain rod.

Once you reach the end of the curtain rod you are done – it's that easy! This type of valance would be perfect for your kitchen, laundry room, nursery or kid's room!
After:
*****************************************************************************************
I'm from a small mid-western town in Michigan where I have lived since I was in elementary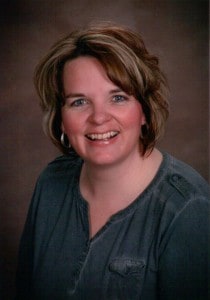 school. I married my high school sweetheart and we have a teenage son and a daughter who just got married, giving us a wonderful son-in-law. I enjoy flower gardening and anything else that I can do outdoors during the summer months. As a family we love to camp all around this beautiful state of Michigan that we call home. When I'm not working full-time at my "real job", I escape from the everyday stresses of raising teenagers through sewing and crafting. I started my Etsy shop with just aprons and have branched out from there. I'm not afraid to try something new and have several "Pinterest Fails" to show for it!
NOTE FROM KAREN: My home is filled with "April Wilson originals". She is the crafty woman I wish I could be. :-) Here is a link to some of her homemade items you will LOVE!  CLICK HERE FOR APRIL"S SHOP!