The Man at Mile Three (Guest Post)
Last fall during the launch of my Listen, Love, Repeat book, we heard such wonderful stories of scattering kindness from my launch team members. So we decided to have ourselves a little contest and choose three winners to guest post on my blog. Today I'm welcoming RebeccaLynn Dikeman to share her story.
*************************
I was blessed to be on the launch team for Karen Ehman's new book Listen, Love, Repeat: Other-Centered Living in a Self-Centered World. From the first pages, it reminded me how vital it is to "scatter kindness" in a world that's oftentimes very unkind. It also reminded of a day when I cheerfully interrupted my life and scattered kindness to a forgotten soul.
This is my Listen, Love, Repeat story:
The Autumn air swept across my face as I entered mile three. I ran, peering anxiously through the trees ahead. He didn't know it, but he was about to meet Jesus— face-to-face.
For weeks, I exclaimed "Good morning!" as I jogged by. He'd faintly wave, never looking up. My heart would cry out, "Lord, let him know he's loved!" But in his cold and harsh world, I'm sure he felt as if love had forgotten him long ago.
In Listen, Love, Repeat, Karen writes:
Jesus wasn't about doing big things. He was about doing the right thing. And often for him the right thing was noticing one simple soul. 
Making a difference in someone's life takes personal sacrifice.
With a few purposeful dollars tucked in my pocket, I ran with conviction—excited to interrupt my life for this one simple soul.
I arrived at Chick-fil-A and ordered a large coffee and a breakfast sandwich to go. On a napkin, I wrote, "Jesus loves you, and He sees you."
He seemed confused when I approached, probably used to the world passing him by. I told him God had placed it on my heart to bring him a meal. He stood up; our eyes, and our souls finally met. This man who could barely wave, could now barely contain his smile. "Oh, thank you," he said. "Thank you so much."
I knew it had been too long since he'd felt a warm touch, so I put my arm around his shoulders. His coat was cold, rough and dirty. My heart broke.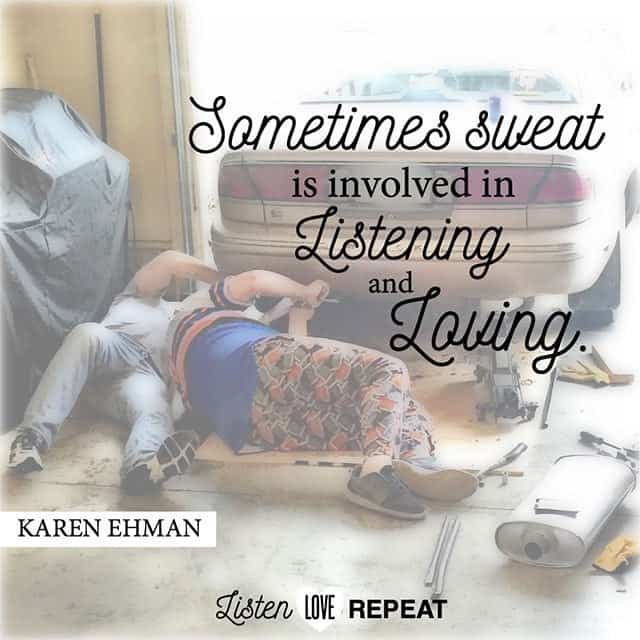 I said I hoped the meal would brighten his morning.  He couldn't stop thanking me; his tired face was now beaming with gladness.
I continued on my run—tears streaming.
Father, thank You for helping me see this man right in front of me. Through my simple act of kindness, I pray he met Jesus—face-to-face. 
Or do you not realize about yourselves that Jesus Christ is in you?"
2 Corinthians 13:5
Do you desire to have a genuine passion for being a blessing to others? Listen, Love, Repeat will change how you see the world around you. And don't worry, if you need help knowing how scatter kindness, this book is filled with ideas (and delicious recipes!) to help you on your journey to other-centered living! Want to win your own copy? Enter here on my blog.
*************************

*************************
RebeccaLynn Dikeman is a wife, mother of two, and a woman whole-heartedly seeking her Savior.  She has served in prison ministry and is a proud member of COMPEL Training, a writer's training program of Proverbs 31 Ministries. Through her writing, RebeccaLynn hopes to share the hope, encouragement, strength and transforming power of a life devoted to Jesus Christ. She wants her readers to know that "Being a Christian is not living a perfect life ~ but living a devoted life." Connect with RebeccaLynn here on her blog.
*************************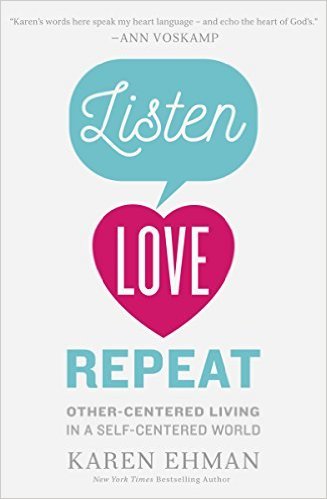 In Listen, Love, Repeat: Other-Centered Living in a Self-Centered World, Karen Ehman encourages us to to live alert, listening for "heart drops," hints from those in our lives who need a helping hand or a generous dose of encouragement. Living alert lifts our own spirits, showing us that blessing others blesses us even more. Listen, Love, Repeat offers biblical teaching and suggests doable actions that are simple, heart-tugging, sentimental, even sneaky and hilarious. For a sneak peek at Listen Love Repeat, sign up for Karen's How to Hear a Heart Drop five-day challenge. Also, be sure to join Karen and Proverbs 31 Online Bible Studies for their upcoming study of Listen Love Repeat starting April 3.