DIY Easy Farm Table by Lynn Cowell for #LoveYourLifeFriday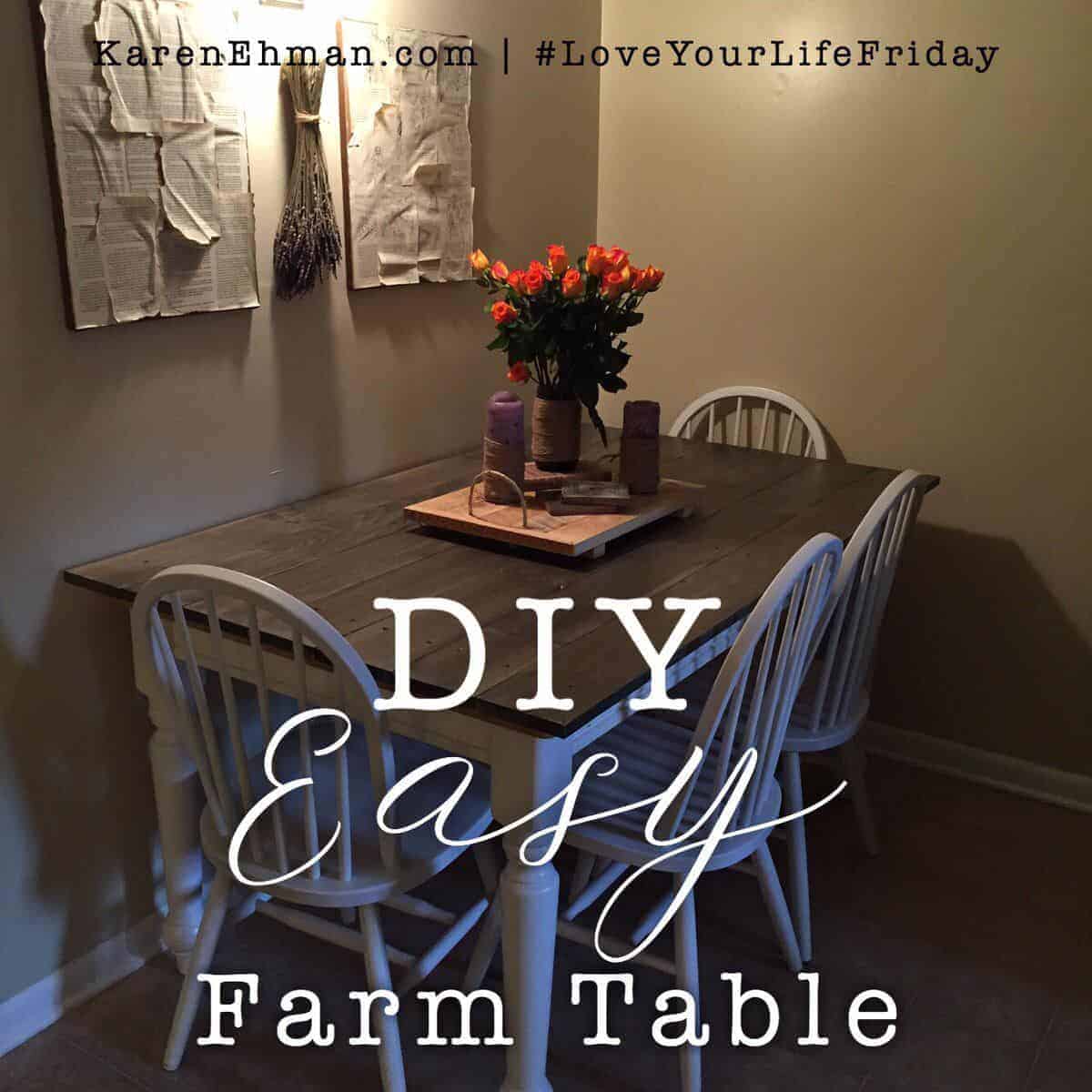 Today I'm welcoming my friend Lynn Cowell to the #LoveYourLifeFriday team. Lynn is a fellow author and speaker, and also one of my Proverbs 31 Ministries partners. You'll love the ideas she has to share!
**************************
Fixer Upper … I love that show! But what I love even more is watching it with my daughter Mariah when she is home from college. There are so many great ideas to tuck away and dream of trying one day.
Mariah's one day of having her own apartment came last summer and when you have an empty apartment and an empty purse, a girl has got to get creative!
I put out a HELP post to all my friends: if you have ANYTHING you don't need, we need it. One friend gave Mariah a cute butcher-block table complete with white legs and four white chairs. I'm sure you've seen them as they were very popular several years ago. While it was a wonderful gift, there were a few Sharpie marks here and little water marks there and Mariah wanted to spruce it up a bit.
She enlisted us to help!
First, we completely repainted all the legs and chairs a softer white to make it feel more cozy.
Next, we went to Home Depot and bought boards in the width we desired (we liked the ones that were a bit thicker). You can choose any width that fits your style. We had Home Depot cut each board to the length we needed for our table, which was approximately an inch longer on each end so that it would overhang the butcher block table. Mariah chose a stain from Minwax called Classic Grey 271.
Once the boards were home, the staining began. When the stain was dried, it was time for Mariah and her dad to begin putting the boards in place using black deck screws. Some were a bit rusted, which we thought added to the look!
You can see how the new boards overhang the old table. I will say, it was a bit heavy after adding all this wood!
The finished product looks so adorable in her new place. (In fact, her mama might have just wished it landed in her kitchen instead!)
Not only was this a beautiful project, but the time my husband, daughter and I spent together was so fun and rewarding! For more ideas on connecting with your daughters and building relationships, hop over to my website here.
**************************
**************************
 Lynn Cowell is a Proverbs 31 speaker and the author of several books, written for young girls, teen girls and women of all ages. Her two newest books release this fall: Make Your Move: Finding Unshakeable Confidence Despite Your Fears and Failures (a Bible study for women) and Brave Beauty: Finding the Fearless You (for tweens). Her husband and their three children (all in college) live in North Carolina where they love hiking, rafting and anything combining chocolate and peanut butter.