Corn Husk Wreath for #LoveYourLifeFriday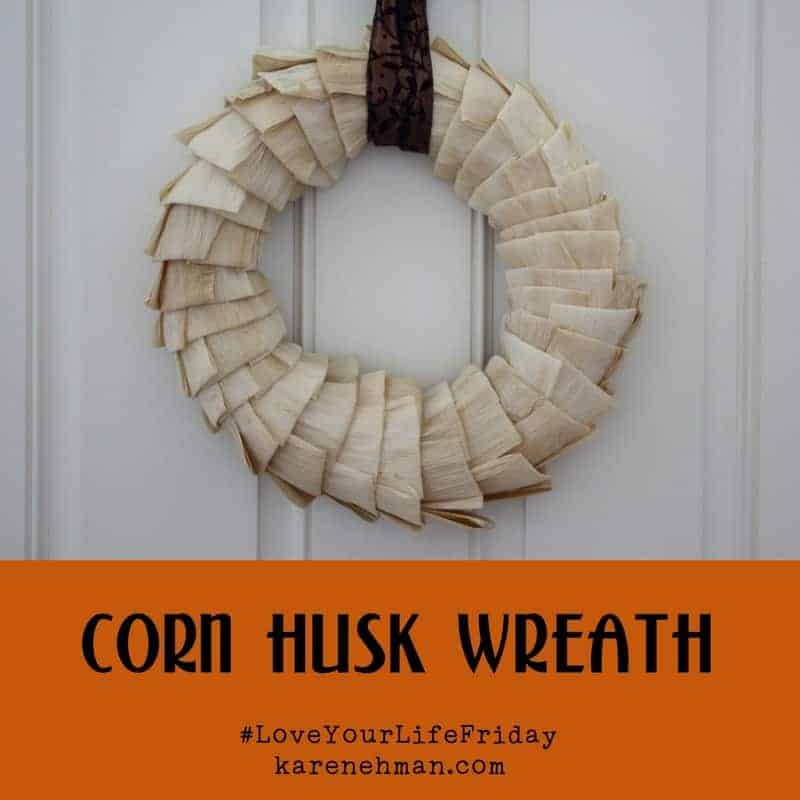 For years I've seen wreaths made out of corn husks and I've always wanted to try my hand at making one. Here's how I did it (along with my good friend, Kate).
1 package of Corn Husks (we found ours at Wal-Mart, in the produce section)
wreath form
scissors
stapler
We soaked a couple packages of the corn husks in water for about an hour. Once they are soft you'll want to separate them.
And then we laid them out to dry a bit. You don't want them TOO dry, or they'll break because they are so brittle.
So you have pieces that look like this:
Tear down the middle, like this:
And then fold them in half, like this:
Get out your wreath form (no need to remove the plastic).
Start stapling them on, about 4 in a row.
The rows should be overlapping.
Until your wreath starts to look nice and full like this:
Add a nice bow with some thick wire lined ribbon.
The perfect addition to your fall decor!
*********************************
Chessa Moore is the wife of Ben and the mother to teens and near-teens: Sidney, Tyler and Katelyn. She's the kind of girl who can't sit still and always has to be creating something. If she sees something she likes, she sets out to determine a way to create it herself! Occasionally, this means she gets her handy-husband and creative-kiddo's involved in the project (voluntarily or otherwise)!
You can find her documenting these adventures on her blog, Antsi-Pants. Chessa loves to spend her summers in Michigan, on the beaches of Lake Michigan, enjoying the mild winters in North Carolina, and checking out God's creative handiwork, every place in between.
SaveSave
SaveSave
SaveSave
SaveSave
SaveSave