Autumn Harvest Pasta Salad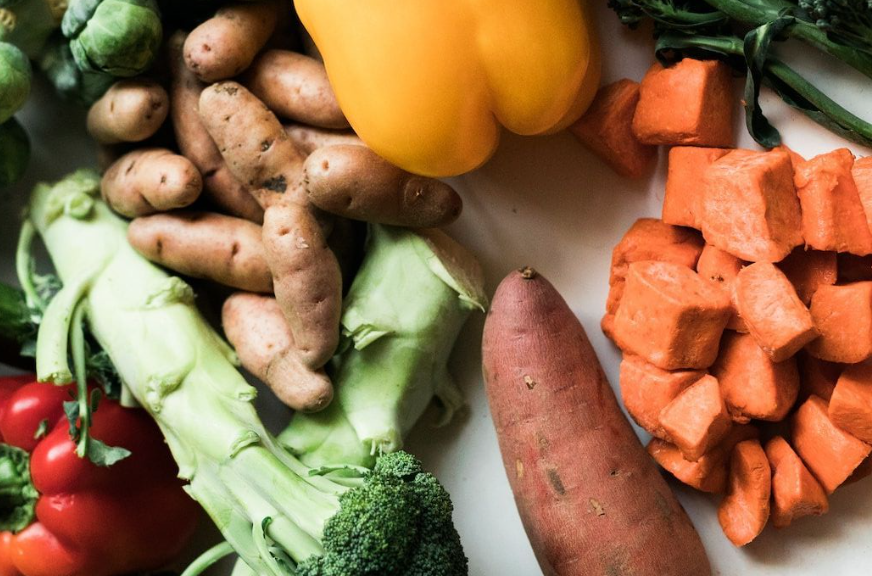 This colorful dish is both nutritious and delicious! Perfect for a fall get-together.
Ingredients:
2 medium sweet potatoes peeled and cut into 1/2-inch pieces
2 tablespoons olive oil
1 teaspoon salt
½ teaspoon pepper
1 teaspoon garlic powder
¼ teaspoon ground nutmeg
1 pound multi-colored spiral pasta
1 cup dried cranberries
1 cup chopped yellow pepper
1 cup grape tomatoes, halved
2 cups broccoli florets, chopped into 1-inch pieces
1/4 cup red onion, thinly sliced
1/2 cup walnuts, toasted (may use pine nuts)
1 3/4 cups honey mustard dressing (can use poppyseed or French dressing)
6 ounces blue cheese, crumbled
Parchment paper
Instructions:
Preheat oven to 400 degrees. Place the sweet potato chunks on a large baking sheet lined with parchment paper. Drizzle them with olive oil, sprinkle with salt, pepper, garlic, and nutmeg and then toss to evenly coat. Roast in the oven for 25-30 minutes, stirring occasionally. Remove and let cool.
Cook the pasta according to the package directions and drain. In a large bowl, place the pasta, sweet potatoes, dried cranberries, yellow pepper, tomatoes, broccoli, red onions, and walnuts, Toss with the dressing until evenly coated. Gently stir in the blue cheese. Cover and refrigerate for at least an hour. Serves 6-8.